Hajj Flight Deals 2023 - Cheap Flights to Mecca
Thursday, January 12, 2023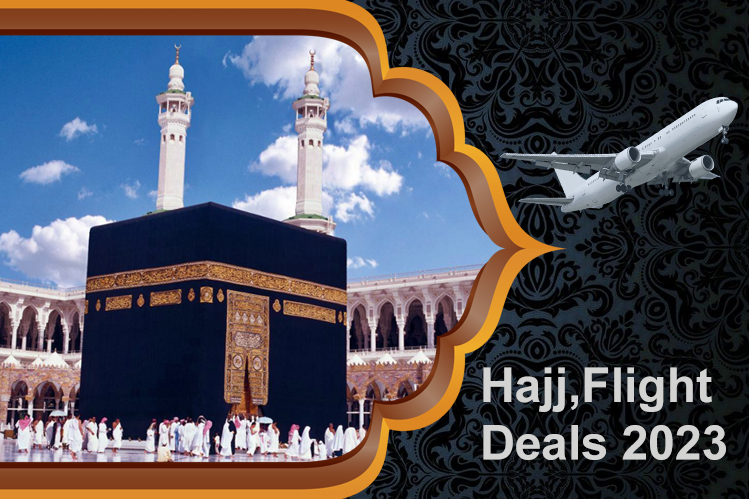 If you're traveling for Hajj this summer, FlyOfinder will offer you the best deals and routes, no matter what part of the US you are flying from.
What is Hajj?
One of Islam's five pillars, the Hajj, is an once-in-a-lifetime pilgrimage that Muslims must make to Mecca, assuming they are in good physical and financial health. It is performed from the eighth day of Dhul-Hijjah through the thirteenth day of the same Islamic holy month.
When is Hajj in 2023?
The Hajj in 2023 will begin on Monday, June 26 and last through Saturday, July 1. This date is tentative since it could change depending on when the moon of Dhul-Hijjah will be visible.
Numerous rites are conducted throughout the Hajj, which can be finished in as little as 5 days. Muslims view the Hajj as an opportunity to reflect on their life, connect with God, and atone for their sins.
Millions of Muslims perform the Hajj yearly for spiritual and physical purification.
The Ihram, distinctively suitable and essential clothing made of two white sheets, is worn by pilgrims on the Hajj 2023.
How to Reach Mecca for Hajj 2023?
You cannot fly directly to Mecca from the United States for the Hajj. King Abdulaziz International Airport (JED), located in Jeddah, is the nearest airport to Mecca. Many airlines run additional services to Jeddah during the Hajj.
Three terminals make up the airport. Domestic aircraft take off and land in the South Terminal, while foreign and Umrah planes use the North Terminal. The Hajj Terminal is only used for the Hajj. Although there are few other scheduled passenger services, the Hajj pilgrimage terminal primarily serves charter flights.
Airlines that Fly to Jeddah
The most popular airlines flying from the USA to Jeddah are American Airlines, Qatar Airways, Turkish Airlines, Saudia, Emirates and Air France.
The Hajj Flight Deals from FlyOfinder
FlyOfinder is dedicated to providing its clients with the best services and Hajj packages. Our excursions are customized to meet your needs and keep in mind that most pilgrims travel to Mecca for the first time. Our guiding principle is straightforward: we only accept bookings or requests we can fulfill.
We take care of all the details of your travel plans so you can concentrate on your pilgrimage. We begin by assisting you in selecting the package that best meets your needs; we help you to buy Hajj flights 2023, and then arrange for your flights, obtain your visa, ensure you are met at the airport, and then transport you to the hotel you have reserved. Additionally, a guide is on board to help you with your tasks and Umrah/Hajj.
To know about the Hajj price, our representatives are available 24/7 to assist in problem-solving, and you will also be provided with their contact information if they are ever unavailable. Throughout your journey, we take care of whatever you require. By booking your flights and accommodations online through our flight and hotel page, you may also create a trip precisely to your liking.
Make the Hajj 2023 Budget-Friendly
We advise you to speak with one of our Hajj and Umrah specialists before booking your travel, as there are specific conditions associated with the Hajj and Umrah flights, and to discuss your visa arrangements. You can call us or email us before booking your Hajj travel.
Customers visit and book flight tickets from FlyOfinder for its expertise and good-value deals. Our travel experts have passion, dedication and knowledge of travel showcased in how we carry out business. Be assured that you'll book the best, money-saving flight and hotel deals for your Hajj 2023 travel. You have to dial +1-571-378-7016 to speak to one of our travel experts and sit back while we book everything for you.
Cheap Flights to Saudi Arabia
A network of internationally renowned airline services links Saudi Arabia's major cities. Muslim pilgrims from the USA can easily arrange flights from any international US airport to major Saudi cities, including Mecca, Medina, Riyadh, and Jeddah.
Muslim pilgrims from the USA and other countries worldwide seek flights to Mecca and Medina most frequently. Depending on availability and connectivity, pilgrims can take direct or connecting flights to these destinations. If you plan to embark on a Muslim pilgrimage this year, you can don Ihram while flying or at the airport.
Also, read our blog Emirates Flight Change Policy.