Book Cheap Aeromexico Airlines Flight Deals
Sunday, February 19, 2023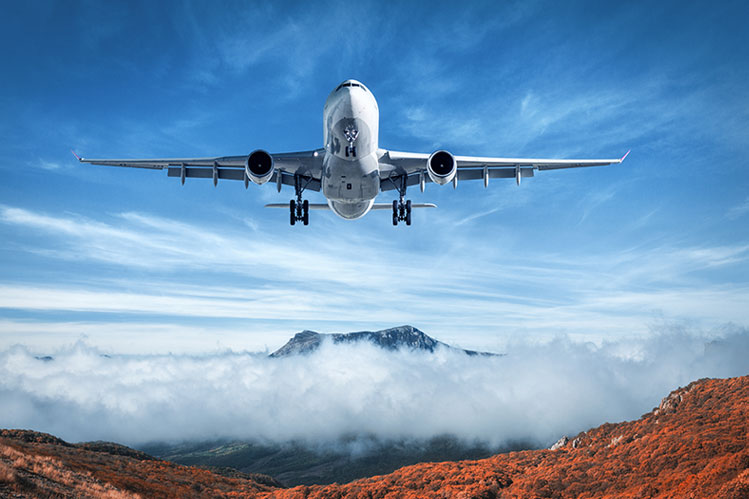 Looking for a cheap Aeromexico airlines flight to Latin America? You are at the right place to bag some incredible deals for your next getaway.
Being Mexico's flag carrier operating under the popular name Aeromexico, Aerovias de Mexico, S.A. de C.V. is one of the biggest names in the domestic air aviation market. The airline company operates from the hub in Mexico City International Airport, having three other hubs at Don Miguel Hidalgo y Costilla International Airport in Guadalajara, General Ignacio PesqueiraGarcia International Airport in Hermosillo and General Mariano Escobedo International Airport in Monterrey.
Aeromexico Airlines routes and destinations
Aeromexico serves 56 destinations, and the airline has several codeshare agreements inside and outside the SkyTeam alliance. While most of the 56 destinations are domestic, several international destinations are in Europe, North America, Central America, South America, and Asia. In addition to routine flights, Aeromexico Airlines offers various vacation spots only accessible at specific times of the year.
How to check-in with Aeromexico?
Aeromexico flights offer various check-in options — in person, on the website, or through a smartphone. Passengers can check in either at the counter or a kiosk as the minimum check-in time is 30 minutes before a domestic departure and 40 minutes for an international flight without baggage and 90 minutes for international flights with checked baggage.
Web check-in for domestic Aeromexico opens 48 hours before departure and 24 hours before international departures. However, the minimum check-in period for a domestic and international flight is 2 hours.
Baggage allowance for Aeromexico
According to the rules, Aeromexico tickets allow 2 pieces of carry-on baggage and 1 piece of checked baggage. The maximum size for carry-on bags is 56x36x23cm and the maximum weight is 18 kg for premium class and 10 kg for economy class.
The second bag is regarded as a carrier for personal items - a handbag, laptop case, etc. The weight needs to be 3 kg, regardless of class. The checked baggage weight should be 32 kg for the premier cabin and 23 kg for the standard.
How to find cheap Aeromexico deals?
You can find and book Aeromexico flight deals in several ways. The best way to secure cheap flights is through a genuine U.S. travel company - FlyOfinder. We can get you the best 'phone deals' on call that will help you to save big. If you are looking for cheap flight deals, look no further. Call one of our travel experts at +1-571-378-7016 to speak to one of our travel experts. Make sure you book your Aeromexico deals in advance to avoid paying hiked airfare prices.
In-flight facilities for Aeromexico Airlines
Your trip starts from the time you get on board Aeromexico. The economy class in Aeromexico is a delight for passengers. The cabin crew is welcoming and friendly, ensuring your journey is comfortable.
Aeromexico air tickets ensure passengers a comfortable and exciting journey on board. The airline offers state-of-the-art entertainment and a wonderful selection of movies, games and music to keep passengers entertained. Not only the adults but kids too are kept occupied with kid kit and their kind of snacks.
Aeromexico in-flight meals will excite your taste buds. With a combination of Mexican, European and American-inspired cuisine, onboard can relish a wide range of food and drinks.
What cities does Aeromexico fly to?
Book Aeromexico deals with more than 90 destinations in North, Central, and South America, and Mexico. Plus, fly to the Caribbean, Europe and Asia. Some major cities to which Aeromexico flights operate are San Francisco, London, Madrid, Chicago, Paris, Rome, Tokyo, Lima, Rio de Janeiro, and more.
Can I buy cheaper Aeromexico deals at the airport?
Aeromexico airfares are never cheap at the airport. You'll always land up booking expensive air tickets. Calling one of FlyOfinder travel experts can help you get the lowest deals with fantastic savings. Do not hesitate to call us for unpublished airfares and enjoy up to 70% off on Aeromexico flight deals.
Fly Aeromexico with FlyOfinder
Aeromexico tickets are the best pocket-friendly option for customers planning to escape with friends or family. Our round-trip flight deals and budget group travel air tickets are sure to give you good-value travel offers with attractive pricing and cheap plane tickets. Additionally, any minute travel plans that you make with Aeromexico airlines flights will be well taken care of by our travel specialists.
Also, read our blog Last Minute Flight Deals for the United States.