Amazing and Interesting Facts about North America
Tuesday, September 08, 2020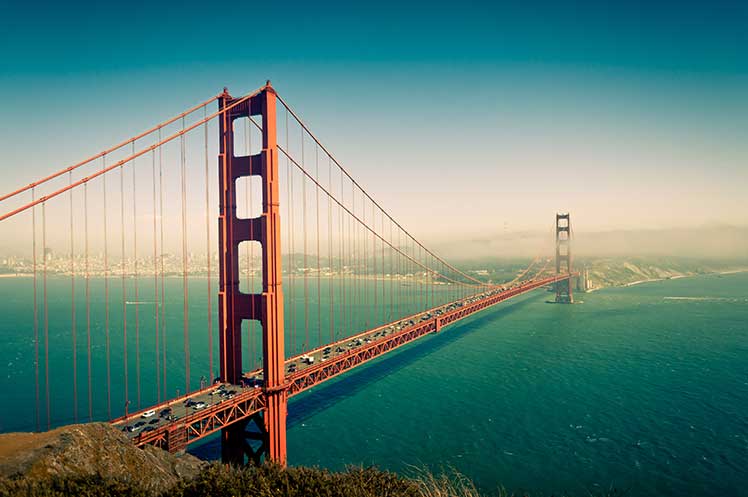 Have you ever considered taking North America tours? If you still haven't then you must do it at least once in a lifetime. Visiting one of the most powerful and influential continents on planet Earth is a fascinating experience in itself. Book flights to North America now with FlyOfinder at fabulous discounts and great savings and embark on a sojourn to discover one of the most beautiful places on Earth.
North America is the world's third largest continent comprising of three large nations – the United States of America (USA), Canada and Mexico – and one large island territory of Greenland. Apart from these, Central American nations such as Panama, Nicaragua, Honduras, Guatemala, El Salvador, Costa Rica and Belize, and Caribbean Island nations like Antigua and Barbuda, Bahamas, Barbados, Cuba, Dominica, Dominican Republic, Haiti, Jamaica, Saint Kitts and Nevis, Saint Lucia, Saint Vincent and the Grenadines, and Trinidad and Tobago, are also part of North America. Additionally, non-Caribbean territories such as Bermuda (overseas territory of UK) and Saint-Pierre and Miquelon (overseas department of France), also come within North America continent.
North America is as diverse as it can be. Whatever part of this continent you desire to visit it can be found that North America has been shaped by indigenous peoples, waves of immigration, colonization, and a mixed cultural heritage. It's an incredible wonderland in a way with the gorgeous tropical beaches, fascinating wildlife, ancient forests, breathtaking mountains, huge canyons, and national parks and preserves. You will find it all here no matter whichever time of the year you plan to visit.
Climate in North America
The climate in North America is diverse just as this continent itself. You will experience all climate zones in North America. The cold or cool weather can be found throughout the year in Greenland, Alaska and northern Canada as they are situated in the Arctic. These areas are also sparsely populated. Most of the land area in Canada is boreal, with long winters and short summers. As such, most people in Canada can be seen residing in the temperate zone, comprising of southern Canada and most of the USA. Though, the southern and southwestern parts of the USA, as well as northern Mexico, are situated in the sub-tropical zone. You will find tropical climatic conditions in the Caribbean, Central America and Southern Mexico, with warm weather throughout the year.
Countries in North America
There are many countries for you to visit in North America. You can take the help of best cheap flight finder to get discounted flights tickets to North America and travel to one of these wonderful countries.
United States of America or USA: Take pride in visiting the United States of America (USA). It is one of the most multicultural, ethnically diverse and the largest nations on planet Earth. It is the most powerful nation in the world and home to some of the popular cities in the world.
Canada: Get ready to explore the vast expanses of unspoiled wilderness in Canada, also called the 'Great White North'. This huge country is also home to some of the most cosmopolitan and modern cities in the world.
Central America: The Central America is great to visit. It efficiently connects North America and South America perfectly blending elements of both American continents. The Spanish-tinged culture, ancient jungle ruins and bustling cities in Costa Rica, Guatemala, Panama, Honduras, Nicaragua, El Salvador and Belize are worth exploring.
Mexico: You will find rich history and culture, and natural attractions in the charming and beautiful Mexico. This amazing country is a great attraction for history and culture buffs, eco-tourists, naturalists and sun-seekers. You will enjoy relaxing on the tropical beaches and Mayan ruins.
Greenland: A vast island of midnight sun and stark landscapes, Greenland is a self-governing country, which is a part of the Kingdom of Denmark. The summer season makes the land vibrant when the flowers blossom in the tundra.
Caribbean: The Caribbean Island nations of Jamaica, Bahamas, Dominican Republic, Haiti, Puerto Rico and Cuba are among the top vacation spots in the world with its tropical white sandy beaches, turquoise waters and laidback island culture.
Interesting Facts about North America
North America is a magnificent continent to explore. You will be amazed to know some of the interesting facts about North America.
North America is the world's third largest continent, ranked below Asia (first) and Africa). Despite being the third largest, it is ranked fourth in terms of population at 461 million currently
North America spans in an area of 9.54 million square miles or 24.71 million square kilometers. It covers the 16.5% total land area of the Earth
There are 22 dependent territories in North America. These are the following: US Virgin Islands (USA), Turks and Caicos Islands (UK), Saint Maarten (Netherlands), Sint Eustatius (Netherlands), Saint Pierre and Miquelon (France), Sint Martin (France), Saint Barthelemy (France), Saba (Netherlands), Puerto Rico (USA), Navassa Island (USA), Montserrat (UK), Martinique (France), Guadeloupe (France), Greenland (Denmark), Curacao (Netherlands), Clipperton Island (France), Cayman Islands (UK), British Virgin Islands (UK), Bonaire (Netherlands), Bermuda (UK), Aruba (Netherlands), and Anguilla (UK)
The word "America" is derived from the name of Italian explorer Amerigo Vespucci
Canada is the largest country in North America with an area of nearly 10 million square kilometers. USA is the second-largest country with a total area of 9.9 million square kilometers
North America shares borders with three of the largest oceans in the world – Atlantic Ocean, Arctic Ocean and Pacific Ocean
The widely spoken languages in North America are English, French and Spanish. A large number of Greenland natives also speak Danish
There are four main geographic regions in North America – the East (Florida, the Appalachian Mountains), the West (most of Mexico, the Rocky Mountains, Alaska, California), Great Plains (prairies in Canada and the central United States), and the Canadian Shield