North America and South America Tourist Destinations
Sunday, October 11, 2020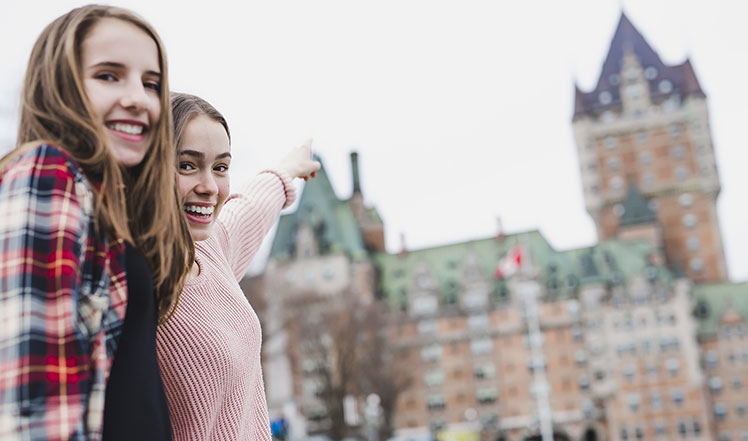 A fascinating insight into North America and South America Tourist Destinations
The Americas are big, bold and forever captivating. North America is well known for its bustling cities and spectacular landscapes. Whether you plan to visit Mexico's sun-soaked gorgeous beaches, enjoy winter wonderlands in Canada's icy north, soaring skyscrapers of Chicago, admire the grandeur of the Rockies, or explore the ruins of the Yucatan Peninsula; an array of remarkable enchanting destinations are waiting to be explored and experienced as you take cheap flights to North America.
South America is also unparalleled in many ways. No matter whether you visit Argentina for the tempestuous tango, get thrilled with samba rhythms of Brazil, explore Patagonia's vast icefields, or enjoy fun-filled times at the picturesque Caribbean coastline, cheap flights to South America brings you to an amazing southern continent whose countries are fascinating in every way just as its northern neighbors.
Both the continents – North America and South America – are packed with attractions and activities, which simply makes it hard as to from where to begin. You will be simply spoilt for choices. It's time for you to book tickets with the cheapest airlines now and embark on a discovery to see and experience some of the best places that the two continents have to offer.
Explore the best colonial cities
Quebec City in Canada is iconic. It is the oldest city in North America boasting 400-year-old history. Quebec City is still surrounded by a protective wall and its narrow streets are still dotted with stone buildings. The city looks every bit romantic. It seems as though a little slice of Europe has been transported to the New World. Quebec City is ready to forever mesmerize you.
Visit Cartagena in Colombia to see its Spanish imperial splendor. This charming city exuding old-world grandeur with a superb Latin flair is ready to entice you with its cobblestone streets, arched colonnades and grand cathedrals. The awesome views of leafy squares, twilight promenades and sunset on the northern ramparts make Cartagena simply magical.
Apart from Cartagena and Quebec City, other cities with more colonial charm include Quito (Ecuador), Cusco (Peru) and Antigua (Guatemala).
Best cities to see ruins of vanished civilization
The Maya ruins are simply outstanding. It has dominated Mexican region for nearly 700 years. The Mayan people built about 40 major cities, with some of them being home to 50,000 people. The ruins of these cities can still be seen even today, and they are quite perplexing indeed. You will come across grand plazas and soaring pyramids. The hugely popular city to visit for seeing Mayan ruins is Chichen Itza, nearby Cancun. It is the most accessible. The Bonampak in Mexico and Tikal in Guatemala also offer a fascinating insight into Mayan history, and are worth visiting. You will see murals and lovely frescoes in these places.
Discover the Inca ruins in the spectacular mountain citadel of Machu Picchu. You will be mighty impressed with it. The large cities and well-kept road network are waiting to be explored. Apart from Machu Picchu ruins, consider visiting the former Incan capital Cusco, where you will see famous sites such as Sacsuahana, and the fountains and baths of Tipon. Among other remarkable ruins worth visiting include the Tiawanaku, whose capital lies outside La Paz in Bolivia, the pre-Incan cultures ruins such as those of the Chimu, who built the city of Chan Chan in northern Peru, and the 1000-year-old Pueblo village at New Mexico's Chaco Canyon.
Most scenic cities waiting to be experienced
Make Delta Airlines reservations to visit San Francisco, one of the most scenic cities in North America. This lovely city attracts visitors with the extensive and largest collection of Victorian houses in the USA. Take home golden memories of your San Francisco trip with selfies in front of the popular pastel-painted row houses or make one of the Beaux Arts buildings in the Civic Center as a backdrop. Don't forget to see the colorful murals in the Mission District, or enjoy cappuccino in one of the scenic sidewalk cafes in North Beach, or go up hills on the cheery trams to get gorgeous views of the city skyline. San Francisco is stunning as ever.
The seaside city of Valparaiso in Chile is also one of the most colorful cities to visit in South America. The meandering streets wiggling their way up and down steep hillsides, houses painted in a mosaic of colors, and the surrounding street art surrounding the brightly-colored buildings, artists' studio dotting the cobblestone streets and panoramic sea views – all proudly display the colorful side of Valparaiso, which will delight you endlessly.
Undoubtedly so, the two continents – North America and South America – are striking and remarkable to say the least. The historical, cultural and natural attractions in the countries of these continents are awe-inspiring and will keep you spellbound for a long time.
FlyOfinder offers a huge selection of flights to North and South America. Both United Airlines and American Airlines offer non-stop flights from the U.S. to South America. Whereas, domestic flights to U.S. states are United Airlines, Delta Airlines, American Airlines, Spirit, JetBlue and Southwest. For more information on booking the best and cheapest flight deals call +1-571-378-7016 to speak to one of our travel experts.
Also, read our blog Amazing and Interesting Facts about North America.