JetBlue Airlines Baggage Policy: Travel light and pay less
Saturday, May 30, 2020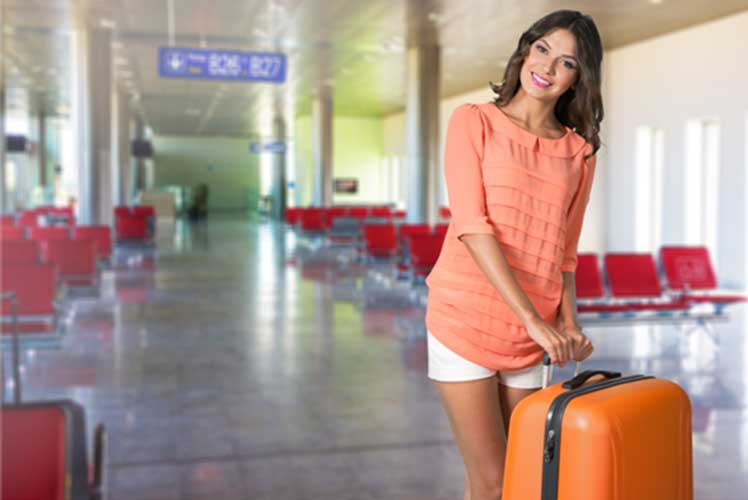 Packing is one of the essential components for any travel. However, when you are travelling by air then your baggage really matters. If you pack light then look forward to significant savings. When it comes to travel JetBlue Airlines reservations matters a lot. You are not only able to find cheap flights on JetBlue Airlines, but also save big on your baggage too. Here's an insight into JetBlue Airlines Baggage Policy which will guide you through on how much to pack and pay less for reservations.
JetBlue Airlines Baggage Rules
JetBlue Airlines offers various baggage options to its customers. These include carry-on bags, checked bags, and overweight or oversized bags. Let's take a look at each one of them and the baggage rules.
Carry-on Bags
JetBlue Airlines allows each customer one carry-on bag and one personal item such as a laptop, briefcase, small backpack, purse, etc. The carry-on bag must be placed in the overhead bin or underneath the seat in front of the customer carrying it. The personal item should also be placed beneath the seat in front of the customer carrying it. The carry-on bag must not exceed 22" L x 14" W x 9" H, including handles and wheels. The personal item must not exceed 17" L x 13" W x 8" H. Moreover, the following items also don't count towards the carry-on limit. These include one diaper bag for lap infants, duty-free items in a reasonable and limited amount, and special items such as infant car seats, umbrellas, coats, etc.
Checked Bags
JetBlue Airlines allows its customers to carry checked bags and also add up to 2 checked bags at any time during the course of their journey. Checked bags however depend on the fare type purchased and may vary. If your fare doesn't include checked bags then it is better to purchase in advance in order to save money. It must also be ensured that your checked bags should meet the recommended weight requirements and size dimensions. Each checked bag should be of up to 50 pounds or 22.68 kg and shouldn't exceed an overall size dimension of 62" (length + width + height), or else if it isn't adhered to then you will have to pay a fee.
Overweight or oversized bags
If your checked bags fail to meet weight restrictions and/or size dimensions and are considered overweight and/or oversized then you will have to pay the following charges:
For oversized bags between 63 inches to 80 inches (including handles and wheels): $150 per bag
For overweight bags between 51 pounds (23.13 kg) to 99 pounds (44.91 kg): $150 per bag
An additional fee may be incurred when checking more than 2 bags. The bags must be added to the customer's booking starting 24 hours prior to departure or at the airport. However, the customers travelling to/from Trinidad & Tobago, Peru, Haiti, Guyana, Ecuador, and Dominican Republic are limited to 2 checked bags only.
The customers should also note that skis or snowboard, skimboard, fishing rod or a golf bag will count as one checked bag and may be added to the booking at any time.
JetBlue Checked Bag Fees
The following fees will apply to checked bags, which are added at the airport or within 24 hours of departure. The checked bag fees will be only refundable when the entire reservation is cancelled before scheduled departure.

Blue Basic: 1st Bag - $35, 2nd Bag - $45
Blue: 1st Bag - $35, 2nd Bag - $45
Blue Plus: 1st Bag - Included, 2nd Bag - $45
Blue Extra: 1st Bag - $35, 2nd Bag - $45
Mint: 1st Bag - Included, 2nd Bag - Included
Mosaic: 1st Bag - Included, 2nd Bag - Included
JetBlue Plus Card member: 1st Bag - Included, 2nd Bag - $45
The fee for a 3rd (or more) checked bag will be $150.
Assistive devices such as stroller, crutches, wheelchair, etc. will not count toward carry-on or checked bags, but must fit in the overhead bins.
JetBlue Baggage Check-in Times
JetBlue Airlines won't accept any bags for check-in more than six hours before a flight's scheduled departure time. All bags must be checked at the airport 40 minutes prior to departure when travelling to domestic destinations within the United States. However, for international flights all bags are required to be checked at the airport 60 minutes prior to departure.
If you need any assistance for adding bags to your reservation or any other flight booking related queries then you can always call us on our Airlines Reservations Number. We will promptly help you and make the travel a hassle free and comfortable experience.