Aha Airlines New Non-Stop Routes
Monday, October 04, 2021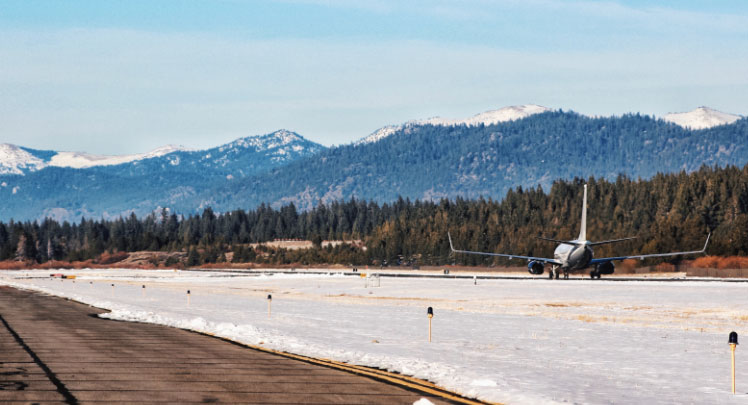 Aha Airlines will be the third entrant in the United States in the year 2021. Aha is not a brand new airline. It is the reincarnation of ExpressJet that had stopped its operation last year. ExpressJet is rebooting itself with the new brand name aha! It will be a leisure-focused airline in the United States that will start its operations from Reno-Tahoe International Airport in the last days of October 2021. Aha Airlines new non-stop routes are starting from October 24.
New Regional Airline in the United States Aha!
Aha is the rebirth of ExpressJet that has been non-functional since September last year. Aha, which stands for "air-hotel-adventure" , announced new brand routes starting from October 24. Initially, it will be serving eight routes starting in the last days of October. Reno-Tahoe International Airport will be the base of Aha Airline. California, Oregon and Washington will be main focused cities for flight operations. All new eight flights will be serving from Reno to these three cities only.
Aha Airlines New Flight Routes
Aha announced that it will be serving a total number of eight routes from its hub in Nevada. Starting from October 24, 2021, Aha Airlines is all set to fly to eight destinations in the western United States.
Pasco/Tri-Cities, Washington Routes: Flight service to Pasco/Tri-Cities, Washington is starting from October 24, 2021. Frequency to this route will be 3 times a week.
Medford/Ashland, Oregon: Starting from October 31, 2021 with 3 times a week.
Eugene/Springfield, Oregon: Starting from November 1, 2021 with 3 times a week.
Ontario, California: Starts on November 4, 2021 with 3 times a week.
Redmond/Bend, Oregon: Starts on November 5, 2021 with 3 times a week.
Eureka/Arcata, California: Starts on November 9, 2021 with 3 times a week.
Fresno/Yosemite, California: Flight service to this route will start on November 10, 2021 with 3 times a week.
Aha Airlines Air Fares
Aha Airlines is offering an introductory fare of $49 for one way. But the travel window is as short as 21 days in advance. Aha Airlines fare category is divided in 3 types that are Budget, Standard and Flex
Aha Airlines Budget Ticket: Aha Airlines budget tickets are non-refundable and non-changeable. If you want to cancel Aha Airlines budget tickets, you will not get any refund for it.
Aha Airlines Standard Ticket: Aha Airlines standard tickets are non-refundable but are changeable. If you cancel your Aha Airlines standard flight ticket and want to cancel it due to any reason, you will not get a refund for it. However, you can make changes on Aha Airlines standard tickets by paying a change fee of $25. You will also have to pay the difference in fares that may arise due to change in flight date.
Aha Airlines Flex Ticket: Aha Airlines flex tickets are fully refundable and changeable. You can cancel your Aha Airlines flex tickets anytime before departure of the flight and raise a claim for refunds.
What Is Aha Airlines Baggage Fee?
Like several other low-cost carriers, Aha Airlines also charges for checked bags. For the 1st checked bag, you will have to pay $30 and for the 2nd checked bag, the applicable fee will be $50. One personal item such as a purse, laptop bag, camera case, briefcase or any other item that can fit inside the seat is free. You will not be required to pay anything for one personal item to carry in Aha Airlines.
| Baggage Details | Fee |
| --- | --- |
| 1 personal item | Free |
| Carry-on bag | $30 |
| 1st Checked bag | $30 |
| 2nd Checked bag | $50 |
| Additional bag beyond 2 | $100 |
| Oversized bag | $50 |
Aha Airlines COVID-19 Protocol
Aha Airlines follows CDC guidelines at the airport and inside the plane.
Wearing face mask: Wearing a face mask is mandatory for all travelers. When you are at the airport or inside the plane during your journey, you will have to wear a face mask. Instead of getting fully vaccinated, you will still be required to wear a permitted face mask.
Persons with disability are exempted in this case however; they will have to follow certain rules for this. They will have to inform the carrier at least 10 days prior to the flight departure date, reach the check in counter at least two hours prior and go through the mandatory tests etc. For more details about the exemption of wearing masks for the persons with disability, please get in touch with the airlines in advance.
Each state has its own COVID-19 policy. You will have to follow the same policy that is needed in the destination states.
Aha Airlines Vacation Package
Beyond just being an airline, Aha will also be selling vacation packages for its travelers. Aha Airlines announced that it will be bringing attractive vacation packages in the next couple of weeks. It will consist of two to five days vacation packages that will be flashed on the official page of the airline.
Aha Airlines has announced flight services to just eight destinations in three cities, however, the airline is planning to increase its flight services to more than 20 cities in the coming months.
Make your Aha Airlines flight reservation to Reno with Flyofinder and get surprised deals on low cost carriers in the United States.