Leading North American airlines Cancel Flights to China
Wednesday, February 12, 2020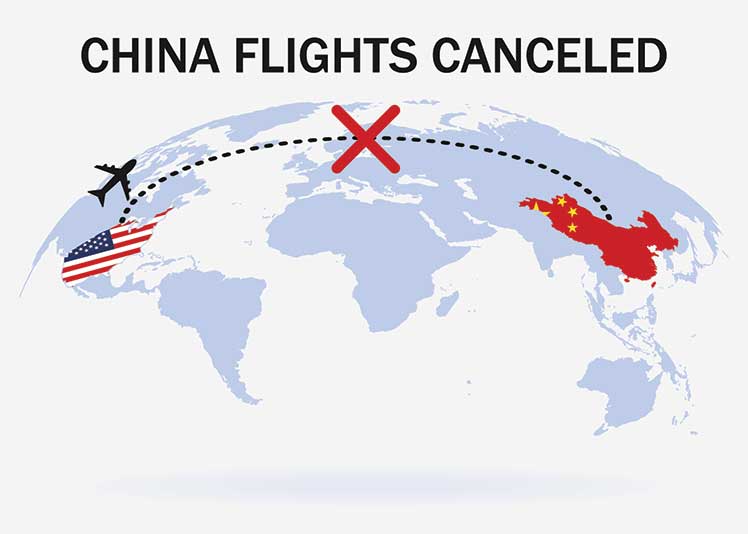 Leading North American Airlines have suspended their flights to China from the United States and Canada after the World Health Organization (WHO) declared a global health emergency after the deadly outbreak of coronavirus in China's Wuhan, which have claimed more than 400 lives so far. The virus, which has emerged for the first time continues to spread rapidly in different countries around the world.
The United States government has also placed new travel restrictions barring the entry of foreign nationals who had traveled to China in the past 14 days. The suspended entry however excludes the immediate family members of American citizens or permanent residents. The DOT has said that all flights from China will be funneled to just a few airports in the country, including New York's John F. Kennedy International Airport (JFK), Chicago's O'Hare International Airport (ORD) and San Francisco International Airport (SFO).
At least four important North American airlines have responded to the travel advisories and announced major changes in their flight schedules. The flights to and from China have been temporarily suspended by these airlines, which include United Airlines, American Airlines, Delta Air Lines and Air Canada. The travelers planning to take flights to/from China should take note of these significant changes.
United Airlines said that it is currently facing a drop in passenger demand and is suspending flights to Hong Kong from San Francisco through to February 20. The airline also said that it has suspended US-bound flights from mainland China for now, but plans to resume the services starting from March 28. United Airlines has responded to the outbreak by issuing travel waivers, which includes refunds for unflown flights to Wuhan, and waiving of change fees for certain flights related to Beijing, Shanghai and Chengdu, with some restrictions.
American Airlines announced the suspension of all flights to and from mainland China till March 27. The airline however in a statement said that the suspension of its flights to/from Dallas and Los Angeles to Hong Kong will continue until February 20. American Airlines further said that its passengers traveling to/from Beijing of Shanghai will waive change fees who want to reschedule their trip by delaying it for up to one year from the original ticket date, by paying a fare difference.
Delta Air Lines has also temporarily suspended all U.S. flights to/from China starting February 6 till April 30 over coronavirus concerns. The airline said that its passengers traveling to/from Beijing or Shanghai making one-time change to a different flight will have their change fees waived. The passengers are also allowed to cancel their trip and the unused value can be applied to a future flight for up to a year.
Air Canada has also acted on the Canadian government's advisory against non-essential travel to mainland China due to deadly Wuhan coronavirus. Air Canada has announced it has suspended all flights to Beijing and Shanghai till February 29. Air Canada has been operating 33 flights per week to Beijing and Shanghai from Toronto, Montreal and Vancouver.