United Airlines Free Flights for a Year
Friday, June 04, 2021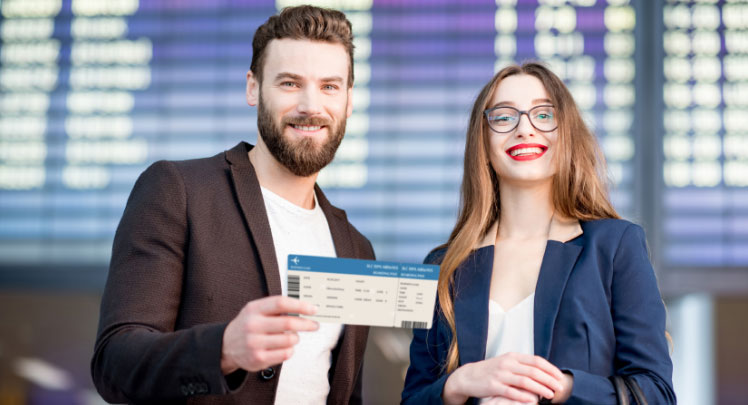 United Airlines Free Flights for a Year
United Airlines free flights are offered for a year to its frequent flyers who are vaccinated. United Air launched a program "Your Shot to Fly" under its loyalty program. All existing and new customers who are enrolled in its loyalty program called MileagePlus, can get a chance to win free flights for a year. You just need to upload the proof of COVID-19 vaccination. If you are vaccinated and have uploaded the proof of getting vaccinated on its portal, you could win a chance to get United Airlines free flights for a year.
The initiative of launching "Your Shot to Fly" sweepstakes has come into existence by United Air, after an appeal by the U.S. president to promote COVID-19 vaccination drive and encourage people to get vaccinated. The United Airlines is offering this sweepstakes to anyone who is aged 18 and plus and has taken at least the first dose of COVID-19 vaccine. The "Your Shot to Fly' sweepstakes is open till June 22 under United Airlines Loyalty Program.
United Airlines Free Flights Contest
The contest 'Your Shot to Fly' is running from May 24 till June 22. All members of its loyalty program can participate in this contest. You are not bound to purchasing new tickets to get eligibility to enroll in this contest. If you are already a member of Its MilagePlus program, you are eligible to participate in the contest.
You will have to log in your loyalty account by visiting its official website and upload proof of vaccination. Once you upload the proof, you are now one of the contestants under this program. There is no limit of entry into this program. United Air offers every member of its loyalty program to upload certificates of getting vaccinated for COVID-19 and you could win a chance of free travel with United Air for a year.
You could be one of those 30 lucky ones, who will get round-trip flights for two. Class of travel will be either coach or first class, it depends on your choice. During month of June, you could get a pair of tickets for free flights to anywhere United Air flies if you are lucky after the announcement of the winners. The grand prize winners will be announced on July 1. Five grand prize winners will receive prizes of traveling for a year with one companion. You can travel on any class to anywhere United Airlines flies with one companion.
Log into your account of Loyalty program by United, and upload the certificate of COVID-19 vaccination before June 23. You can also contact United Airlines over the phone to get updates on this initiative of the carrier. Visit FlyOfinder.com for United Airlines phone number.
How to Upload Vaccination Card
There are two ways to upload your vaccination card to participate in this contest. You can upload it on the official website of United Airlines and by using its mobile app.
On the website: Sign in to your MileagePlus account and go to "Profile and Preferences". You will get a tab "upload vaccination record" under "COVID-19 vaccinations documentations". Upload your vaccination certificate or card there and accept all terms and conditions. Enter all the related information in the respective tabs about your vaccinations. Please have a clear look on the preview page before final submission.
By using its mobile app: Download the latest version of mobile applications. Go to "My Account" page and sign in to your MileagePlus account. Upload your vaccination card and accept terms. Read the instructions carefully and enter all details in the respective fields about your vaccination. After uploading the card and completing the entries, click on submit button.
United Airlines Free Flights-Eligibility and Other Terms
The sweepstakes, 'Your Shot to Fly' launched by United Air is dedicated to Americans only. The program aims to encourage Americans to get vaccinated. There might be many reasons for vaccination on religious and medical grounds. The United Airlines with the support of United States governments, offers people to get vaccinated and win a chance to meet your loved ones. Only Americans who are 18 and older are eligible to participate in this contest.
Winners of round trip flights for two will be randomly selected between June 1 and June 30. A total number of 30 round trip flights for two will be announced during June. The announcement of the winner will be aired every Friday. Every winner will be communicated with their contact details updated in their profiles. You are requested to check your contact details and update it if required so that you can easily get communicated if you become lucky one. The names of grand winners are supposed to be announced on July 1. All flights won as a part of the sweepstakes must originate from the U.S.A. and must be completed between July 15, 2021 and July 14, 2022. The tickets are not transferable and travel can be done by the vaccinated people only. The grand prize winners will be awarded in the form of 26 travel certificates. Each travel certificate will be for round trips and with one designated companion. You must complete all the round trips within a year. If due to any reason, you could not complete your trips, it will go void and there is no provision to get cash value of voided trips.
If you are still not a member of United Airlines MileagePlus program, you do not need to worry. Just visit the official websites of United Air and enroll yourself into its loyalty program before the end of Jun 22. It is applicable to old and new members equally.
It is the right time of getting vaccinated for COVID-19. Get yourself vaccinated and upload the certificate and get more chances to visit more destinations during upcoming summer. United Airlines is providing one more reason to Americans to get vaccinated and start long-awaited vacations trips with friends and family. Uploading your vaccination certificates on the portal is also very useful beyond the contest. If your latest vaccination certificate is uploaded on its app, you could save your time at the airport originating from, especially if your destination country requires proof of your vaccination record.