San Francisco International Airport
Thursday, June 09, 2022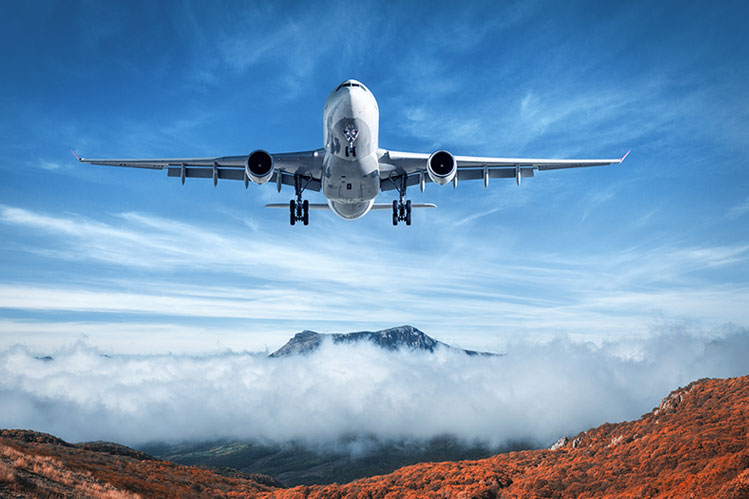 Are you planning to fly soon — Los Angeles, Hong Kong, Frankfurt, or Singapore? San Francisco International Airport is the gateway between the mainland United States, Asia, and Hawaii and a hub for major airlines, including Alaska and United. So, if you're planning to fly around the Pacific, you'd prefer San Francisco Airport, the largest in the Bay Area.
The nearest airport to San Francisco is San Francisco (SFO) Airport which is 16 km away. Other San Francisco airports include Oakland - 19 km, San Jose - 60 miles, and Sacramento - 120 miles.
San Francisco Airport - Know Your Airline
Terminal 1
Frontier Airlines
Southwest Airlines
Terminal 2
Alaska Airlines
American Airlines
Terminal 3
United Airlines (domestic flights only)
International Terminal
AeroMexico
Cathay Pacific
Emirates
Air Canada
China Airlines
Finnair
British Airways
El Al Israel Airlines
Hong Kong Airlines
Japan Airlines
KLM
Icelandair
JetBlue
Korean Air
San Francisco International Airport SFO - Terminals
The airport is home to four terminals (1, 2, 3, and International) and seven concourses (Boarding Areas A-G) with 115 gates alphabetically arranged in the counterclockwise rings. Look over your options for lounges.
Terminal 1 - Delta Sky Club
Terminal 2 - American Airlines Admirals Club
Terminal 3 - American Express Centurion Lounge, United Club lounges
International Lounges
Air France – KLM Lounge
British Airways Terraces lounge
Cathay Pacific's first and business-class lounge
The Emirates Lounge
Japan Airlines Sakura Lounge
Philippine Airlines Mabuhay Lounge
United Airlines lounges
Virgin Atlantic Clubhouse
Busiest Domestic Routes from SFO
Los Angeles, California - Alaska, AA, Delta, JetBlue, Southwest, United
Chicago–O'Hare, Illinois - Alaska, American, United
New York–JFK, New York - Alaska, American, Delta, JetBlue, United
Seattle/Tacoma, Washington - Alaska, Delta, United
Newark, New Jersey - Alaska, United, JetBlue
Las Vegas, Nevada - Alaska, Frontier, Southwest, United
Honolulu, Hawaii - Alaska, Hawaiian, Sun Country, United
San Diego, California - Alaska, Southwest, United
Phoenix, Arizona - Alaska, American, Frontier, Southwest, United
Busiest International Routes from San Francisco Airport
London–Heathrow, UK - British Airways, United Airlines, Virgin Atlantic
Hong Kong - Cathay Pacific, Singapore Airlines, United Airlines
Taipei–Taoyuan, Taiwan - China Airlines, EVA Air, United Airlines
Vancouver, Canada - Air Canada, United Airlines, WestJet
Seoul–Incheon, South Korea - Asiana Airlines, Korean Air, United Airlines
Toronto–Pearson, Canada - Air Canada, United Airlines
Frankfurt, Germany - Lufthansa, United Airlines
Paris–Charles de Gaulle, France - Air France, United Airlines
Singapore - Singapore Airlines, United Airlines
Shanghai–Pudong, China - China Eastern Airlines, United Airlines
Car Rental at San Francisco Airport
With millions traveling to and from the United States every year, booking airport transportation without hassles is essential. Ensure that you can get straight to and from your hotel near San Francisco airport or location in addition to San Francisco Airport SFO at the price and time that is suitable for your needs. Your options from the airport are:
Air Train Transit
Shared Shuttles and Shuttle Buses
Private Cars
Rideshare
Luxury Rides
Taxis
San Francisco Airport - Parking At SFO
Parking cost at San Francisco International Airport ranges from $2 per 15 minutes to $42 per day using ParkValet.
Long-Term Parking at SFO - $2 per 15 minutes. $25 max per 24 hours.
Int'l and Hourly Parking - $2 per 15 minutes. $36 max per 24 hours.
Domestic and Hourly San Francisco Airport Parking - $2 per 15 minutes. $36 max per 24 hours.
ParkFast - Start at $2 per 15 minutes. $40 max per 24 hours.
San Francisco International Airport SFO - How To Reach?
If you're driving to San Francisco Airport — Highway 101 is straight to the airport, either from Downtown San Francisco or the East Bay, after passing over the Oakland Bay Bridge. Driving from San Francisco to the airport is 20 and 25 minutes if traffic conditions are manageable. Drivers who travel through San Francisco and Marin County can also use Park Presidio to 19 19th Avenue and connect to Interstate 280 South.
San Francisco Airport - Security and Customs
TSA PreCheck - TSA PreCheck lanes at all checkpoints
Global Entry - For expedited clearance of passengers arriving on international flights.
Mobile Passport - allows passengers to submit their details via the app on arrival at the airport..
CLEAR - security clearance at San Francisco International Airport for approved members and is accepted at all terminals.
Hotels near San Francisco Airport
San Francisco airport hotels range from 2 to 4 stars, with hotels positioned from 0.4 to 2 miles from the airport. Top hotels include:
Hotel 1550 – SFO Airport West
The Westin San Francisco International Airport.
Fairfield Inn & Suites by Marriott San Francisco Airport.
Aloft San Francisco Airport
Ritz Inn
Hyatt Regency San Francisco Airport
San Francisco International Airport Marriott Waterfront
San Francisco International Airport - How Do You Find The Best Deals?
If you are trying to search FlyOfiner for low-cost flights from San Francisco, the first is to look up 'Nearby Airports.' The option is given below your departure point and lets you compare rates with other airports in the region. Flexible dates are essential to secure an even better price. For further assistance regarding parking at SFO, airlines arriving and departing, San Francisco airport hotel, check-in options, SFO international arrivals, etc., call FlyOfinder at +1-571-378-7016.
Common FAQs
Q - Can I book an Uber from San Francisco International Airport to Sacramento?
A - The distance from San Francisco to Sacramento is roughly 140 kms, with a travel time of 80 minutes. You can book a ride with Uber in advance at San Francisco International Airport. If you are booking UberX or UberPool from Terminals 1-3, advance to Level 5 near the Parking Garage. If you are booking Uber Comfort or UberXL, you'll be picked up from the Departures zone. To request an Uber, you can use the Uber app on your smartphone.
UberX: $210-276
Uber Comfort: $286-376
UberXL: $333-438
UberPool: $341-376
Q - Why is it difficult to find a direct flight to Hartford, CT, from SFO to California?
A - Basically, direct flights are routed between larger airports. Hartford-Brainard Airport is a towered public airport with short runways. It cannot accommodate large, leading airlines. To reach Hartford, CT, you have to take 2 smaller flights to reach a large east-coast airport and board a smaller, regional aircraft to reach Hartford.
Also, read our blog LaGuardia Airport Guide.