Last Call for La Tomatina (the Tomato Fight) in Spain
Saturday, August 24, 2019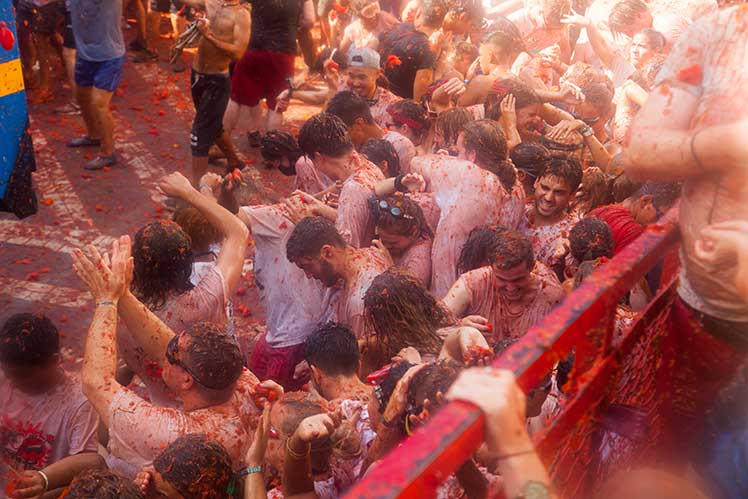 Get last minute deals to Spain and become a part of the world's most famous food fight!
Spain's hugely popular festival La Tomatina is round the corner. The world's most famous food fight is beckoning you. Get last minute deals to fly to Spain now and take part in your dream celebration.
Plan a vacation with your friends and make group bookings with us right away. Look forward to the best discounts ever when booking your flights to Spain with us. Don't miss out on our last call to be part of the world's most famous food fight and regret missing all the fun. Make haste and be in the midst of action!
Have you ever participated in La Tomatina? If not, then here's all that you need to know about the interesting festival. Those who have already participated and planning to participate yet again know how thrilling it is. Simple… unlimited fun!
What is La Tomatina Festival?
La Tomatina is essentially a tomato throwing festival held every year in Spain. It is believed to be the world's largest food festival and is held on the last Wednesday of August every year. The festival is held in the town of Bunol, situated 25 miles west of Valencia.
Thousands of revelers from Spain and other parts of the world participate in this fruit-flinging festival. More than 160 tonnes of over-ripe tomatoes are hurled, squished and splattered onto the streets of Bunol during the annual event.
This year La Tomatina festival is going to be held on Wednesday, August 28, 2019.
How is La Tomatina celebrated?
Trucks laden with over-ripe tomatoes will arrive at around 11 am in Plaza del Pueblo, the center of Bunol town, and offload the tomatoes in the streets. The hour-long brawl starts after water cannons are fired into the air. The festival traditionally starts after someone climbs on top of a two-storey high, greased-up wooden pole in order to reach the coveted ham at the top. The fighting ends after one hour and no more tomatoes are to be thrown. The cleaning process with the help of fire engines hose starts after the revelers have finally cleared the streets.
With so much fun, why don't you also think about participating in the fun-filled La Tomatina festival! It's high time you should book your flights to Spain with FlyOfinder. Look forward to great deals even on your last minute flights to Spain and save big.