Celebrate festive Mardi Gras 2020 with Last Minute Flights to New Orleans
Friday, February 21, 2020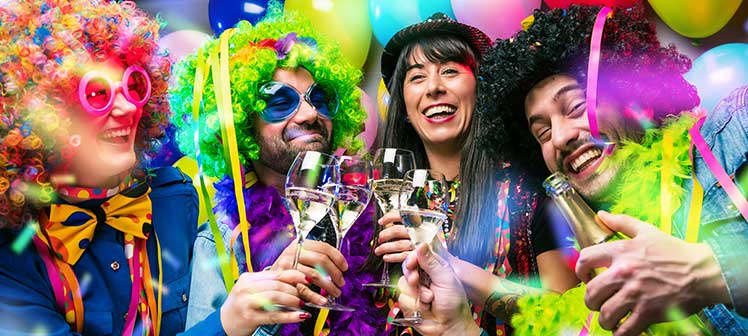 The "Greatest Free Show on Earth" in New Orleans has approached. Have you made your travel plans and booked flights to New Orleans? The Mardi Gras 2020 is going to be celebrated on February 25 this year. Grab discounts and deals on last minute flight tickets to New Orleans being offered by FlyOfinder, and immerse in all the fun at Mardi Gras celebrations, falling on Fat Tuesday, the last day of the Carnival season falling the day before Ash Wednesday, the first day of Lent. The extended weekend before Mardi Gras is the most popular time for visiting New Orleans to catch parades such as Rex, Zulu, Bacchus, Endymion, and other festive celebrations taking place throughout the city.
Here's all that you need to know about the Mardi Gras, its history, traditions and celebrations.
History of Mardi Gras
The Mardi Gras traces its origins to medieval Europe, which passed through Rome and Venice in the 17th and 18th centuries to the French House of the Bourbons. Later on, the traditional revelry of fatted calf or "Boeuf Gras" reached French colonies. It was French-Canadian explorer Jean Baptiste Le Moyne Sieur de Bienville who arrived in south of New Orleans on March 2, 1699, and named it "Pointe du Mardi Gras" after realizing that it was the eve of the festive holiday. America's first Mardi Gras was celebrated in the tiny settlement of Fort Louis de la Mobile in 1703. New Orleans started celebrating Mardi Gras in the 1730s initially as elegant society balls with the addition of street parades in the late 1830s. Today, Mardi Gras in New Orleans is dubbed to be the "Greatest Free Show on Earth!"
Mardi Gras celebrations
Mardi Gras in New Orleans is one big holiday. It's about parades, floats, music, picnics and excitement. Revelers can be seen wearing costumes or at least they are found dressed in gold, green and purple, adorning themselves with long beads caught from the floats of previous parades. Lots of crazy costumes can be seen. Everyone can be seen having a great time. Party goers are to be seen sitting on the ground throwing balls, playing music, eating great food and watching the crowds passing by between the parades. The revelers carrying a large bag will be seen catching trinkets and beads from the parades. There are celebrations all around and people enjoying gala time.
Around 80 parades are scheduled to be held in New Orleans during Mardi Gras 2020. The parades can be best enjoyed watching from the street, from a balcony, or from the purpose built grandstands. Look forward to watching at least one parade at the French Quarter.
Being in New Orleans during Mardi Gras offers yet another opportunity to the tourists to visit some of the biggest attractions in the city, eating at great restaurants and enjoy great outdoors. This is also the time for you to collect lots of coupons and get discounts at many places.
Get ready to enjoy Mardi Gras 2020 celebrations in the best way possible. There's little time left and you need to immediately finalise your travel plans. Get last minute flight deals to New Orleans now and look forward to immersing in the festive spirit right away.