Top 5 Online Travel Agencies (OTA) in USA
Wednesday, May 04, 2022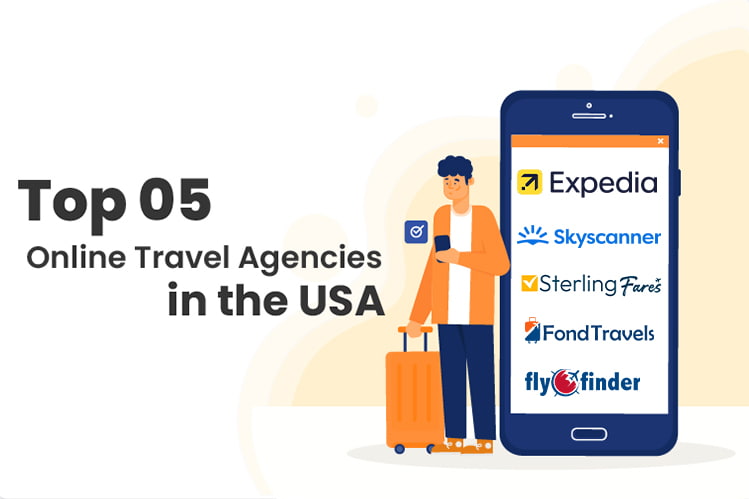 Hey, travel is back on its feet, inspiring many to leave their comfort zone and explore their favorite destination. After turbulent times of uncertainty, travel has bounced back with an innovative and upgraded network, tools, and system — all collaborating with the best travel agencies in the US. So, whether you are traveling for work, leisure, honeymoon, long vacations, or family getaway, we've compiled the top 5 online travel agencies in the United States to assist you in making the most of your next trip. These agencies have made it to the top list due to their unmatched services, speedy travel solutions, budget-friendly packages, hotels & flights, and a commendable reputation.
Expedia
If you are looking for best package deals, then Expedia is among the top online travel agencies in the United States providing a good option for all those planning to book a vacation package. The easy-to-use website helps the customers to book their travel requirements in the most convenient and affordable way. The company's Bundle and Save option allows the customers to make significant savings when booking two or more services at the same time. The company's website has an exclusive Deals tab offering great discounts on flights, hotels and vacation packages.
Orbitz.com
Orbitz.com has been playing a leading role in the online discount travel industry for the past several years now. Initially founded by American Airlines, United Airlines, Delta Airlines, Continental Airlines and Northwest Airlines, the prime motto of Orbitz is to make travel planning experience affordable and easier for all. Orbitz is currently in partnership with more than 455 airlines, 39,000 properties, 25 car rental companies, 30 vacation packages provided and 18 cruise lines. This leading OTA in the USA has expertise in offering the largest selection of web-only airfares. According to Orbitz officials, airline ticket sales account for the company's estimated 70 percent of its revenues.
Travelocity
Travelocity.com is among the top online travel agencies in the USA. It offers travelers with convenient flight bookings, hotels and car rental reservations, vacation packages and cruises, and provides information about various destinations worldwide. Founded in 1996, the popular OTA is presently headquartered in Dallas, Texas. Travelocity is partnered with 700 airlines, 50,000 hotels and 50 car rental companies and offers reservation services to the customers. The company also offers tour packages bookings as well. While continuing to grow steadily, the company boasts to provide discounted tickets on bargain rates.
FlyOfinder
FlyOfinder.com has also made its presence felt in the aviation and travel industry and has presently emerged as one of the top online travel agencies in the United States today. FlyOfinder has been serving its customers with highly discounted, low-priced flights booking, hotels and car rental reservations, all-inclusive vacation packages, group travel, business class travel, resort packages and short stays contact us +1-571-378-7016. The company also offers travel insurance as well. Most modern-day travelers find FlyOfinder a right fit for all travel-related needs under one roof and within their budget and convenience.
Skyscanner
Skyscanner has been into the online travel business for the past several years now. Among the top OTAs in the USA, Skyscanner offers itself as an aggregator site and a metasearch engine providing fare comparisons from almost all OTAs, airlines, hotels or car rental companies. Skyscanner is renowned for offering the best deals to its customers. If you are booking flights through Skyscanner then look forward to getting further discounts on hotel reservations as well.
With some of these top online travel agencies in the USA, booking flight tickets, hotels and car reservations or vacation packages has become all the more easy and quite affordable indeed.
The next time you plan your travel bookings OTAs like FlyOfinder and others are there for getting the best deals and discounts ever.
Also, read our blog Saudi Airlines Cancelation Policy.