Best Time to Buy Christmas Flights
Thursday, August 27, 2020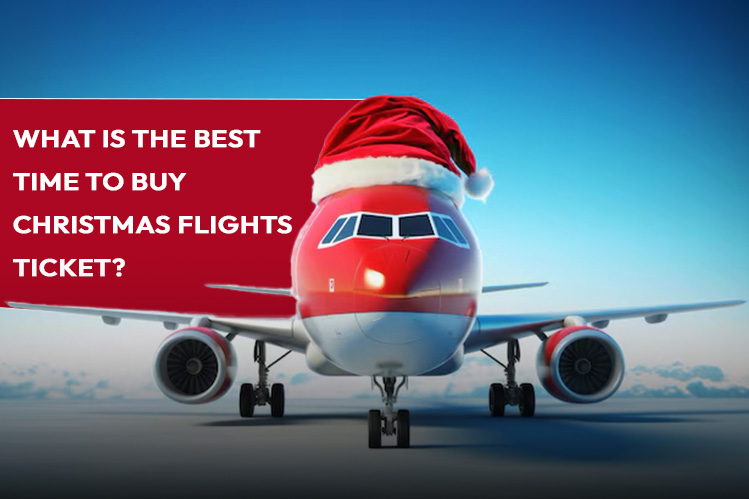 Christmas or Xmas brings with it a sense of camaraderie and joyous frenzy. It's a time to get together with families and friends for a festive break. Many people seek a family reunion to indulge in festivities, while most of them seek an enjoyable, fun-filled, and adventurous getaway to exotic destinations to celebrate the occasion.
Christmas time is one of the most expensive and busiest travel periods of the year. This is also a special occasion when people want to fulfill their dream of going on a vacation. Airlines also take advantage of the situation with increased travel demand and want to cash on the festive mood with airfare hikes, which are twice or three times than it would have usually cost during other times of the year.
Christmas is just a few months away, and you should also start your preparations right away. After all, who doesn't want to enjoy the most sought-after festive break at one of the glamorous winter sun destinations or explore some of the best Christmas markets in Europe? The only dampener is increased ticket prices, especially for those who are on a budget. But, just don't worry. We at FlyOfinder are here to help you to find and bag the cheapest deals ever when you plan to buy Xmas flights. Take advantage of our expert tips on when and how to get the cheapest Christmas flights.
When is the best time to buy Christmas flights?
If you are in search of cheap Christmas flight tickets then the first thing we will recommend is that saving some precious cash is always possible when you book much in advance. We want you to get to your destination without emptying your bank account for the ultimate December escape. The sooner you book your flight tickets for Christmas the fatter your wallet will be providing enough cash to splurge on your holidays.
Should I book flights around Christmas? This is the worrisome question most people ask themselves when searching for the best discounts on Christmas flights. According to travel experts, the best time to buy Christmas flights is 61 to 90 days before Christmas. This year you can plan to book your flight tickets between September 26th and October 25th at the latest. The airfares will be surely lower than when booking before or after that window. Dial our 24x7 toll free number +1-571-378-7016 for best Christmas flight deals.
If you still haven't or failed to book your tickets then getting good last-minute Christmas flight deals is always possible around Thanksgiving, between 28 to 60 days before Christmas.
When to buy Xmas flights for travel within USA?
If you are not planning to go overseas and instead seeking a family reunion for the festivities in the United States itself, then you must be searching for the cheapest Christmas flights too. So, when is the best time to cheap tickets? Travel and holiday experts are of the unanimous opinion that you should better avoid departing between December 21 and 23 as these are the most expensive days for flying. You should instead think about scheduling your departure before December 21st, or on Christmas Day. And, also consider taking a red-eye flight so that getting to your destination in time for Christmas ham also gets easier. Moreover, a red-eye flight also tends to be cheaper than flying during daytime. It's also important for you to know that the actual cost of your Christmas travel may vary widely depending on your destination and the airline you will be flying with. You should always keep a tab and constantly search to find out the cheapest days to fly.
Is flying on Christmas Day cheaper?
This is really a tricky situation, especially for all those who want to gamble or take chances. The real answer is 50:50. Now, you know that your flight could be the cheapest or most expensive when traveling on Christmas Eve. There are only a few lucky ones who might get cheap Christmas tickets. Travel experts say that flying on Christmas Eve is though "the lightest travel day of the week". But, if it's possible one should always avoid taking chances for last-minute Xmas flight deals. Don't spoil chances by making your holiday travel expensive, when you can easily book it well in advance with special offers and exclusive deals.
When to buy Christmas flights to international destinations?
There are similar rules to book cheap international Christmas flights just in the same way you would fly domestically. The handful of days leading up to Christmas should be avoided. However, here's a perspective on international destinations which you need to consider when you buy Christmas tickets.
Southern Hemisphere: If you want to travel to a beach destination for celebrating Christmas then try purchasing your tickets between September and October to make your travel cheaper, before the prices peak. Some of the best deals can also be found when booking in November.
Europe: Book your Christmas flights before October to get the best discounts on your tickets. The prices will increase steadily closer to December. Make your holiday travel cheaper by booking now.
Which airlines offer cheap Christmas flights in the USA?
The following budget airlines are popular for offering the cheapest airfares, even when holidays are around:
Frontier Airlines
Southwest Airlines
JetBlue Airways
Alaska Airlines
Allegiant Air
You can also get the best deals when booking with American Airlines, United Airlines, and Delta Airlines in advance.
Bottomline
Unleash your winter wanderlust and Christmas festivities by booking much in advance. It's high time that you get going. Start preparing for the Big Day. Don't waste any time further and buy Christmas flights with exclusive discounts with FlyOfinder like never before!
Also, read our blog Christmas in Mexico City