Spirit Airlines Unaccompanied Minor Policy Guide
Wednesday, January 13, 2021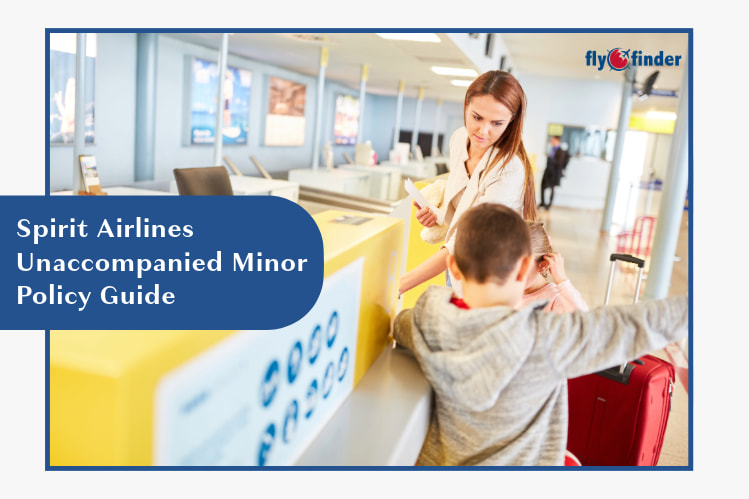 Spirit Airlines Unaccompanied Minor Policy Guide
The scenario of a child flying alone without an adult accompanying him/her can make every parent nervous and worrisome. Sometimes, such situations just can't be avoided. You need to fly your young one with a heavy heart hoping that the journey is safe and the destination is reached without any difficulty. Is your child flying solo with Spirit Airlines? If so, then you need to know that there are certain restrictions and specific rules and fees pertaining to unaccompanied minors. Take the advantage of our helpful guide to know all about Spirit Airlines unaccompanied minor policy.
Who is considered as an unaccompanied minor by Spirit Airlines?
Children aged between five (5) and fourteen (14) traveling alone without being accompanied by a passenger aged 15 or older is treated as "Unaccompanied Minor" by Spirit Airlines.
What is the age requirement as per Spirit Airlines unaccompanied minor policy?
Spirit Airlines allows children of certain ages to travel alone on direct flights to domestic destinations, including Puerto Rico and the U.S. Virgin Islands. The unaccompanied minors are however not allowed by Spirit Airlines to travel on international flights, connecting flights, or domestic flights involving a change of aircraft. The airline ensures that the young flier is taken care of very well onboard the flights with a drink and snack.
Spirit Airlines has specific age requirements for unaccompanied minors. These are the following:
4 Years and Younger: Children who are 4 years old and younger are not allowed to travel alone. They will have to be accompanied by passengers who are of at least 15 years of age. Such unaccompanied minors are thought to be too young to make their way through an airport on their own.
5-14 Years: Children who are aged between 5 years and 14 years are required to travel as an unaccompanied minor when they are not accompanied by an adult passenger of at least 15 years old onboard the flight. As such, this is also a typical age requirement for an unaccompanied minor for most airlines, including Spirit Airlines.
15 Years and Older: Passengers who are aged 15 years and above don't require unaccompanied minor service when flying with Spirit Airlines. They will however have to provide a picture ID or birth certificate for verifying their age whenever asked for. Spirit Airlines also provides unaccompanied minor service for passengers 15 years or older whenever requested by a parent or legal guardian.
It is important to note that unaccompanied minors are accepted by Spirit Airlines only on direct domestic flights (including Puerto Rico and the U.S. Virgin Islands), which doesn't require a flight number or a change of aircraft. Unaccompanied minors are therefore prohibited to fly on connecting flights or international flights.
What is the fee charged by Spirit Airlines for unaccompanied minor service?
Spirit Airlines unaccompanied minor fee is $100 per passenger each way. This will include the charges for beverages and snacks as well. However, the Spirit Airlines minor service charge is extra, and will have to be paid in addition to the passenger's airfare. For roundtrip flight the unaccompanied minor service fee will be $200 (for both way flight).
Spirit Airlines booking process for unaccompanied minors
Spirit Airlines unaccompanied minors flight booking can be done either online or by phone. During the online booking process you will need to visit Spirit Airlines website and start the booking. You will have to select that a child is flying and provide birth date information when making Spirit Airlines reservations. After filling the necessary details the screen will display the information whether your child is eligible to fly as unaccompanied minor or not, and then you will be provided a breakdown fee upon eligibility. After confirming and accepting the online booking process for unaccompanied minors will be complete. Do remember that the breakdown charges will include the price of airfare and the $100 (one way, and $200 for roundtrip) unaccompanied minor service fee.
You can also make unaccompanied minor bookings with Spirit Airlines on phone. This can be done by calling Spirit Airlines reservations department or through Spirit Airlines phone number by talking to FlyOfinder +1-844-392-6060 to complete the unaccompanied minor booking process over the phone.
Spirit Airlines unaccompanied minor check-in, boarding, departure and arrival process
Check-in: The parent or legal guardian accompanying the unaccompanied minor passenger at the airport should make sure to check in at the gate at least 60 minutes before departure. An Unaccompanied Minor form needs to be filled up at the airport during check-in by the parent or legal guardian or others with photo identification before the child is accepted for travel. The unaccompanied minor will be wearing the filled out form inserted into the lanyard throughout the entire flight, and will be needed by Spirit Airlines employees for identifying the unaccompanied minor. It is however recommended to be present at the check-in area at least 90 minutes before the flight's departure just to be on the safer side.
The non-traveling parent or legal guardian possessing a government issued photo ID with the unaccompanied minor at the airport should obtain a gate pass allowing him/her to get through security and on to the gate where the boarding of unaccompanied minor will take place, and should remain there until after the flight takes off.
Boarding: The unaccompanied minor is allowed by Spirit Airlines to enter the aircraft during pre-boarding. The boarding process for them is therefore less stressful. However, if the unaccompanied minor doesn't make it in time for pre-boarding and arrives late then they will be the last to board the aircraft. Arriving at the airport is therefore necessary to ensure the boarding process in a timely manner.
Departure: The parent or legal guardian dropping the unaccompanied minor at the airport should remain there for 15 minutes after the departure of the flight. This is just in case if something happens and the aircraft has to return to the gate.
Arrival: After the arrival of the flight at its final destination, the unaccompanied minor will be escorted off the aircraft by a flight attendant and handed over to the person assigned on the Unaccompanied Minor form or to a Spirit Airlines employee. The assigned person who will be receiving the unaccompanied minor should arrive at the destination airport 30 to 60 minutes prior to the flight's scheduled landing time.
Spirit Airlines unaccompanied minor policy is indeed quite simple and helpful for the parent or legal guardian of the unaccompanied minor. This helpful guide will prove to be advantageous if your minor child will be traveling alone without accompanying an adult passenger whenever flying with America's leading ultra-low-cost carrier Spirit Airlines.