Delta Airlines Offers quarantine free travel to Italy
Monday, May 24, 2021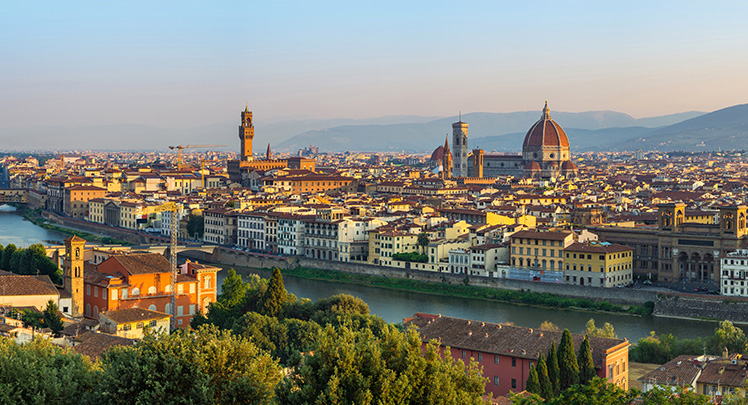 Delta Airlines Offers Quarantine Free Travel to Italy
One of the major airlines of the United States, Delta Airlines offers quarantine free travel to Italy for summer travelers. The Atlanta based Delta Air provides extensive flight service to its domestic and international network. In accordance with its commitments to provide award-winning flights service across the world, Delta is offering quarantine free travels to its passengers to Rome and Milan starting from May 16. In an official statement, Delta president-international, Alain Bellemare announces that Italy is reopening to American travelers on Delta. In November last year, Delta had announced a similar program of quarantine free flights to Italy for limited travelers only on providing a coronavirus negative report to the authority of the destination country; however, it was applicable to the restricted number of people who were authorized to travel by their respective countries. But the latest announcement by Delta on quarantine free flights to Italy applies to all travelers including leisure travelers.
Delta Airlines Quarantine Free Flights to Italy
Delta Airlines quarantine free flights to Italy begins from May 16 for all American leisure travelers regardless of vaccinations or eligibility status. As the Italian government has lifted the policy of mandatory quarantine restrictions for all travelers coming from outside Italy, the American travelers on Delta now can benefit by the announcement of lifting the quarantine restrictions. Now Delta Air offers flights to Italy requiring just a coronavirus test with negative results for American travelers.
Delta Airlines quarantine-free flights Eligibility
The eligibility of Delta Airlines quarantine free flights to Rome and Milan is simple and easy. All American travelers need to undergo COVID-19 test before and after taking the designated flights.
As per 'The Centers for Disease Control and Prevention', persons who have fully vaccinated do not need to be tested before and after completing the journey. However, if the destination authority requires the latest COVID-19 report with negative results, they must provide it to the concerned authority regardless of whether they are vaccinated or not. There would be one more condition when they may ask you to provide a negative coronavirus report even if you are vaccinated, if such symptoms emerge after the journey. Italian authorities have clarified that the American travelers on Delta must provide a coronavirus test report with negative results after entering into its regions.
Where to find coronavirus test in the U.S.A.: There are several places from where you can get your COVID-19 test report. These are the centers which offer coronavirus tests for Americans.
Urgent care centers, travel clinics, fire stations, pop-up sites, most of the hospitals, pharmacies and some airports. The potential travels should check it with their primary health advisors where to get the coronavirus report in their respective areas.
Delta Airlines flights booking
Delta Airlines flights booking can be done by visiting on its official Websites. You can also call the carrier directly for booking quarantine free flights to Italy or visit FlyOfinder to get updated Delta Airlines phone numbers. Please make sure that the coronavirus report should not be more than 72 hours from the departure time of the flights to get eligibility to fly to Italy. Once you have arrived at the airport of the destination country, they will ask you to produce COVID-19 report again in that country.
Delta Airlines Flights to Italy
Delta Airlines flights to Italy are open for all American travelers even if they are not completely vaccinated. Since the vaccination program is still going on and every person in the USA is still not vaccinated, Delta is offering leisure trips to those travelers as well who are not completely vaccinated. It is indeed an encouraging act by the Italian government to allow all Americans to have great leisure trips to Italy. Italian government neither will ask you to get vaccinated completely before your trip starts nor will it ask you to go for quarantine after arriving in its country. Delta is providing you the quarantine free leisure trips to Italy on its dedicated protocol planes. You just need to show the latest negative coronavirus test report which is not more than 72 hours older, before taking the flights, and you can bypass the mandatory quarantine in the landed country. When you are returning to your homeland, you will again require showing the negative COVID-19 test report within 72 hours of the departure time. If you have recovered from the COVID-19 within last 90 days, you just need to show proof of recovery from the coronavirus disease. You will then not be asked to provide the latest coronavirus test report.
Delta Airlines Non-stop COVID-19 service to Italy
Delta Airlines allows summer travelers for quarantine free trips to Italy on its various non-stop flights. Currently, Americans have choice to pick the one from the below.
From Atlanta to Rome- 5 times in a week. But Delta has announced to increase its frequency, and you will get daily service from May 28.
From JFK and Milan- Delta is offering daily service between these routes.
From JFK to Rome- It is serviceable three times in a week however, Delta has announced to increase its frequency daily from July 1.
In addition to the above flight service, Delta is all set to launch three new routes this summer.
JFK to Venice-Staring from Jul 2.
Boston to Rome-Starting from August 5.
If you are planning to have leisure trips to Italy this summer, and you are still not vaccinated, you don't need to worry at all. Delta is offering you to travel with your family and friends to Rome and Milan this summer without any restriction to go for quarantine. It is the right time to avail the benefit of quarantine free service to Italy.