Jackson Atlanta International Airport (ATL)
Wednesday, May 25, 2022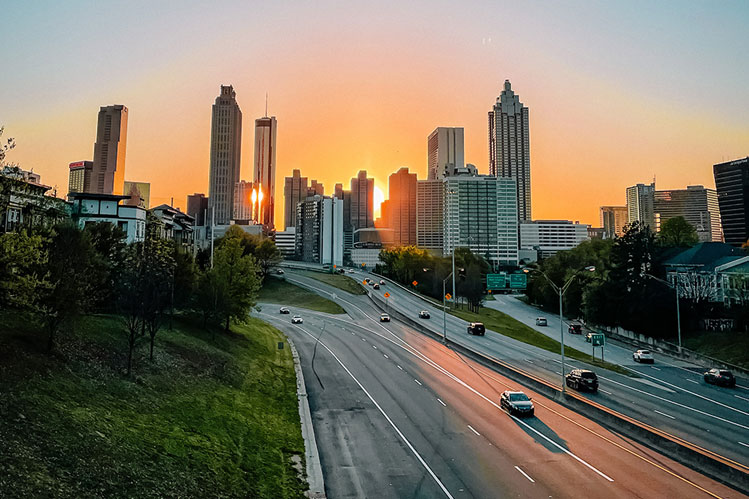 Are you planning to fly from the world's busiest airport? Since the 90s, Jackson Atlanta International Airport has served half the world (93m passengers in 2011) and is famous for most departures and arrivals. The airport is situated nearly 9 miles from downtown Atlanta and caters to 107 million passengers annually. It's informative to know where to eat and relax while in Atlanta International Airport for a connecting flight or a layover.
Atlanta Airport Flights – find your airline
Atlanta's airport has two terminals — Domestic and International with five concourses each. These Concourses are labeled as A, B, C, D, E, and F in the International Terminal. Concourse T is located in the Domestic Terminal. Even though international flights often depart from the Domestic Terminal, you will still see them there. You can check-in at South Domestic Terminal if you fly Delta Airlines.
A shuttle service makes it easy to transfer between terminals. You can also walk between the concourses. To find your airline's location, you can look at the following list. Many airlines have more than one terminal. Your airline may not be on the list. This is often the case for smaller carriers.
Jackson Airport - busiest domestic routes from ATL
Orlando, Florida - Delta, Frontier, JetBlue, Southwest, Spirit
Fort Lauderdale, Florida - Delta, JetBlue, Southwest, Spirit
Miami, Florida - American, Delta, Frontier, Spirit
Los Angeles, California - American, Delta, Frontier, Southwest, Spirit
Tampa, Florida - Delta, Southwest, Spirit, Frontier
Dallas/Fort Worth, Texas - American, Delta, Spirit
Denver, Colorado - Delta, Southwest, Spirit, Frontier, United
Las Vegas, Nevada - Delta, Frontier, Southwest, Spirit
New York–LaGuardia, New York - American, Delta, Frontier, Southwest
Detroit, Michigan - Delta, Frontier, Spirit
Busiest international routes from ATL
Paris-Charles de Gaulle, France - Air France, Delta
Amsterdam, Netherlands - Delta, KLM
Toronto–Pearson, Canada - Air Canada, Delta
Cancún, Mexico - Delta, Frontier, Southwest, Spirit
London–Heathrow, UK - British Airways, Delta, Virgin Atlantic
Seoul-Incheon, South Korea - Delta, Korean
Mexico City, Mexico - Delta
Montego Bay, Jamaica - Delta
Nassau, Bahamas - Delta
Punta Cana, Dominican Republic - Delta
Atlanta Airport - getting through security
The average wait time to get through security at Hartsfield-Jackson is 20-30 minutes, especially if you travel mid-day. Here are the security wait times. You can reduce the time to get through security and get to the gate quicker by taking off your belts and jewelry. Security will be easier if you dress comfortably and simple. These are some quick tips to help you get through security quickly.
You should not have liquids that exceed 3.4 ounces
Your water bottle should be empty
While waiting in line, make sure you have your ID and boarding passes.
ATL: Where to Eat and Drink
Hartsfield-Jackson Atlanta International Airport offers many dining choices. So how can you choose from the many restaurants? There are many options for everything you might be craving, including quesadillas and fried chicken.
While scores of Atlanta's most trendy eateries have closed temporarily due to Covid-19, there are still a few open that serve the passengers at the airport. This list shows the top places to grab grub, ranked by their location, and you'll savor some of the finest food Hartsfield Airport has to offer.
Atlanta Airport Parking
Hartsfield Jackson Airport offers hourly and daily parking.
You can park daily or hourly at Hartsfield Airport. Hourly parking rates include $3 an hour for the first two hours, $4 for the next four hours, $36 for the 6-24 hour period, and $36 for every additional day.
Parking for daily use is separate from parking for hourly. There are four levels of daily parking available at the airport. They are located directly across from each terminal. Daily parking rates are $3 an hour or $14 per day.
The Parking Spot
The Parking Spot is positioned near Hartsfield Jackson Atlanta International Airport and offers airport parking daily and long-term. Airport shuttles can be arranged 24/7 for transportation to and from the airport.
Daily rates for uncovered parking are $6.50/day and covered parking $8.50/day/
You can make all short-term reservations on their website, and travelers can also make long-term parking through STOW IT services.
Park n' Fly
The Parking Spot also offers Park n Fly. This lot is located near the airport and offers a shuttle service. Daily rates for uncovered parking are $8.50/day, and covered parking is $9.90/day. Get your reservations done on their website in advance.
Atlanta International Airport Hotels
There are many hotels around Atlanta Airport, including major chains. You can find hotels nearby, including The Georgian Terrace Hotel, Holiday Inn & Suites North, Country Inn & Suites By Radisson (Atlanta Airport North), La Quinta by Wyndham (Atlanta Airport North), and Hyatt Place South (Atlanta Airport South).
The Comfort Inn Atlanta Airport, Crowne Plaza Atlanta Airport, and Drury Inn & Suites are all within easy airport reach. There are many options for where you can stay in Atlanta. You also have a wide range of places to eat and things to do during your visit to Georgia's capital city.
Jackson Airport - FAQs
Q - How do I get to Hartsfield-Jackson?
A - Hartsfield-Jackson is conveniently located near interstates 20, 75, 85, and 285. From Central Atlanta, drive on I-75 S. Continue towards Clayton County and exit 239. Look out for CW Grant County. Stay on Maynard H. Jackson lane. The total drive time is 15-20 minutes. Use the Atlanta airport map for directions and important signs for more details.
Q - Where do I find Lost and Found items?
If you left items on an airplane or at a gate, don't hesitate to contact the airline directly at 571-378-7016 to speak to one of our agents. Items left in the terminal and at passenger security checkpoints are given to the airport's Lost and Found. The Lost and Found office is in Domestic Terminal North, upper level, across from American Airlines ticketing. Service hours are 8:30 am - 5 pm, Monday through Friday, excluding holidays.
Q - What are the terminal facilities?
A - Money, Food & Drinks, Shopping, Luggage, Medical Center, and AED areas.
Q - How early should you arrive at the Atlanta airport?
A - Airport officials recommend passengers arrive inside at least two hours before their domestic flight is set to depart.
Q - What are the alternative airports to Atlanta?
A - Atlanta Fulton County - 12km from Central Atlanta (this is the closest) & Atlanta De Kalb/Peachtree - 16km from Central Atlanta.
Q - How can I find the best flight deal to/from Atlanta Hartsfield-Jackson?
A - We at FlyOfinder show every price from over 1,000 airlines, comparing them all. Visit our site and set up a Price Alert. For more information on flights, luggage policies, check-ins, and discounted flight deals do not hesitate to talk to our flight and travel experts at +1-571-378-7016.
Q - What are the flights to Atlanta airport?
A - Most often, travelers fly with Delta, American Airlines, and United Airlines when going to Atlanta. The biggest proportion of these flights comes from Chicago, with Delta flying this route the most frequently.
Q - How far is Hartsfield-Jackson Atlanta International Airport from central Atlanta?
A - The distance between Hartsfield-Jackson Atlanta International Airport and central Atlanta is 8.3 miles. It can be covered within 11 minutes by road.
Also, read our blog San Francisco International Airport.