7 Best Places to Visit in the USA in November 2023
Thursday, October 20, 2022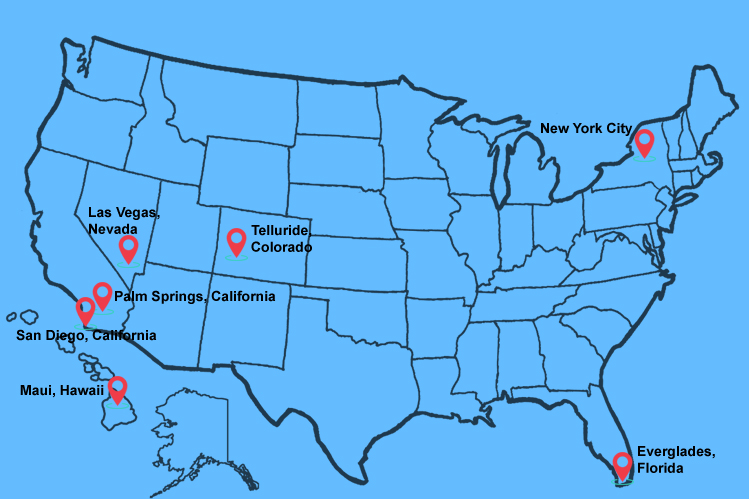 One feels most alive in the USA in November. It allows travelers to skip the sizzling crowd while enjoying steep festive discounts. As the vivid fall leaf winds its way down in November, beach vacations are in full swing, and wildlife viewing becomes popular. Birds migrate towards the southern region, and whales enter the warm Hawaiian water.
Whether you're looking for pleasant breezes and sunshine or popular fall festivals and dramatic hikes, incredible fall destinations in the USA await.
Palm Springs, California
Longing for poolside relaxation and 'me time'? California dreamin'? Turn it into reality in Palm Springs. Palm Springs offers a desert oasis environment as one of the best places to visit in November.
Take a dip while enjoying mountainous views and spectacular landscapes. In November, Palm Springs is a treat for outdoor lovers and rovers.
What Not To Miss: Indian Canyons, Horseback Rides, Desert Adventures
What/Where to Eat: Classic American fare with Mexican influences. Eat at King's Highway, Townie Bagels, Carousel Bakery, Norma's
Where to Stay: Saguaro Palm Springs, County Cabanas
Weather Avg: Mercury doesn't rise above 70 degrees. It stays 26°C /11°C.
All the leaves are brown…And the sky is gray…I've been for a walk…On a winter's day...Well, it's all true for Palm Springs.
Maui, Hawaii
Aloha! Surfers, whale-watchers, and ocean lovers — this is your playground in November. Yes, Maui!!! If you're thinking of luau, with hula girls, tropical fruit and tiki cocktails, poi and pig, there's more to Hawaiian delights.
Being one of the best places to visit in November in the USA, Maui is famous for world-class beaches, farm-to-fork cuisine, beautiful sunsets, and live beach music. Exploring Hawaii's second-largest island is a treat to the eye and soul.
What Not To Miss: Makena Beach Park, Snorkeling, Haleakala Volcanic Tours
What/Where to Eat: Kalua Pua'a, Lau Lau, Haupia, Pipi Kalua, Loco Moco
(Sushi on Oahu Island, Mochi, Malasadas at Maui, Kau Kau on Kauai, Breakfast & Burgers on the Big Island)
Where to Stay: Waikiki, Maui, and Oahu are the top places to stay — cabanas, tents, resorts, and small-scaled hotels.
Weather Avg: Daily high temperatures decrease from 85°F to 82°F (27°C to 29°C)
No wonder everyone has travel up in their minds when November rolls in. After all, these places are perfect for celebrating Thanksgiving and getting involved in several activities. Do not hesitate to come to us regardless of what you've in mind when finding affordable travel deals. Save on November flights to the USA here at FlyOfinder. We do not want to blow off all your savings. Call FlyOfinder at 1-571-378-7016 to make your travels more affordable.
New York City
New York is for everyone. This place needs no introduction. The Big Apple has all its colors unfurled in November, and you'll find endless places to eat and leisure. It's the end of pumpkin spice season and the beginning of hot chocolate. You can shop, play, roam, eat and enjoy every possible activity in the city. It would be unforgettable!
Being one of the best places to visit in the USA in November, you can look forward to NYC Marathon, Macy's Day Parade, Black Friday, and Thanksgiving Week.
What Not To Miss: Wandering through Central Park, Museum Mile, Romeo & Juliet at New Victory Theater, Times Square & Brooklyn Bridge
What/Where to Eat: Rosso & Daughters Pizza, Piece Cream Sandwich, Pumpkin Pie Jar, Baogel from Black Seed Bagels, Pumpkin Gingersnap Banana Pudding
Where to Stay: Long Island City (Queens) and Manhattan are great places for affordable options. Check out LUMA Hotel, NobleDEN Hotel, Scherman, Hotel Chelsea, Wallace Hotel
Weather Avg: Upper 40s to 50s (9-10 C)
Las Vegas, Nevada
You won't be able to surpass Vegas in November! The nighttime temperatures in the desert aren't as warm, so make sure you have a warm jacket!
Alongside its global fame as a Mecca for gambling, Vegas has a deserved reputation for attracting the best artists. In addition, since they typically stay for a week or two in their home, securing tickets is simple. Before you hit the casinos and shows later in the night, enjoy a private tour of the historical Hoover Dam on the Colorado River.
What Not To Miss: Hop-on-Hop-off Bus Tour, Cirque Du Soleil Shows, Vegas Helicopter Tour, Pawn Stars Bus Tour, Grand Canyon Tour, The Mob Museum
What/Where to Eat: The Strip is your food court. Try steakhouses, vegan, Italian, and even Guatemalan.
Where to Stay: Desert Paradise Resort, Club Wyndham Grand Desert, M Resort Spa & Casino, Candlewood Suites
Weather Avg: Summer temperatures drop to 70°F (21°C)
Everglades, Florida
As one of the unique destinations in the USA, the Everglades allows you to get immersed in nature and explore the mangrove area. With cheap flights to the USA, nature lovers can spot rich wildlife congregating around water holes. The ideal November climate is best for kayaking, hiking, airboat riding, and spotting alligators, manatees, and American crocodiles.
What Not To Miss: Shark Valley, Flamingo Visitor Center, Anhinga Trail, Pay-Hay-Okee Lookout Tower, Paurotis Pond
What/Where to Eat: Eat at El Toro Taco Family Restaurant, Capri Restaurant, Miccosukee Restaurant, Ernest F. Coe Visitor Center, Royal Palm Visitor Center
Where to Stay: Port of the Islands Resort, Travelodge by Wyndham Florida, Home2 Suites, Hampton Inn and Suites Miami, TownePlace Suites
Weather Avg: Temperatures stay 78.4°F and 59.7°F (15°C & 24°C)
San Diego, California
November, the fall season, is a great time to explore the 60 miles of shoreline and enjoy outdoor activities — surfing, biking, and gliding. Besides thrilling activities, San Diego is the perfect time to bag discounted and November flight deals.
Do not forget to partake in the Day of the Dead celebrations and sip world-class beers at the Craft Beer Festival.
What Not To Miss: SeaWorld San Diego, LEGOLAND California, Mission Beach, Shopping and Dining
What/Where to Eat: You'll find taco shops, national chains, and a few goods but expensive restaurants. Check out Rudy's Tacos, Liberty Station, Addison, Sushi Ota, VG Donut & Bakery
Where to Stay: You'll find budget hostels, boutique hotels, apartments, and great vacation rentals for less.
Weather Avg: High temperatures decrease from 72°F to 67°F (22°C to 15°C)
Telluride, Colorado
Telluride is located in the San Juan Mountains and is an ideal place for skiing in November. If you wish to beat the crowd and bag cheap flight deals, Telluride is the jewel in the crown.
If skiing is not your interest, take the gondola journey from Uncompahgre, the Irish-style mountain village, and eat your heart at the city market.
What Not To Miss: Bridal Veil Falls, Hope Lake, Riding the free gondola, Transfer Warehouse Center
What/Where to Eat: Brown Dog Pizza, Top Chef, Baked in Telluride, Smuggler's Brew Pub, Tomboy Tavern. Savor chips made from delicata squash and chickpea cakes with plum butter. Try sunchoke puree, black cherry compote, or the crispy Scottish quail with blue-corn cornbread and lingonberry-jalapeno sauce.
Where to Stay: The Hotel Telluride, The Angler Inn, Mountain Lodge Telluride, Mountainside Inn
Weather Avg: Telluride in November is -12.6°C (9.32°F).
Also, read our blog Dubai Shopping Festival 2023-2024.