Dubai Shopping Festival 2023-2024
Wednesday, November 09, 2022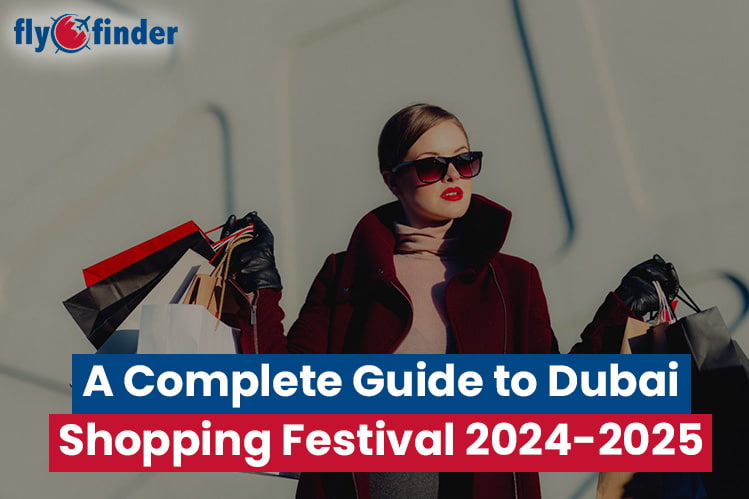 One of the most incredible holiday destinations — Dubai is calling all aficionadas, shoppers, families, and kids to one of the grandest shopping wellsprings in the world — the Dubai Shopping Festival 2023-2024, and it's coming up very soon!
With people coming from around the world, Dubai Shopping Festival is out-of-the-world. One can indulge in shopping, culture, art, entertainment, food, prizes, and more.
When is the Dubai Shopping Festival 2023-24?
The 28th DSF will occur from December 15, 2023, to January 29, 2024, and will include more than 1,500 brands and 5,000+ stores. While shopping in Dubai, find crazy discounts on all your favorite brands, an opportunity for shopping addicts and retail therapy enthusiasts to fill their bags.
The DSF is believed to be celebrating its biggest event yet. This year's Dubai Shopping Festival will highlight its most impressive additions to date, so it's time to grab your tickets to be part of this spectacular event and enjoy the best shopping in Dubai.
Weather Pattern in Dubai during December
Dubai in December offers highs of between 25°C to 28°C in the day and lows of 16°C to 19°C at night. December to February is the best time to visit and shop in Dubai.
DSF 2023-2024 - Seven Weeks of Unimaginable Celebrations
The 2023-2024 tone would be set for the event with concerts by famous artists, stage shows, dancing fountains, and the animated light show at Burj Khalifa. The DSF transforms Dubai shops into more than an event for retail.
The year's festivities will begin with energetic performances, including entertainment, live music, magic shows, street performers, flea markets, and large fireworks in Burj Park. Last year over 55,000 people attended the event's opening, and it's expected to exceed this year.
The Dubai shopping festival 2023-2024 ticket price is pretty low. It is just $5 per person.
Where will the Dubai Shopping event take place?
There are many shops and places within Dubai. Some of the most famous outdoor and indoor markets and top Dubai malls include Dubai Mall, Night Souk, Al Fahidi Fort, Gold Souk, Al Seef Street, Mall of the Emirates, Deira City Centre, Ibn Battuta Mall, Lamcy Plaza, Dragon Mart, Mercato Shopping Mall.
In addition to these shopping malls in Dubai, Festival Waterfront Centre, The Layali Dubai Concert, Promenade at Dubai Festival City, DSF Desert Camp, Asianet Film Awards, Al Rigga Street, Global Village, and Lulu Village are just some of the other locations that will offer festive fever to all.
Exclusive Flight & Holiday Packages for Dubai
Book exclusive flights to Dubai and vacation packages with FlyOfinder because we strive to give you the best travel experience, ensuring that you do not miss out on anything as you visit Dubai.
Let us help you book your flight and hotel in Dubai! Call +1-571-378-7016 for a whopping flight discount of up to 70% from FlyOfinder travel experts and save big for your shopping affair at the Dubai Shopping Festival. Save even more by combing flight and hotel stays and booking non-stop flights to Dubai from USA for you and your family.
Where are the events taking place?
At Dubai Shopping Festival 2024, more than 4500 shops and malls in Dubai are participating in the festival. They provide their customers with attractive deals and huge discounts that can reach up to 90 percent, in addition to gift cards and cash, all according to your budget. Plus, pop-up markets, traveling water circus, record-breaking drone shows, etc.
If you are looking for a great shopping experience and Dubai malls that offer all-under-one roof, tick the list below:
Dubai Mall
City Walk
Mall of the Emirates
Dubai Festival City Mall
Mercato Mall
Ibn Battuta Mall
WAFI Mall
Dubai Marina Mall
Dubai Outlet Mall
BurJuman
City Centre Mirdif
The Outlet Village
Dubai Festival Plaza
This year's prizes consist of Nissan Patrol, X-TERRA, the X-TRAIL, and Kicks, as well as 200,000 instant prizes that are up to grabs daily. They will announce the winners during an event for raffle draws beginning on 15th December. The daily draws will take place at the Global Village.
What is the INFINITI Mega Raffle?
At the Dubai Shopping Festival, spend a minimum of AED200 and more at ENOC and EPPCO stations in the city or Dubai Metro stations, Global Village, and the Gold Souk, or choose from a selection of shopping malls as well as main streets to obtain the ticket. Purchase online from 1st November 2023 until 29th January 2024.
INFINITI offers the chance to win an INFINITI QX80 and AED100,000 cash daily. It will be held at the Global Village from 17th December. Visitors will have twice the opportunity to win each day. Second prize winners will take home AED10,000 per day.
Dubai Shopping Malls Group will award Dh1 million cash prizes to customers during the festival. There are over 17 shopping malls taking part in the promotion.
Shoppers can buy items that cost as little as Dh100 at any of the stores in the malls participating in the promotion and will have the chance to spin the yellow, red and blue wheels to earn thrilling prizes. Shoppers' buying thresholds will determine the spins.
The Dubai Shopping Fest 2024 – Perks, Prizes, and Parties
Entertainment - Alongside some fantastic and thrilling shows like Martin Garrix Live, Al Wasl Opera, and Cinema on the Sand at Zero Gravity, guests will also be able to enjoy additional live performances by Australian singer and songwriter Kylie Minogue and famous Iraqi singer and composer Kadim Al Sahir. Also, grand events during the festival's 46-day long run.
Take advantage of the captivating ceremonial opening of DSF on the 15th of December, 2023, in Burj Park, Downtown Dubai. With flights to Dubai, visitors can enjoy live performances from Arab superstars Balqees Fathi and Mohammed Hamaki, with an exquisite illumination show and dancing fountains close to the Burj Khalifa.
Food – Book cheap flights to Dubai to taste local specialties, street food in the souks, and food trucks serving delicious and unique regional favorites. Enjoy a three-course meal at one of the finest eateries that are in Dubai.
Fireworks - The most impressive feature of DSF 2023 will be the colorful and stunning fireworks that draw as many people as possible. In the opening ceremonies, fireworks would be held at The Dubai Festival City Mall, Al Seef, Dubai Creek, The Dubai Frame, and La Mer on 16 December. In addition, the daily fireworks display will take place in the city until 22nd December.
Sky-high spectacles – During Dubai shopping, guests can enjoy breathtaking and mind-blowing drone performances every day between 7:00 and 9.30 after midnight in Ain Dubai, Bluewaters, and The Beach (opposite Jumeirah Beach Residences).
Tour the city - If you're going to the town to hunt for bargains, Dubai offers plenty. The Burj Khalifa, Dubai Museum, Al Fahidi Quarter, Sheikh Saeed Al-Maktoum House Dubai World Trade Tower, Jumeirah Mosque, and Dubai Frame are just a few hotspots you shouldn't leave Dubai without visiting.
How to Get the Most from Dubai Shopping Festival?
Make sure you're in the early stages to enjoy the best deals. Although discounts and deals are offered throughout the month, you shouldn't be blamed for the stores' willingness to reward the first-comers.
Make a plan ahead. Before booking a flight to Dubai, create a list of what you need to buy and plan your trip. Research and read about the top shops to buy for them at. These purchases are often made in the spur of the moment. This is particularly important when you're just in town for a few days.
Use the DSF apps. Most of the best shopping places in Dubai come with their app, devoted to informing customers about current promotions and discounts.
Make sure you spend more money and make more money during Dubai Shopping Festival 2023-2024. Use debit or credit cards or an online payment app that can give instant cashback, rewards, and points.
Don't overwork yourself. Shopping malls are full of restaurants, spas, and entertainment centers if you are overwhelmed by all that malls!
What Airports serve USA to Dubai flights?
New York City is the most common airport to catch Dubai flights. Plus, LaGuardia, JFK, and Newark operate flights to Dubai. Alternatively, passengers also fly from Los Angeles International Airport, Chicago Airport, Atlanta Airport and Washington Airport.
Emirates, Turkish Airlines, Delta, JetBlue, Qantas, Air Canada, and British Airlines are major carriers offering flights to Dubai.
Also, read our blog Top Vacation Destinations in the Caribbean.