Why You Should Travel to Morocco this Fall Season?
Saturday, August 31, 2019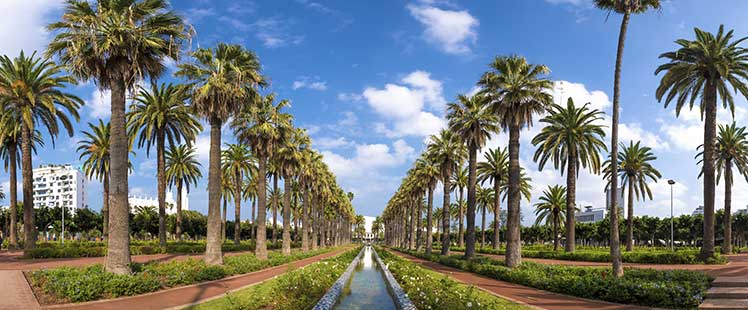 Morocco is one of the most underrated destinations in the Mediterranean. It is a diverse, fascinating country ready to mesmerize you with its vast deserts, streaming rivers, lush oases, majestic mountains, ancient cities and sun-kissed beaches. Moroccan cities and culture will simply amaze you. The 1,100 miles of coastline from the Atlantic to the Mediterranean, camels, bedouins, traditional souks and the European influence on the culture and cuisines of this North African country will leave you asking for more and more.
Here's a great opportunity for you to get the best flight deals to Morocco for fall 2019 with incredible savings when booking with FlyOfinder.
There are many reasons for you to visit Morocco. This incredible place offers plenty of attractions to the visitors. It's best to make your holiday plans to visit Morocco in fall. You will love to enjoy a vacation in this beautiful country for several reasons. In case you want to know more, please check out our Morocco Travel Guide for updates and information.
Ancient Cities
The Four Imperial Cities of Rabat, Marrakesh, Meknes and Fez are great to explore. All of these cities were, at one point, Morocco's capital. Each of the cities has a unique history influencing the architecture, art and culture.
These cities have bustling medinas (old towns), wonderful monuments, flourishing souks, and umpteen entertainment options. Undoubtedly so, the four imperial cities offer insight into the Moroccan culture.
Beaches
Morocco has a spectacular coastline of 1,100 miles from the Atlantic to the Mediterranean. With such a large coastline, look forward to scenic, gorgeous beaches with awesome ocean experiences. The beaches of Morocco are great for sunbathing, swimming, surfing and aquatic adventures. Hit at the beaches in summer to get a balmy and cool respite from the sweltering heat of the country's dry interiors, while the southern beaches remain sunny and warm during winter.
Deserts
Morocco's desert landscape is simply stunning. Get ready to explore the great Sahara Desert. If this isn't enough then the red or gold sand dunes are there to allure you even more. Look forward to a desert safari to catch a glimpse into the lifestyle of the nomadic tribes, who can still be seen camping in tents at the ancient oases and riding the camels.
Glorious History and Culture
Almost every empire in Western history had its presence in Morocco. The Phoenicians, the Romans, the Spaniards, the French and the Ottomans – all of them have played a significant role in shaping up the country's history, culture, cuisine and landscape. In fact, at first sight, Morocco seems to be more European than African. This diverse, complex, intriguing land is undoubtedly a tourist's delight.
How to get around Morocco?
Morocco can't be covered by train unlike Europe. It's a huge country. The big cities like Casablanca and Marrakech can be explored by train, while smaller cities such as Essaouira, Taghazout and Agadir are accessible through regular bus services. Cars can also be rented for excursion into the deserts.
What to Pack for your Morocco trip?
Morocco though has had many cross-cultural influences, but it still remains a conservative nation. It is however more relaxed in comparison to some of its neighboring Muslim countries. You need to therefore pack for your Morocco trip while being respectful of the local culture.
Men should pack long pants and a shirt. You can also pack jeans and t-shirt. However, jeans should not be torn and are well fitting. Long shorts can be packed for hot weather. Women should pack shorts, dresses, and skirts which should be at least to their knees. Female tourists should always avoid wearing tops revealing their cleavage.
Fun Facts about Morocco
Morocco is about the size of California. You need to spend at least 15 days to explore the country
It's no surprise that Morocco has been captivating visitors for centuries, and it's now more accessible than ever.
Excellent English is spoken by most Moroccans. Even locals are passionate about using the language
Morocco was a French protectorate during the early 1900s but it never became a full colony
A dialect of Arabic known as Darija is spoken by Moroccans. It is a mixture of Arabic, European and Berber languages
Karawan Mosque in Fez is the world's oldest university built by Fatima al-Fihri
With so much on offer here for everyone, plan your Morocco travel in 2019 right away. Visit an iconic destination full of surprises and adventures.