Delta Airlines Pet Travel Policy
Wednesday, September 15, 2021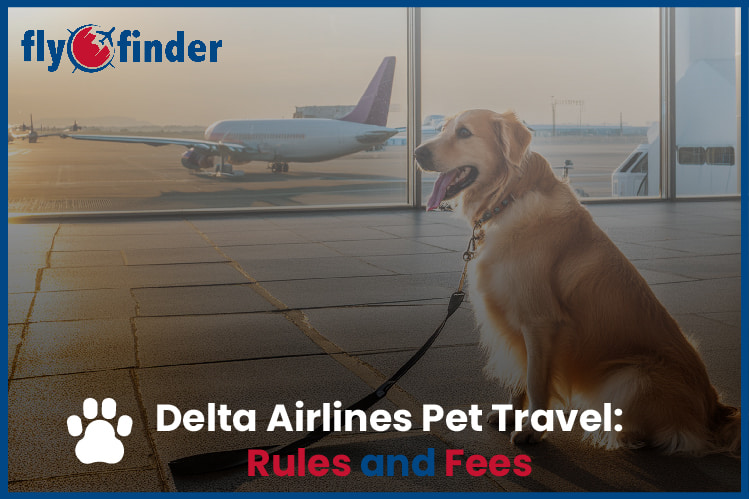 Delta Airlines Pet Travel Policy
If you are a lover of pets and do not want to travel without them, make Delta Airlines reservations and fly with your pets. Delta Airlines pet travel policy will allow you to travel with your pets with some terms and conditions. There are certain domestic and international destinations that are restricted to travelling with pets. You must know about Delta Airlines pet policy before you book Delta Airlines flights for travelling with your pets. We will guide you about Delta Airlines pet travel policy in the below sections.
Types of Pets Accepted On Delta Airlines
Delta pet policy accepts only certain types of pets on its flights. Some pets can travel on Delta flights as carry-on and some can be shipped in Delta Cargo. It depends on the size of the pets. Small pets like dogs, cats and household birds are accepted as carry-on pets. Such pets are accepted in the main cabin on most flights within the United States, Canada and Virgin Islands.
Hawaii, a state of the U.S.A. does not accept pets traveling in the main cabin as carry-on. The size of your small pets must be fit in a pet carrier that can fit under the seat in front of you. Pet in a knell will count as one carry-on item. Apart from the pet carry-on you are also permitted to bring one personal item with you in the main cabin.
How Do I Make Delta Airlines Pet Reservations?
Delta accepts pets traveling on the basis of first come first serve. The number of pets traveling with you is restricted to a certain number. It depends on the class of services and the destinations of your Delta flight reservations. Delta Airlines has restricted the total number of pets to travel in a flight to two for business class and first class and four for man cabin flights. Since the total number of pets flying in a Delta flight is limited, you should call Delta Airlines at 800-221-1212 for assistance and confirmation of your pet reservation.
Trained Service and Emotional Support Animals
As per the guideline by the United States Department of Transportation, Delta will no longer recognize emotional support animals as service animals. This rule has been effective from January 11, 2021. As far as trained animal service is concerned, only dogs are accepted as trained service animals from January 11, 2021. Customers traveling with a trained service dog must have to follow certain rules and must complete the DOT forms available on the official website of Delta Airlines. Delta Airlines does not discriminate on the breed of a trained service dog.
The U.S. CDC has temporarily suspended the pet travels from those countries that are considered high risk of dog rabies. Call Delta customer service phone number to get more details on pet restriction by these countries with a few exceptions.
Restricted Areas For Pets in the Aircraft
If you are traveling with a pet on Delta flights, you will not be granted the following:
Seat designated as "no stowage"
Emergency exit rows
Flat-bed seats
Centre seats on B-757-200
Rows 30-35 on the A330-200 aircraft and
Rows 30-43 on the A330-300 aircraft
Age of Pets and Fees For The Main Cabin
Your pet must be 16 weeks old if traveling to the U.S. from anywhere else. For traveling to the European Union, the pet's age must be 15 weeks. If you are traveling within the United States, the pet's age should be 10 weeks. Below table will give you a clearer view of pets' age traveling in the main cabin on Delta flights.
| Destinations | Minimum Age |
| --- | --- |
| Within the U.S.A | 10 Weeks Old |
| To U.S.A From Anywhere else | 16 Weeks Old |
| To European Union Countries | 15 Weeks Old |
Pet fee depends on your travel plan. For flights to/from the U.S.A. and Canada is $125 per pet kennel. From outside the U.S.A., the pet fee will be $200 and for Brazil, pet fee is $75.
Fee Table for pets.
| Regions | Applicable Fee |
| --- | --- |
| For Flights to/from the U.S.A., Canada and Puerto Rico | $125 |
| Virgin Islands and outside the U.S.A. | $200 |
| For Brazil. | $75 |
What Are Restricted Destinations For Pet Travels In The Cabin?
Pet travels are not allowed to/from these destinations.
Australia
Barbados
Brazil- Exit Brazil
Dubai
Hong Kong
Iceland
United Kingdom
U.A.E
South Africa
Republic of Ireland
New Zealand
Colombia
These destinations are restricted for pets traveling. However, you can take your pets from or to these destinations if you have a valid advance written approval from CDC Dog Import Permit. Please contact Delta airlines if your destination or origin airport is listed in these countries.
Certificate And Other Required Documents
Delta Airlines does not require any supporting documents or certificate for pets traveling in the main cabin for domestic travels except traveling to Hawaii State. For other international destinations, it depends on the individual pet policies of the countries you are traveling to. You should contact Delta Airlines to get assistance on pet travel if your destination is in other countries other than the U.S.A.
What Is Delta Sky Club Pet Policy?
The pet travel policy on Delta for Delta Sky Club Priority members is the same like other passengers. If you visit Delta Sky Club with your pets, the pet policy will remain the same when you are on board the aircraft. Please make sure that your pet is appropriately fit in a pet carrier when entering Delta Sky Priority Club. This is required for the comfort and safety for your pet and other guests in the Delta Sky Priority Club. You can get assistance from Delta representatives on finding a comfortable area for your pet's relief.
Delta Pet Travel Policy- Important Tips
For the safety and healthy travel of your pets, you should make a note of these below points when traveling with a pet on a Delta flight.
Pet must be small enough to fit appropriately within a kennel with the ability to move inside.
The size of the kennel should be fit under the seat in front of you.
The soft or hard knell must have ventilations opening at least 3 sides for domestic flight and 4 sides for international flights.
Kennel must be leak-proof.
Dimension of the carry-on kennel depends on the flight. Call Delta Airlines phone number to get the exact dimensions of the kennel according to your flight ticket.
Pets must remain inside the kennel while in Delta boarding area, Delta Airport lounge and while boarding the aircraft.
Two pets of the same breed and size between the age of 10 weeks and 6 months are allowed to travel in 1 kennel, however, you have to make sure that they are small enough to fit into one kennel and are compatible. They will be charged as 1 pet.
Don't forget to keep your dearest friend with you while traveling to your favorite destination with Delta. Your pet will remain safe and secured in front of your eyes while traveling with Delta Airlines. Call FlyOfinder at +1-878-223-0710 to book Delta flight reservation along with your pets.
Frequently Asked Questions on Delta Airlines Pet Travel Policy
Q: Does Delta accept pets as checked-pets?
Ans: No. Delta does not accept a checked-pet. Only carry-on pets are acceptable for small pets. For larger pets, Delta Cargo is available for pets' shipments.
Q: How old a pet should be for traveling within the U.S.A.
Ans: Pet should be 10 weeks old if traveling within the U.S.A
Q. Can I bring one more personal item along with a carry-on pet kennel?
Ans: Yes. You are permitted to bring one more personal item along with one carry-on pet kennel inside the plane. The dimension of your personal item depends on the class of service of your flight.
Q: Can a female cat or dog travel with her litter?
Ans: Delta Airlines allows a female cat or dog to travel domestically with her litter. There is no limit of animals in the litter.