Emirates Flight Change Policy
Monday, March 14, 2022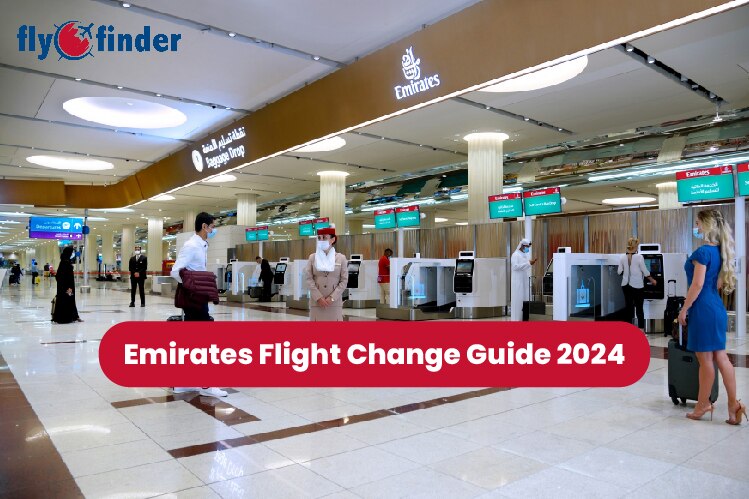 The tourism industry is struggling to reach regularity among fluctuating scenarios and restrictions, ensuring the ease of flying. Canceling or changing flight schedules has never been amusing but still, we have to go through such situations. This guide will give you some respite if you're carrying a confirmed Emirates air ticket and wish to modify the name or date according to your convenience and Emirates will do it easily and flawlessly. Keep reading to know more about Emirates flight change policy, fee structure, rescheduling, and other issues that pop up among such circumstances.

So, when does a change flight happen? It can happen due to three main reasons - if your flight is changed or rescheduled by the airline or if there are changes in the traveler's flight plan or there are changes to be done in the ticket.
Emirates Airlines Change Flight Date Policy
Founded in 1985 and based in Dubai, Emirates is UAE's prime airline and one of the world's largest airlines. The award-winning airline began with just two airplanes servicing three routes. Due to its popularity, fame and being a people's favorite, Emirates rose to fame and became the fastest-growing airline around the globe. Today, Emirates has a collection of 280 aircraft operating to over 160 destinations in more than 90 countries. Today, flying with Emirates is an out-of-the-world experience. Its services and overall features have crowned Emirates with the Skytrax Airline of the Year Award in 2001, 2002, 2003 and 2015.

Emirates policy is easy and simple to follow. The airline executives are highly trained and, on the ball, to offer best services and customer support for any concern that might arise among the travelers. If you need Emirates flight reschedule, either contact Emirates airline or a travel company and speak to an agent.
How Do I Change a Flight on Emirates?
Travelers wish that their trip takes place hassle-free and in great comfort. Last-minute changes can make us frown and disrupt our travel plans. Nowadays, passengers can easily make changes to their flights without any hassle. If you change your flight within 7 days of the original travel date, a fee would be charged per passenger. Emirates might charge an extra amount if the new scheduled airline has a higher fare than the previous air ticket. However, Emirates allows its passengers to change their flight schedule within 24 hours before the designated departure time.
Emirates Flight Date Change Policy
As per Emirates change flight policy, passengers have the right to make changes in their air tickets within 24 hours of booking and the booking must be done around 7 days before they travel. Passengers can either make changes in various ways - either online or offline. While making Emirate change flight date or name, passengers should make those changes via the booking source. If the traveler is unable to make changes in the flight reservation before the free change window, a fee would be charged. If the previous airfare was cheaper than the new one, passengers need to pay the difference in the airfare to get the new one. Emirates Airlines date fee would be applied as well. Emirates allows rescheduling of flights up to 11 months from the booking date. Changes will be done without any fee if done within the airline rules.
Canceling Emirates Flight on Airline Website
Visit Emirates Airlines official website
Click on Manage Booking Tab
Enter your booking particulars to make the required changes
The website permits you to include a flight or remove a flight from your trip, and it also allows you to find out the price of adding or removing a stopover.
You will be able to see the price difference before confirming any flight change details
Bear in mind that any modifications you make to your booking will be applied to all passengers on the ticket. If you need to undergo modifications for only one passenger in your booking or need to know Emirates flight cancelation policy, please contact Emirates reservations agents at +1-571-378-7016.
Emirates Airlines Flight Change Fee
If you miss the risk-free period, it will invite charges. Specifics are here:
The flight modification fee varies according to the fare type, destination, date of the change, etc.
Making changes in the Emirates Airlines flight may make you pay anything between US$100 and US$500.
Emirates change fee for international flight tickets is pricier than the domestic one.
You don't need to pay a fee to change your insured ticket.
However, Emirates' change fee depends on your route, travel class, and fare conditions. It ranges from US$75 to 200 for Economy Class, US$300 to 400 for Business Class, and US$250 to 400 for First Class. However, if you're holding a Flex Plus fare across any travel class, you can make flight changes free of charge.
Emirates Airlines 24-Hour Flight Change Policy
This changes the entire game show as Emirates allows passengers to make the required changes within a day. That's what the 24-hour attraction is all about. Emirates permits travelers to make the changes without Emirates date change penalty charges imposed, only if they can make it within the set timeframe. Once the deadline crosses, you need to pay a certain fee. Also, long-haul flights cannot be changed being even in the 24-hour timeframe.
Flight Change Number – talk to us
Whether a name has been misspelled on the air ticket or you need to make some changes in the full name or changes in the cabin class, with the help of our expert travel agents, you'll not only be able to change it easily but also learn how it's done. Make sure you contact the travel agent as they will give you enough time to make those changes. Mistakes of up to three letters are not charged but major name changes will attract charges. To request a name change do not hesitate to give a call on +1-571-378-7016 to FlyOfinder flight experts. You can also talk to us about how to book Emirates premium economy and find out about our lowest airfares, discounted flights and unpublished airfares as well.
Also, read our blog Emirates Unaccompanied Minor Flight.