How do I change my Southwest Airlines flight deal?
Saturday, June 24, 2023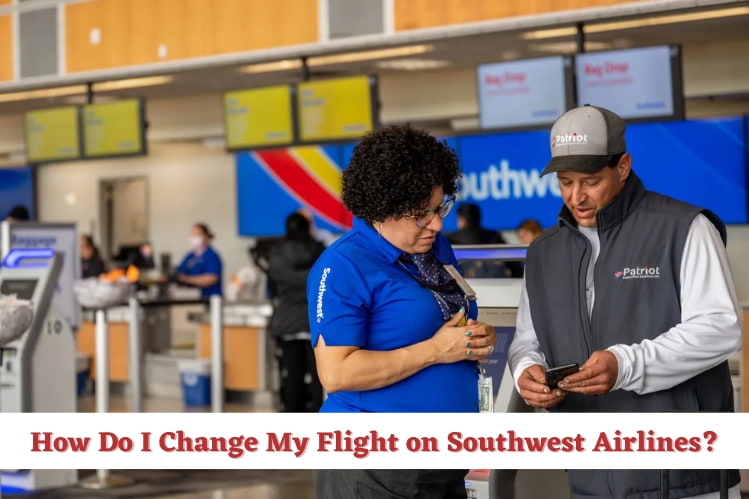 Life can be unpredictable, and sometimes, your travel plans may need adjustments. Whether it's a change in schedule, destination, or simply a personal preference, Southwest Airlines offers a flexible flight change policy that allows you to manage your reservations with ease. Through this guide with FlyOfinder, we will walk you through the Southwest flight change policy, managing your reservation, and everything you need to know about Southwest Airlines flights. Let's make sure your journey is as smooth as possible.
What is the Southwest Flight Change Policy?
Southwest Airlines understands that travel plans can be uncertain. That's why they offer a generous flight change policy;
Unlike many other airlines, Southwest allows you to change your flight without charging a hefty change fee. You only pay the difference in fare if your new flight is more expensive. This policy makes Southwest a popular choice for travelers who value flexibility.
You can change your Southwest flight at any time before the scheduled departure.
Whether you want to switch to an earlier flight, a later one, or even a different destination, Southwest makes it easy.
Please note that if you change your flight to a more expensive one, you'll have to cover the fare difference.
What Are the Fees for Changing Your Southwest Flights?
The good news is that Southwest Airlines doesn't charge a standard flight change fee. You won't incur any additional costs for altering your travel plans. This flexibility sets Southwest apart from many other airlines that can charge substantial fees for flight changes.
How to manage your Southwest Airlines Reservations?
Managing your Southwest Airlines reservation online is a convenient option. To get started, visit the Southwest Airlines website and find the "Manage Reservations" section. You'll need your confirmation number and the passenger's first and last name to access your reservation. Once logged in, you can change your flight, add baggage, or make any necessary updates to your booking.
How to Change Your Southwest Flight?
There are a few methods you can use to change your Southwest Airlines flight, such as calling the airline, reaching out to customer service, or perhaps writing to them through their chatbot. However, connecting with an airline, of course, is going to be a busy affair because there are a lot of passengers waiting in line to get assistance from them. So, who do we talk to during these times? Yes, FlyOfinder! A little louder, FlyOfinder! Yes, you can reach out to us @ +1-571-378-7016. One of our travel assistants will get in touch with you regarding your flight change with Southwest Airlines. They would certainly provide you with all the support you require and the assistance you need to get your flight changed. FlyOfinder is here, available for you 24 hours a day and seven days a week, so you can rely on them all you want.
Final Thoughts
Changing your Southwest Airlines flight is a hassle-free process, thanks to their flexible policies and user-friendly tools. Whether you need to switch your flight due to unforeseen circumstances or just want to adjust your travel plans, Southwest Airlines has you covered. With excellent customer service and a commitment to passenger comfort, your journey is in good hands.
Frequently Asked Questions
Can I Change My Flight Date on Southwest Airlines for Free?
Yes, Southwest Airlines allows you to change your flight date for free. You will only need to pay the fare difference if your new flight is more expensive.
What Happens If I Miss My Flight? Can I Still Change It?
If you miss your flight, you can still change it. Southwest Airlines offers flexibility, and you can modify your reservation online or at the airport counter. Be sure to contact them as soon as possible to make the necessary changes.
How Soon Should I Request a Flight Change?
It's advisable to request a flight change as soon as you know your plans have to be adjusted. The earlier you make the change, the better chances you have of finding available flights that suit your needs.
Do I Need to Create an Account to Change My Southwest Airlines Flight?
While creating an account can be helpful for managing your reservations, it's not mandatory. You can make changes to your Southwest Airlines flight using your confirmation number and the passenger's name.
Can I Change a Flight Booked Through a Travel Agency?
Yes, you can change a flight booked through a travel agency. Simply visit the Southwest Airlines website or use their app to manage your reservation, following the same process as if you had booked directly with Southwest. However, it is advised that when you have booked your flight ticket through a travel agency, you reach out to them for the needed assistance and guidance. Be it the refund you are looking for or the changes to your flight ticket.
Also, read our blog What happens if you miss flight with Southwest?.