How to Book Emirates Premium Economy?
Wednesday, February 02, 2022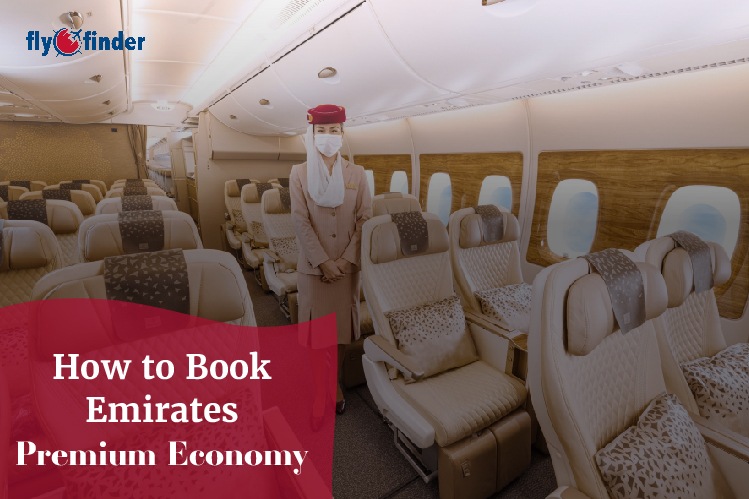 It's been some time in the news that Emirates is toiling night and day to surprise its travelers very soon with upgraded Premium Economy cabins in most of its long-haul carriers. With the pandemic situation persisting, travel refuses to seize and air travel is back into action with next-level facilities, comfort transition, and even revised airfares for the convenience of the traveler. So, are you planning a family vacation or have an upcoming business tour lined up? Be ready to be surprised by the largest airline of the United Arab Emirates and enjoy a more enhanced flight experience like never before. Before we take you to how to book premium economy on Emirates, let's get behind the scenes.
Emirates Premium Economy Cabin – A Peek into Superiority
Emirates, the largest airline in the Middle East operates 3,500 plus flights per week from Dubai International Airport to more than 150 cities in 80 countries worldwide. Emirates operates a collection of Airbus and Boeing Wide-Body fleets with the A380 being the state-of-the-art aircraft. The award-winning carrier offers first-class, business-class, premium economy class, and economy class.
At present, only a few A380 fleets have a premium economy class. As air travel finds its hold once again after a cumbersome year, Dubai-based airline spilled the 'good news' bean with a refurbished premium economy cabin. In 2019, Emirates had confirmed that it will be extending its premium economy to the next level. Although, the superior premium has already been installed on some of the A380s and it was available for 2021 post-pandemic summer routes. A few other upgrades would be implemented by end of 2022.
What is the New Emirates Premium Economy?
Simply speaking, the premium economy is the mediator between economy class and business class. The facility varies depending on the airline and the particular fleet, but commonly, it is an upgrade from the economy. It's not as elite as Emirates first-class flight or business class, but a superior one. In Emirates, the premium economy price can be 55-60% cheaper than business fares and could be 25-30% more than the economy fare.
Raise your Comfort with Emirates Premium Economy
In the new premium economy, mainly on 53 Emirates A380s and 53 Boeing 777s, travelers will find a 40-inch pitch compared to the 32-34-inch economy. The seats are much wider — 19.5 inches organized in a 2-4-2 layout that was converted from a row of economy 3-4-3. The flatbeds remain as the business class but the recline gets a revamp of 8 inches, generous leg rest with comfortable naps. Enjoy the comfort of cream-tinted seats sewed with anti-stain leather and a wooden table finishing. Each Emirates Premium Economy seat comprises a 13.3-inch video HD touchscreen, fitted by AC/USB power outlets, a wide dining table, and a side cocktail table. Enjoy a peaceful sleep under the dreamy stars created by the overhead lighting. Relish lip-smacking meals on the spacious woodgrain table and go for a movie or a TV show as you relax. Utilize the upgraded Wi-Fi, down into soothing music with specially-fitted headphones, or connect to the high-speed internet. Moreover, you'll have greater priority to exit the aircraft upon landing.
Emirates Premium Economy from the USA
Search and find Emirates flights departing from the US on FlyOfinder.com. With us, searching for flights from the United States to your desired destination is child's play. We offer Emirates flights from Boston, Chicago, Dallas, Houston, Los Angeles, Miami, New York JFK, Newark, Orlando, San Francisco, Washington DC, and Seattle. You just have to select the airport and destination to have a look at flight schedules. Book Emirates premium economy fares from your US city and secure them with our best price guarantee, which means that you're offered the best airfare for your flights. You'll be able to find 777-300ER and A380 Economy, Business, and First-Class Suites on all of these routes:
| A380 (Economy, Business & First) | 777-300ER (Economy, Business & First) |
| --- | --- |
| Los Angeles (LAX) – Dubai (DXB) | Boston (BOS) – Dubai (DXB) |
| New York (JFK) – Dubai (DXB) | Chicago (ORD) – Dubai (DXB) |
| New York (JFK) – Milan (MXP) – Dubai (DXB) | Miami (MIA) – Dubai (DXB) |
| San Francisco (SFO) – Dubai (DXB) from March 2022 | Newark (EWR) – Athens (ATH) – Dubai (DXB) |
| Washington, D.C. (IAD) – Dubai (DXB) from March 2022 | Orlando (MCO) – Dubai (DXB) |
| | San Francisco (SFO) – Dubai (DXB) until March 2022 |
| | Washington DC (IAD) – Dubai (DXB) until March 2022 |
Difference Between Economy and Premium Economy on Emirates
Premium Economy offers 5-7 inches more legroom than you'd find in economy class. What you get is wider seats and enough space to recline. In premium economy, you get a different meal than standard economy, amenity kits, and priority boarding as well. So, altogether it's a comfortable journey.
Many might wish to know how to book Emirates premium economy cabin? Presently, Emirates is not selling premium economy as its cabin. You'll need to first book an economy-class award and then pay for the seat upgrade. Once Emirates premium economy goes on the floor for sale, passengers booking economy can easily do an upgrade to the premium economy with the help of Emirates Skyward miles program. For example, for a 12-hour one-way flight from New York to Dubai, Emirates charges nearly USD 409 for the premium economy upgrade. Access to Emirates premium economy lounge can be done with additional costs. To book standard economy, log into our website FlyOfinder.com, choose your departure and destination airport along with other passenger details, and choose the cabin class from the drop-down menu.
Upgrade to Emirates Premium Economy or Business Class
We at FlyOfinder have got the best cheapest flight deals to whisk you off to your favorite destination from one of the US airports. Find out regarding Emirates upgrades by calling FlyOfinder at +1-571-378-7016, including the upgrade cost either in cash or with Skyward Miles, or even how to get a free upgrade. Simply enter your booking details for an easy search. Also, you can clarify any query for Emirates cancellation policy or Emirates flight reservation rules, we'll be more than happy to help you achieve a seamless booking and traveling experience.
Which Emirates Business Class is better?
Of course, Emirates A380 Business Class. The A380 business class seat is every traveler's favorite for the 1-2-1 configuration. Well, there's just a lot more privacy, and you get direct aisle access with every seat. And, there are more seats on the A380 — but it's also an enormous beauty oozing bling and splendor.
Avail Lowest Emirates Flight Deals
If you have a forthcoming trip, book your Emirates flights online on Friday to avail yourself lowest airfares possible. Month-wise, the cheapest month to fly with Emirates is November and January. Due to high sales, the airline gives out air tickets for the lowest prices and offers heavy discounts. Do not hesitate to call us for more recent info and updates even for business class. So, what are you waiting for? Book and upgrade to the state-of-the-art Premium Economy Class on Emirates for your next tour. Eventually, life is meant to be enjoyed.

Also, read Emirates Flight Change Policy.