New York JFK Airport Phone Number
Thursday, January 20, 2022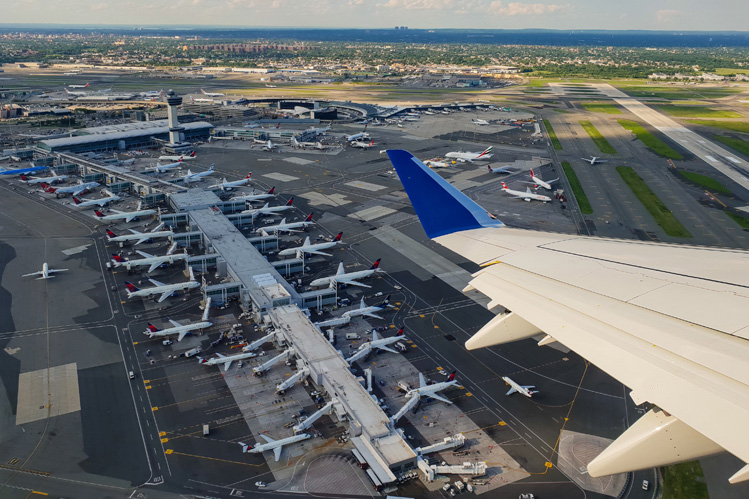 Located in the Jamaican district of Queens, one of the five boroughs of New York, John F. Kennedy International Airport or JFK Airport is a well-known name among the airports of the world. JFKs international fame can be also counted among the many Hollywood movies as well. This popular airport is also one of the busiest air passenger entrances into Northern America. It might not be the closest airport to New York City but is preferred by many travelers who are flying out of New York City. The airport's massive and systematic connection, commendable facilities, and easy navigation will never allow you to get bored even if you have to wait for a long time. Occupying a huge landmass and with so much on offer, the airport is not easy to navigate and even the frequent flyers are baffled while making their way through JFK. However, most of the informational guidance regarding the airport can be obtained by calling New York JFK Airport phone number.
About JFK Airport
Before the pandemic, until 2020, JFK Airport was the 13th busiest airport in the US serving around 70 million passengers yearly. Situated around 15 miles from southern Manhattan, over 100 airlines operate from the airport having a hub for American Airlines, Delta Air Lines, and the leading operating base for Jet Blue. The airport has six terminals numbered 1, 2, 4, 5, 7 & 8 with 131 gates; four runways surround the main terminal area and a parking lot with total accommodation for more than 17,000 vehicles.
Opened in 1939, the terminal infrastructure is a U-shaped pattern containing a central parking system; so when you're at the airport, you do not have to worry about navigating in between the terminals as access to the main road and the AirTrain system is efficiently linked. Board the AirTrain or the shuttle bus to move among the terminals by leaving the security lounge.
Terminal 1 has 11 gates with several flights from JFK Airport--Airbus A380 aircraft. Air France, Lufthansa, Korean Air, and Japan Airlines are the main operating carriers of this terminal.
Terminal 2 currently operates Delta Air Lines but might be renovated in 2022. Terminal 4 has 38 gates and manages the Airbus A380 fleet, China Airlines, Emirates and Jet blue. Terminal 5 mainly handles Jet Blue operations. Terminal 7 is maintained and operated by British Airways. Also, United Airlines, LOT Polish, Icelandair and Alaska Airlines fly out from here. Terminal 8 has 30 gates and the leading hub of Oneworld Alliance. It also operates Qantas, Cathay Pacific and Qatar Airways.
How to Reach JFK Airport?
Strategically located on Van Wyck Expressway, John F. Kennedy Airport is around 19 miles away from New York City and it normally takes 30 minutes to drive down to the airport. Travelers usually use public transportation to reach JFK Airport due to heavy traffic on the highway. You'd surely wish to reach the airport comfortably with plenty of time in hand. The AirTrain links all terminals to the New York City Subway system through Howard and Jamaica Beach Station.
Transportation to JFK
Fare (in USD)
AirTrain service to JFK Airport
7.75
NYC Subway system
2.75
Bus service
2.75
Long Island Railroad
8
New York City's Yellow cabs
52
(surcharge of $4.50 will be applicable during peak hours)
The NYC Bus service or the MTA is another easy option to reach the airport. The MTA has frequent bus services between JFK Airport, Brooklyn and Queens, and many subway networks connect between these areas. The Long Island commuter rail connects Penn Station, Atlantic Terminal, and the Long Island destinations to the Jamaica Station. If you want to avoid driving, using the city's cab service can be a good option.
What to do at JFK Airport?
Waiting to catch your flight? Well, got some time to hang out at JFK Airport? Kill your boredom and explore one of America's best airports and there won't be a dull moment before you fly off. The airport offers free Wi-Fi for everyone so you can get busy browsing--watch your favorite show, post a few photos, hear music or chat with your loved ones. Exploring the lounges of JFK allow passengers to pass their time wonderfully. There are 24 lounges at JFK out of which 8 lounges can be accessed with a single pass and 7 lounges can be explored with priority pass membership. All the lounges have food courts (Eat & Go Istanbul, Euro Cafe, JikJi Café, The LOCAL, and Bento Sushi), beverages, XpresSpa, newspaper and magazine sections, restrooms, cafes, etc. If you get lost or have inquiries, you can always spot JFK airport customer service and ask for guidance.
| Terminal | Lounges | Restaurants |
| --- | --- | --- |
| Terminal 8 | American Airlines Admirals Club | Vino Volo |
| Terminal 2 & 4 | Delta Sky Club | BKLYN Beer Garden and Croque Madame and Due Amici |
| Terminal 4 | Virgin Atlantic Clubhouse and Wingtips Lounge | Caviar House & Prunier and Blue Smoke on the Road |
| Terminal 7 | United Club | Wolfgang Puck Gourmet Express |
| Terminal 5 | Airspace Lounge | Piquillo and Deep Blue Sushi |
| Terminal 1 | Korean Air Business Class Lounge | Shake Shack and Idlewild Wine Bar |
JFK International Airport also has several shops--designer and local. The most famous shop is The Metropolitan Museum of Art Store at Terminal 4 that offers a unique chance to purchase souvenirs and other gift items. If you have a few hours before departure, you can exit the airport, take a short taxi ride and visit Brooklyn, Queens and Rockaway Beach right behind JFK but always stay in touch with the airport officials via JFK airport phone number regarding the closing of gates and check-ins. Other popular places closer to the airport are Central Park, Broadway, One World Trade Center Observatory, Ellis Island, the Statue of Liberty, the Metropolitan Museum of Art, 9-11 Memorial, Chinatown, Times Square – these popular tourist spots are all easily accessible from Manhattan.
JFK Airport COVID-19 Guidelines
Travelers disembarking flights to New York, entering or leaving JFK Int'l Airport need to know that the airport has installed the country's first Covid-19 monitoring equipment and program. Free Covid testing continues for travelers arriving from other countries. The government and airport officers have implemented a mask mandate, vaccinations, sanitizing for the welfare of the travelers. The airport security and officials ensure that all foreign travelers arriving in the US must be fully vaccinated and show proof.
JFK Airport Flight Tickets
So, if you've got an upcoming business trip or itching to take your partner for a vacation from or through New York, you can easily get JFK Airport flight tickets at the best prices. FlyOfinder makes it easy to find the lowest flights to New York, whether you're searching to fly one-way, round trip, or non-stop. Our flight and tour experts are available 24x7 on +1-571-378-7016 to give you the best services & solutions, and the latest information regarding your travel. Also, check out the New York City travel guide for detailed information about NY and know why it is called 'Big Apple' and 'The Gotham City'.