What Is United Airlines Pet Policy?
Wednesday, September 08, 2021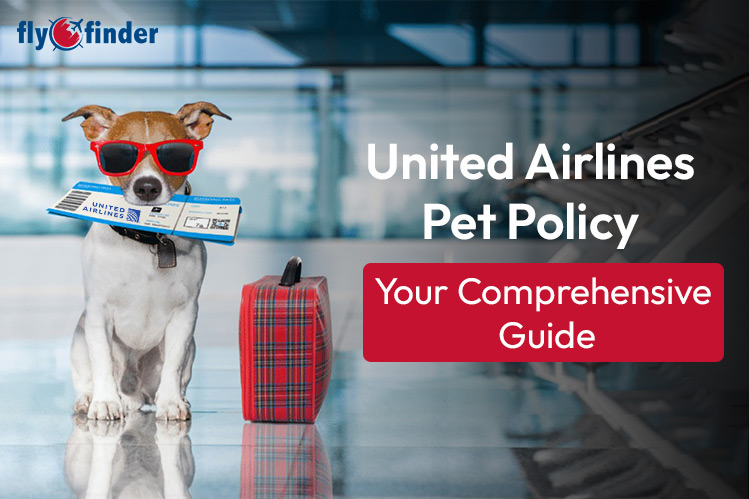 Chicago based United Airlines having a large number of domestic and international route networks offers United Airlines pet policy for its pet lover travelers. If you are a pet lover and want to travel with your pets, make United Airlines reservations and keep seeing your pets traveling with you on United Airlines flights. United allows only certain types of pets in the main cabin on certain flights. Different countries have their own pet travel policies. If you are planning to have a United Airlines pet reservation, we will guide you on how your pets can travel by air.
Transportation Methods For Pets travel on United Airlines
Carry-on pets: If pets are small in size and can fit under the seat in front of you, they will be allowed to travel with you in the passenger cabin. It will be considered a carry-on bag. You will still be allowed to bring one personal item along with a carry-on pet. Dimension of your personal item depends on the flight of service and the destination flying to. Go through the United Airlines baggage policy for complete details.
Checked pets: If pets are larger in size than allowed in the cabin, can be checked as baggage in pressurized and temperature control areas in the aircraft. Currently, checked pets are not allowed in United aircraft. However, military personnel are allowed to have checked pets.
United Airlines Cargo: if a pet's size is larger enough not to fit as carry-on or as checked baggage, they will be sent through United Airlines Cargo.
What Is United Airlines Pet Policy For In-Cabin Pets?
United Airlines in-cabin pet policy applied on flights operated by United Airlines and United Express only. If your journey involves flights of multiple airlines, you need to check other airlines individually. Every airline has a different pet policy.
Only domestic pets such as dogs, cats, small household birds and rabbits are accepted by United Airlines. These pets are accepted on all continental and U.S. flights however, Hawaii does not accept in-cabin pet travel. Health certificate of pets along with Rabies certificate administered at least 30 days prior to flight date are mandatorily required.
Pets Age And Dimension of Pet Carrier
Pet's age: Pets must be 8 weeks old to travel within the United States and Puerto Rico.
Dimension of pet carrier: Pet carrier or kennel should be specious enough so that pet can move freely inside the kennel. It must be adequately ventilated and waterproof. Make sure that your kennel is approved by airlines. United Airlines accepts both hard sided and soft sided kennel in the cabin. The size of the hard sided kennel should not exceed 44cm long, 30 cm wide and 19 cm height. Soft sided kennel must not be more than 46cm long, 28 cm wide and 28 cm height.
What Are The Pet Travel Restrictions On United Airlines?
There are certain types of restrictions on pet travel with United Airlines.
Route restrictions: Carry-on pets are not accepted if traveling to and from U.K, Trinidad and Tobago, Tahiti, South Africa, Panama, India, Cuba, Hawaii, New Zealand and Australia. These countries prohibit pets traveling in the airline's main cabin.
Seating restrictions: There are few seating restrictions for pet travel in the aircraft. You won't be allowed to sit in the exit row. Premium plus seats can't be allowed to you if traveling with a pet due to limitation of space.
Aircraft restriction: Due to space restriction, United Airlines does not allow pets to travel in the first and business class on these aircrafts.
Boeing 747, 757,767 and 777 are not allowed for pet travel in the first and business classes.
How Do I Make United Airlines Pet Reservations?
United Airlines pet reservations can be made at the time of flight booking on the official website of the airline. If you want to add a pet reservation later, it can be done via My trips. You may also call United Airlines customer service number to make your pet reservation confirmed. There is a restriction on the number of pet travel in every United flight, you should make your pet reservation in advance. Only four pets per flight are permitted in economy class. Pet reservation service is available on the basis of first come, first serve.
What Are United Airline Pet Travel Fees And Check-In Process?
United Airlines charges $125 as pet fee. You will have to pay a pet fee at the reservation counter at the time of check-in. Health certificates and Rabies certificates will be examined at the check-in counter. An additional fee of $125 will be charged on those flights if the layovers exceed 4 hours in the United States and 24 hours on flights outside of the United States.
Mandatory Paper Works For Pet Travels With United Airlines
There are some paperworks that needs to be completed before your travel starts. If you fail to do so, your pet reservation may be disapproved by the airlines. You must send these documents at least 5 days prior to the flight date to get your pet travel reservation approved. Without having prior approval of your pet reservation, you may not be allowed to travel with your pets.
These documents are needed to send to get prior approval of the pet's travel.
A digital copy of your pet clearly showing her face to verify her breed.
A scanned copy of a filled and duly signed customer acknowledgement form.
Scanned copy of pet's original health certificate.
A digital copy of a pet carrier. Please make sure that the photo of the pet carrier is a three-quarter view that shows the top, both sides and the back of the pet carrier.
Make sure that you send these requirements at least 5 days prior to departure date so that the airline can contact you if any discrepancy is found in the submitted documents. Doing that, you will have sufficient time to fix the problems highlighted by the airline.
Other Important Tips On Pet Travels
Keep the original health certificate of your pets with you when dropping off the pets at the originating airport.
Health certificate must include the pet's breed, age and weight.
Pet's Rabies certificate. Pet's examination date must be mentioned on the certificate.
You'll also need to present two copies of the signed Customer Acknowledgement Form when your pet is dropped off.
Your pets must always remain inside the pet carrier/kennel at the airport, in the boarding area, and on the plane.
Call FlyOfinder at +1-571-378-7016 for United Airlines pet reservations.
Frequently Asked Questions On United Airlines Pet Travel Policy
Q: Can a pet travel with a minor in United Airlines flights?
Ans: No. Pets must travel with an adult responsible for it. A minor alone is not allowed to travel with pets. Find United Airlines unaccompanied minor policy in details.
Q: How many pets are allowed in a kennel?
Ans: 1 pet per kennel is permitted however, 2 household birds are allowed in a single kennel.
Q: What should be the minimum age of a pet traveling internationally?
Ans: Pet's age must not be less than 16 weeks if traveling internationally.
Q: Can my pet get oxygen service in case of an emergency?
Ans: No. In emergency services, pets won't get oxygen.
Q: Can my pets travel on a different flight of United Airlines?
Ans: No. Pet travel is allowed in the same flight you are traveling with.
Also, read our blog American Airlines Pet Policy.