How do I select a seat on American Airlines?
Wednesday, June 14, 2023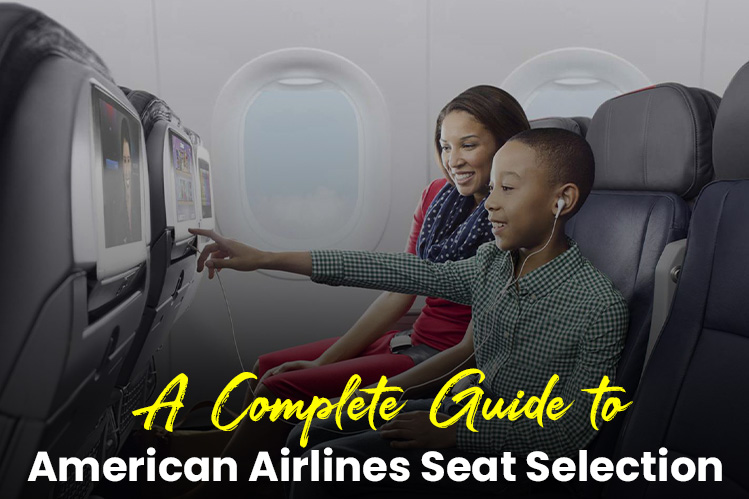 Travelling in the air, the least you can expect is a seat that's comfortable and doesn't trouble you much. However, when you are traveling with American Airlines, this is not going to be an issue because this is one of those airlines that has always wanted the best for its passengers.
However, to know the complete information about the seating arrangements on AA, you have to rely on us, your travel partner, FlyOfinder, and today, we are going to discuss the American Airlines seat selection policy for utmost comfort and no hassle seats. Let's go!
American Airlines Seat selection option
Let us first discuss the options you have to choose your seat from. There are several options listed to you by AA as the airlines always have to satisfy each of its passengers so that they can travel nicely and effectively. Let's get digging the hole for the same. Shall we?
Basic Economy Seat
The Basic Economy Seat is the most budget-friendly option available for passengers booking Basic Economy tickets. Passengers who opt for this seat will have their assignments made during the check-in process and won't have the ability to select their seats in advance. If you require a specific seat, we recommend considering other fare classes or reaching out to our airline for assistance.
Main Cabin Seat
Main Cabin Seats are designated for passengers traveling on standard economy fares. Passengers in the Main Cabin have the flexibility to choose their seats during the booking process, and this option remains available until just before check-in. To assist passengers in selecting their seats, American Airlines provides a comprehensive seat map that allows for a visual overview of available seats. However, please keep in mind that seat selection is subject to availability, so it's advisable to make your choice as early as possible.
Preferred Seats
Preferred Seats are an excellent choice for passengers seeking extra comfort and convenience. These seats are strategically located throughout the aircraft, often near the front or exit rows. Preferred Seats offer additional legroom, allowing for a more relaxed journey. To secure a Preferred Seat, you can either select it during the booking process or upgrade your seat selection after purchasing your ticket. It's important to note that there may be an additional fee associated with Preferred Seats, which can vary based on the flight and seat location.
Main Cabin Extra
American Airlines offers Main Cabin Extra seats, perfect for passengers who prioritize legroom and enhanced comfort. These seats are situated within the Main Cabin but provide more legroom compared to standard Economy seats. In addition to the extra space, Main Cabin Extra passengers enjoy added benefits, including priority boarding. Similar to Preferred Seats, Main Cabin Extra seats may involve an additional fee, which can vary depending on the flight and seat availability.
Premium Cabins
For passengers seeking the utmost in luxury, American Airlines offers premium cabin options, including First Class and Business Class. Travelers in these premium cabins enjoy an array of amenities, including spacious seating, personalized service, enhanced dining choices, and access to exclusive airport lounges. The premium cabin experience often includes seat selection, enabling you to pick your favorite seat well in advance.
How can you select a seat on American Airlines?
Below are the steps through which you can select a seat on American Airlines;
Begin by navigating to the official American Airlines website to designate your preferred seating.
Next, within the booking section, complete the necessary details pertaining to your reservation, such as the number of travelers, count of adults and minors, departure date, and additional particulars.
Select a flight that suits your schedule and proceed to explore the available seating options as presented on the seating chart specific to that particular flight.
Opt for the seat that aligns with your comfort preferences, and after making your choice, follow the subsequent on-screen prompts to guide you to the payment gateway.
Complete the essential transaction, and your ticket shall be successfully secured.
An alternative avenue for the American Airlines seat selection process involves initiating contact with the airline via phone. Locate their customer service hotline and then engage with the interactive voice response (IVR) system to connect with a human attendant. Once you establish contact, kindly request them to reserve your desired seating arrangement and proceed with the corresponding payment.
How to upgrade a seat on American Airlines?
To upgrade your seat on American Airlines, you can surely rely on the customer service of American Airlines or manage your reservation. However, that can be a bit of a hassle and require a lot of effort, so you can also trust us to help you manage your seats, as in upgrading your seat on American Airlines.
To ask us for help, you need to call us on our official number, which is +1-571-378-7016. To help you with seat upgradation or even with booking reservations on your selected seat on American Airlines, you can think of FlyOfinder. With just one call, you can get connected to one of our human assistants, who will help you in all possible ways.
For the reservations at airlines or at hotels, you have us, and even for the car rental, we have got you covered.
What is the American airline seat selection fee?
The American seat selection fee can vary depending on the type of seat you choose. Here are some general guidelines.
Premium Seats: If you choose a premium seat, such as those in business class or first class, you will typically have to pay an extra amount. The cost can be quite high, often ranging from a few hundred dollars to over a thousand dollars, depending on the route and specific seat.
Economy Seats: If you opt for an economy seat, the cost of American airlines basic economy seat fee is generally lower compared to premium seats. It can range from around $5 to $50, but this can also vary depending on factors like the route and seat location within the economy cabin.
Seat Preferences: If you have specific preferences within the economy cabin, such as a window seat or an aisle seat, you may need to pay extra for these choices. The cost for preferred seats can vary but is typically in the range of $10 to $50 or more per seat.
Randomly Assigned Seats: If you're willing to let the airline assign you a seat at no additional cost, you can typically do so during the online check-in process or at the airport. In this case, you won't incur additional seat selection charges.
Conclusion
With the charges being done, we are also very much done on our part for explaining to you the complete American Airlines seat selection policy. However, you can connect with us if you still find any of your problems unanswered and if you require any kind of services with American Airlines. We will always be there for you and help you figure out the answers to your questions.
Wherever you travel, do it with FlyOfinder.
Also, read our blog American Airlines Business Class.