American Airlines Refund Policy
Tuesday, June 16, 2020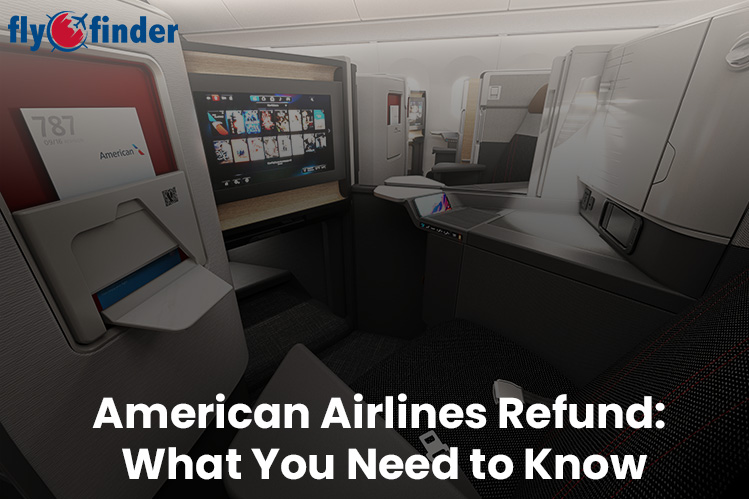 Have you ever planned an exciting air travel for holidays, family reunion, business trip or meeting with your friends and forced to abandon your plans at the last minute? Yes, there are many people just like you who encounter such unpleasant situations when things get really out of control. Then what should you do? There's no need to worry at all when you have booked flight tickets with American Airlines.
American Airlines flexible cancellation policy allows its customers to seek a refund and bring value to your trip. You just need to know about American Airlines refund policy before you plan and book your tickets.
American Airlines Refund & Cancellations
There are many fees eligible for refunds with American Airlines. A request can be placed for a refund for the preferred seats, same-day flight change, Main Cabin Extra seats, baggage fees, pet fees, tickets of a deceased passenger, and priority. If you have purchased American Airlines flight tickets with OTAs like FlyOfinder and others then you will have to place a request for cancellation and subsequent refund with them directly, subject to their cancellation and refunds fees and rules.
A full refund is available to all passengers who cancel their reservations within 24 hours from the original purchase of tickets. It is applicable on all types of tickets, and no cancellation fee will be charged by American Airlines. The request for refund can be made only when the reservation has been first cancelled.
American Airlines also provides eVouchers in the form of a refund, which is valid for a period of one year from the date of its issuance. However, if the total price of the flight ticket cancelled is more than the value of eVouchers, then you may use your credit card for the remaining balance.
Your friendly FlyOfinder travel experts are just a call away. Call FlyOfinder at +1-571-378-7016 for assistance on quick refunds on American Airlines cancellations. Our travel representatives work round-the-clock to offer the best services to our clients, ensuring commendable satisfaction.
American Airlines Cancellation Policy
If you are seeking a refund on your cancelled American Airlines flights then it's also quite important for you to know all about the airline's cancellation policy as well. The refunds depend on the types of ticket purchased and their relevant cancellation policy.
Basic Economy Ticket: American Airlines doesn't allow cancellation of a Basic Economy Ticket unless it is cancelled within 24 hours from the time of original purchase. However, there are certain exceptions too. Cancellation of a Basic Economy Ticket is permitted only when American Airlines itself changes the flight schedule of a customer at least 61 minutes or more before departure, or when the customer or one of his/her travelling associate dies.
Non-refundable Ticket: If the customer travelling to a domestic destination decides to cancel his/her American Airlines reservations then a cancellation fee of $200 has to be paid, while for cancelling international flights the cancellation fee charged will be $750. After cancellation is paid, the customer can use the remaining value toward a future travel on American Airlines, which must be used before expiry within one year from the ticket's original departure.
Refundable Ticket: The refundable ticket is the easiest to cancel, and can be done at any time before the flight's departure. If American Airlines tickets have been purchased by the customer through his/her credit card then the refund will be provided to the same original mode of payment upon cancellation within seven business days. However, if the refundable ticket was purchased using a check or cash then the request will be processed within 20 days after receiving the customer's refund request.
Planning your next travel with American Airlines? Then seek assistance from us for all of your American Airlines flights booking, change, cancellation, refund and other travel-related needs. We are here to help you always. Just call us on our American Airlines Phone Number and we will promptly address your queries and concerns and find cheapest flights for you always.
Also, read our blog American Airlines Seat Upgrade Policy.