American Airlines AAdvantage: A Comprehensive Guide
Saturday, October 30, 2021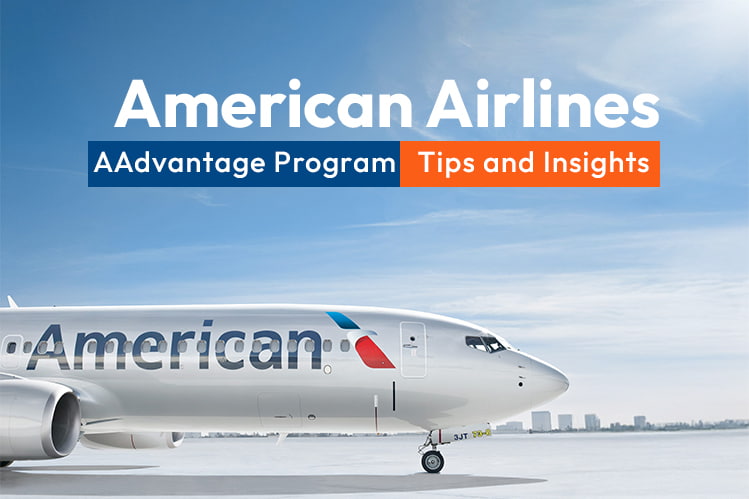 The AAdvantage program is the first frequent flyer program in the airlines' industry. The loyalty program of American Airlines "AAdvantage" started in 1981. You may get American Airlines AAdvantage award tickets once you get enrolled in the program and start earning points. As soon as your accumulated points reach the threshold, you can redeem those points to book an American Airlines free flight for you.
What is American Airlines AAdvantage Program?
American Airlines AAdvantage program is a loyalty program that works towards retaining the customer by offering free flights and perks to its flyers. Every flyer can get their membership by registering themselves into the program. You will get points for every spend on American Airlines. This program also provides you with the option to become an elite member of the airline and get specific privileges at the airport and in-flight. If you are a frequent flyer, get yourself enrolled into the loyalty program of American Airlines and get a chance to earn an American Airlines Award Ticket.
How to Register for AAdvantage Program?
Getting registered for the AAdvantage program is simple and easy. The best way to register for the program is through online registration on the official website of American Airlines. Once you sign up for the AAdvantage program, you will receive a unique frequent flyer number. Quote this unique number every time when you purchase American Airlines products or services so that the AAdvantage miles that you earn can automatically transfer to your frequent flyer account. Call American Airlines AAdvantage phone number 800-882-8880 from the U.S.A. and Canada to know more about AAdvantage program.
How Do I Earn AAdvantage Miles?
Earning AAdvantage miles depends on how much money you spend on buying tickets not on how long you fly with American Airlines. You earn AAdvantage miles when you fly with American Airline or one of its partner airlines. American Airlines AAdvantage policy also allows you to earn miles through hotel stays, car rentals, vacations, cruises, dining, and shopping. If you purchase these services, you would be eligible to earn AAdvantage miles however, the calculation of earning miles depends on the type of service you purchase.
You will earn miles on every spent on purchasing American Airlines flights and selective services. Its calculation also depends on the AAdvantage elite status. The higher your status level, the more additional miles you earn.
| Status Level | Miles per $1 Spent | Status Bonus as compared to Basic |
| --- | --- | --- |
| AAdvantage (Basic) | 5 | None |
| Gold | 7 | 40% Bonus |
| Platinum | 8 | 60% Bonus |
| Platinum Pro | 9 | 80% Bonus |
| Executive Platinum | 11 | 120% Bonus |
Earning AAdvantage Miles Through Partners
AAdvantage miles can be earned through utilizing partner's services as well.
If you fly with one of the Oneworld alliances, you may also get some miles on selective routes with some terms and conditions. Call American Airlines phone number to know the eligibility of earning AAdvantage miles when flying with one of the partner's airlines.
You will earn 2 AAdvantage miles per $1 spent when purchasing American Airlines flights or services using "AAdvantage Platinum Select World Elite Master Card" Apart from that, you can earn 50000 AAdvantage miles if you spend $2500 within 3 months of account opening. This is called a signup bonus.
For a hotel stay, you can earn 1 or 2 AAdvantage miles per $1 spent. In some cases, there is a flat number of miles you can earn by staying in a partner hotel.
3 AAdvantage miles per $1 spent on a cruise booking through AA Cruises. The maximum earning of miles is limited to 30,000 AAdvantage miles.
When you register your credit card with "AAdvantage Dining" and pay restaurant bills, you can earn up to 5 miles.
When you shop online through the "AAdvantage shopping" mall, you will be eligible to earn AAdvantage miles for every dollar you spend.
Using a car rental service also gives you eligibility to earn AAdvantage miles.
AAdvantage Miles Expiration
You will have to do some activities to keep your AAdvantage miles active so that you can utilize them to get an American Airlines award flight. If you fail to do so, your accumulated AAdvantage miles will be null and void. Generally, AAdvantage miles expire if you do not earn or redeem miles for the period of 18 months. To keep your accumulated AAdvantage miles active, you need to earn or redeem some points within the period of not more than 18 months with American Airlines or one of its partner airlines.
There are a few exceptions too. If you meet the below two conditions, your AAdvantage miles will not expire.
If you are a member under 21 years of age, you are exempt from mileage expiration. Your miles will not expire even if you don't earn or redeem miles for a period of 18 months or more.
If you are an American Airlines-branded credit cardholder, your AAdvantage miles will not expire as long as you continue to use the card.
How Do I Get an AAdvantage Award Ticket?
You need to redeem your AAdvantage miles to get an AAdvantage award flight. For redemption of AAdvantage miles you need to visit the official website of American Airlines. Redeem your certain number of miles to get an American Airline Aadvantage award flight.
American Airlines offers three types of award redemptions.
MileSAAver award seats: MileSAAver award seats can be booked utilizing 7,500 miles. It is allowed for a one-way trip on certain routes only. The availability of MileSAAver award seats is limited on certain flights.
AAnytime award seats: AAnytime award seats are available anytime on almost every American Airlines flight. But the minimum miles that you need to redeem for an AAnytime award seat is 40,000. It is more expensive as compared to MileSAAver award seats.
Web Specials: A Web special is an extremely discounted award ticket that is affordable at the lowest miles, 5,000 miles. It is available at certain destinations. It can be published on the website at any time. There is no specific landing page assigned to see the web special award ticket. But if you search it regularly, you can find the web special award ticket and check whether it fulfills your requirement.
Privileges of American Airlines Elite Members?
There are several benefits to enrolling in the AAdvantage program. If you earn elite status, you get many privileges depending on your level of elite status such as additional free baggage allowance, complimentary preferred seats, complimentary main cabin extra seats, 72 hours upgrade window, and several elite perks.
Frequently Asked Questions On AAdvantage Program
Q: Can I get my miles back into my account if canceling an award ticket?
Ans: You can get your miles back after paying a penalty in case an award ticket is canceled. Go through the American airlines cancellation policy and American Airlines refund policy.
Q: Can a child sign up for the American Airlines AAdvantage program?
Ans: The process of signing up for AAdvantage program is the same as for adults. Get a complete guide to American Airlines unaccompanied minor policy.
Q: How do I add AAdvantage miles to an existing reservation?
Ans: Login to your account and go to "Manage Trips/Check-in" on the home page. Enter your record letter and add AAdvantage account number to an existing reservation.
Q: Can I add AAdvantage miles of my family members to my AAdvantage account?
Ans: You can't. They need to open a separate AAdvantage account. Every individual's earned miles will go into their own respective account.