Delta Airlines Sky Priority - How to avail its benefits?
Tuesday, April 14, 2020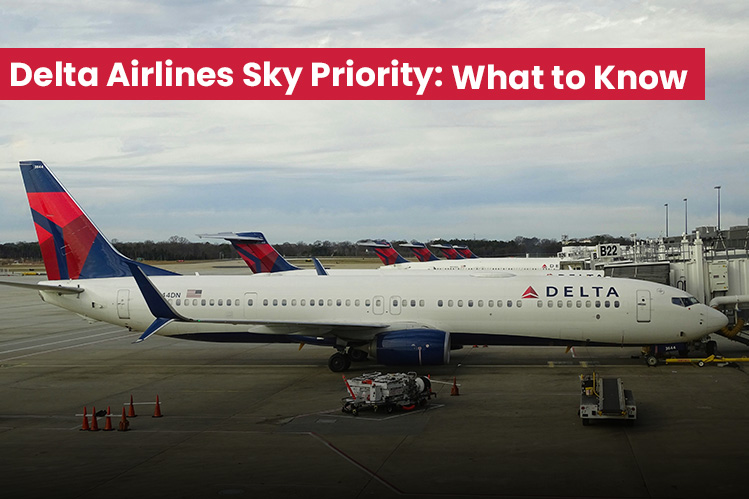 Photo by C. Cagnin from Pexels
Delta Airlines offer a premium experience to all those looking for convenient, faster and exclusive services for making their travel seamless, luxurious and hassle-free. Delta airlines Sky Priority experience is designed for the customers choosing Delta Airlines or Delta Connection flights. Moreover, Sky Priority is also Delta airlines' way of demonstrating to its most valued customers that it really cares for them and acknowledges their loyalty while trying every bit to save their time with even better service.
If you are planning to fly with Delta airlines in future then here's all that you need to know about the Sky Priority in detail.
Who benefits from Delta Sky Priority?
Sky Priority is offered to all Delta airlines' Gold, Platinum and Diamond Medallion members. However, if you aren't a Medallion member even then you can enjoy the exclusive services that come along with Sky Priority when traveling on Delta One, First Class, Business Class or Delta Premium Select tickets. Additionally, Sky Priority is also offered to SkyTeam Elite Plus, Virgin Australia Velocity Gold or Platinum, Virgin Atlantic Flying Club Gold, or Alaska Airlines MVP Gold members.
For availing Sky Priority service no status levels are required. All the eligible customers who choose to fly with Delta airlines and SkyTeam member airlines, and others qualifying for Sky Priority will be receiving the same services.
Facilities Offered
Sky Priority is essentially a suite of services designed for improving the experience of the customers at the airport. The bouquet of services is the following:
Expedited check-in at dedicated check-in areas at the airport
Accelerated security during peak times through exclusive security lines at select airports
Priority boarding helps to secure superior overhead bins, settle in seats sooner and relax before takeoff
Expedited baggage service ensures the bags arrive first on the carousel
Exclusive reservation line with 24/7 staff availability for responding to customer queries
The Sky Priority customers can look forward to other additional benefits as well such as earning in-flight coupons for checking in online, enjoying earlier access to forward cabin seats and exit rows, and using priority lanes at "Need Help?" Center and Baggage Service Office.
Does Delta credit card give you Sky Priority?
The members holding Delta SkyMiles Credit Card are allowed access to exclusive security lines and dedicated check-in areas and many other services offered under Sky Priority wherever available at the airports.
Does Delta Sky Priority get lounge access?
Yes, Sky Priority service offers complimentary access to Delta Sky Clubs. This is in addition to other services such as priority boarding and exit, priority baggage handling, and expedited check-in and security.
Is Delta Sky Priority the same as TSA PreCheck?
No, Delta Sky Priority and TSA PreCheck are completely two different things. Sky Priority security lane allows the customers to get closer to the scanners, while TSA PreCheck has its own separate line. Sky Priority can help the customers to get ahead of security lanes at some airports in foreign countries, while TSA PreCheck is available in the U.S. only. Do remember that with the Sky Priority TSA lane in the U.S., travelers will still be required to take off their shoes, electronics and liquids, etc.
Delta Airlines offers Sky Priority benefits to its members. Get faster check-in and security checks, baggage allowance and easy boarding. Enjoy such benefits with FlyOfinder at minimal costs. Call 1-571-378-7016 to avail the goodness of Delta easily.
Also, read our blog Delta Premium Economy - How to Book?.