Delta Premium Economy - How to Book?
Thursday, March 03, 2022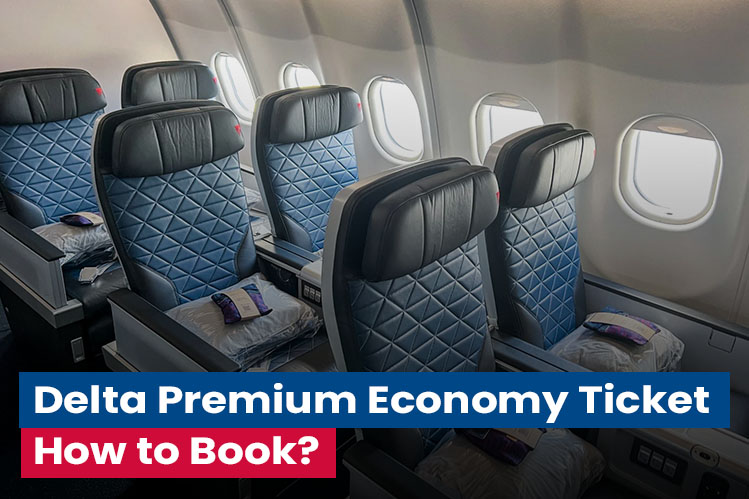 We all wish to fly in comfort, short distance, or long-haul flight. If you are planning to fly out of the US, travelers can experience a super comfort journey with Delta by being pampered with world-class in-flight facilities and perks of Delta Premium Select or Delta Premium Economy. You are assured that you are being well taken care of with state-of-the-art hospitality. With uncertain times the world has gone through, a few airlines came up with interesting developments and Delta Airlines had elevated flying experience with trendy premium cabins. Delta premium economy is betting huge on a stylish cabin class that has come to the forefront.
Delta Airlines Premium Economy – a sneak peek
Delta Air Lines commonly referred to as Delta is the oldest and the largest airline in terms of passengers carried, fleet size, and revenue. With headquarters in Atlanta, Georgia, the airline has 900 aircraft and has services to over 350 destinations in more than 50 countries. Importantly, Delta is also the largest transatlantic carrier with more departures from America to several other airports. It is also counted as one of the best airlines due to its flexible and convenient policies and most exciting discounts on its flights and class upgrades. There are six cabins aboard Delta - First Class, Delta One (Business Class), Delta Comfort, Delta Premium Select, Main Cabin, and Basic Economy. The A350, Boeing 777 and B767 are the backbone of Delta, and a journey onboard Delta Premium Economy offers a comfortable trip with modern facilities.
Premium economy is the cabin between coach and business class. You may not get a complete, lie-flat experience, but this class does grab attention with other services and facilities offered onboard. Delta premium economy, tagged as Delta Premium Select is the upgraded level of Delta economy on selected international flights.
Economy and Premium Economy on Delta - the Difference
Delta Premium Economy is a complete experience similar to the business class lite with complimentary baggage check, inflight dining and more, to make your journey exceptional. Expect spacious legroom, personal space and innovative meals. It is less cramped, enjoy special VIP check-in and boarding, improved meal service, the 2-4-2 seat layout is best for couples, earn more miles and more.
Delta Premium Economy Seats - features and more
Delta's premium economy seats are strong performers. It was seen that in domestic, short and long-haul trips, Delta premium revenue exceeded the coach revenues by 11 points and here are the reasons:
Extensive recline and extra legroom
AC power to keep electronics charged
HD entertainment and noise-canceling headphones
Tumi-brand kits
Destination-oriented meals & drinks
All-inclusive fares
Moreover, you'll find more space to relax with broader seats, more recline, and a movable footrest. You can simply put your feet up and arrive high-spirited and ready to explore. The airport experience will be unforgettable. Delta Premium Select flyers get Sky Priority facilities that give speedy check-in, Delta Premium Economy baggage, and security services. As you board, you'll be the first one to be in the aircraft. Sit back and relish a selection of wholesome food and snacks along with complimentary wine, beer and spirits, plus Starbucks coffee and other beverages. The onboard delta menu will give you many options to order meals inspired by worldwide Delta destinations.
Fly Premium Select on Delta - 3 key tips
Do not miss out on these 3 tips before booking Delta Premium Economy tickets:
Do not delay to select a seat, it's complimentary
Easy messaging apps with free Wi-Fi
Carry your frequent flyer card for easy lounge access
How to Book Delta Premium Economy?
Passengers can connect with Delta Airlines phone number at +1-571-378-7016 or follow the step-by-step guide mentioned below to reserve Delta Premium select seats:
Browse the Delta website and select the Flights option.
Enter the required information and select the Delta Premium category.
Continue to the payments page and follow the on-screen instructions.
Delta Premium Economy flights tickets - worth buying?
Undoubtedly, Delta Premium Economy seats are praiseworthy and true value for money where passengers can enjoy and experience chockfull facilities, seat selection and comfort during their journey. It has been seen that travelers preferred an upgrade to the Premium Economy Class because of the comfort and amenities it offers. You can easily choose your meal and select from various cuisines and drinks to match your meal. While seated in Delta Premium Select, passengers can enjoy avant-garde Delta Studio movie screens and endless shows.
Premium Economy Delta – book with best fares
Do you have a big upcoming trip? You must be bored of the same old travel style. Now it's time to juice up and step up from the ordinary flying experience. Delta premium economy would be the perfect choice for you. Equipped with utmost comfort, spacious seating and legroom, and other exclusive perks, we at FlyOfinder can dig out the cheapest premium economy flight because a little extra comfort and relaxation will not cost you a fortune as well as inform you on Delta Airlines missed flight policy. Delta Premium Select is a hot seller! You might want to book 6 weeks to 12 weeks in advance. Browse our site and take a look at our top premium class tickets to suit your budget.
Flight time is not an issue; whether you want to book an evening or morning flight, we've got a huge range of flight deals. Call FlyOfinder Flights Finder at +1-571-378-7016, tell us your requirement, and leave the rest to us. Through our customer service number, you can easily get all the information about the discounts and answers to your queries about booking Delta flight tickets.
Congrats! you've found a new way of flying.
Also, read our blog Delta Airlines Refunds Policy.