American Airlines Business Class
Tuesday, April 26, 2022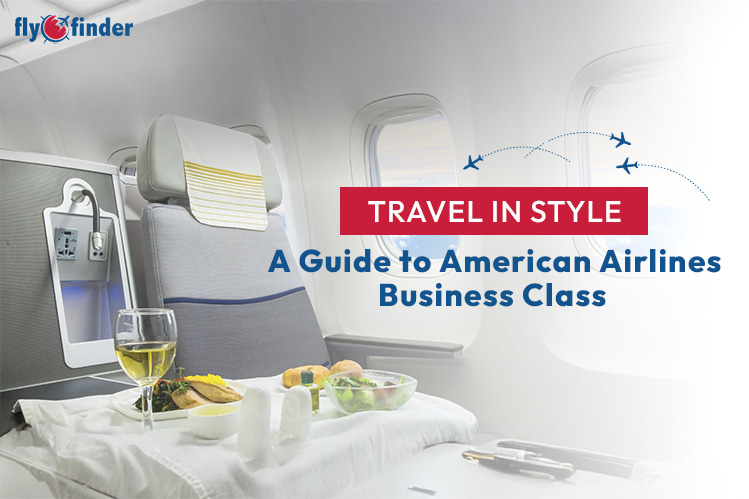 American Airlines isn't only known for its inflight services and premium lodges. That's only the surface. Among state-of-the-art lounges, ace facilities, incredible dining & snacks and modern facilities, American Airlines Flagship Business Class conveys a dynamic travel experience that spellbinds passengers who feel the cost is worthwhile, if you can grab a great deal.
American Airlines business class seats face the aisle and offer a lie-flat bed (you can almost feel it) on international aircraft. AA's unique design and comfort separate the airline's business class from other carriers, where you might not have aisle access, or the seat probably won't convert to your level.
Onboard the AA, you'll notice business class seats are appealing. So, a good amount of money needs to be paid to enjoy and experience a royal trip in the skies. Want to know more about AA business cabins, airport advantages, and how to book? It's all down here…
AA Business Class – what to know?
American Airlines offers 'Flagship Business Class' on both international and domestic routes. Flagship on your ticket means that you'll have a comfortable journey on a lie-flat seat and qualify for premium lounge entrance, full meal service, and an extensive snack and beverage menu. Presently, you'll observe Flagship Business class on only three American Airlines business class fleets: Boeing 777s, Boeing 787s, and the specific A321 Transcon or A321T airplane.
Business Class Flight Tickets – best fares to date
Miami to LA with lie-flat seats for $797 nonstop
Inverness, Scotland, from $1,877 in business class
India from $2,221 in business class
Atlanta to Paris for $1,911 in business class
New York City to Rio for $1,805 nonstop in business class
American Airlines Business Class – the airport experience
Hey, this is just the beginning of an elite journey. You don't need to be away from a royal treatment until boarding. It begins as your enter the airport. Carrying American Airlines business class ticket gives you priority check-in and AA lounge facilities and this involves the finest business class lounges in America.
American Airlines offer two various types of airport lounges: Admirals Clubs and their more lavish opponent, Flagship Lounges. As you utilize the Flagship Business class ticket, you are privileged to enjoy American Airlines lounges before takeoff.
In almost 45 US airports you'll spot AA Admirals Clubs. You are offered free snacks, espresso, tea, free and wine, and a shelter from the terminal. In certain areas, American adds decent munchies, like guacamole and avocado toast. You'll track down these exceptional lounges in five American Airlines international flight centers: Chicago, Dallas/Fort Worth, Los Angeles, Miami and New York.
Reputed as a flagship, the airline lounges offer hot smorgasbord dinners, quality wines and champagnes, cocktail bars, and even shower suites. You might fall for an extended layover to enjoy these perks.
American Airlines Business Class - check-in facility
Do you appreciate being held up at check-in? — Particularly when you have the exquisiteness of AA lounge access on the other side. The icing on the cake is American Airlines business fliers have a quick and hassle-free check-in at the airport. These check-in counters are set up with additional accomplished and knowledgeable agents that can settle issues and get you on your way faster. You might have the option to speed through security utilizing need security.
American Airlines Business Class — in the air
While American Airlines has commendable airport services and facilities, the best features and experiences are in the air. Lie-flat seats will toss you into a decent night's rest (no wonder you'll sleep among the stars). Relish 'chef-motivated' dishes freshly prepared with authentic ingredients. What's more, a strong beverage menu gives you a lot of choices to freshen up.

American Business Class Seats
Boeing 777-300ER: The 52 Safran Cirrus business class seats are considered to be excellent seats designed up in a 1-2-1 setup. That implies all seats have direct admittance to the aisle.
Boeing 777-200: A few AA's 777-200 airplanes have "D" seats that switch back and forth among forward-and back confronting columns. AA introduced the remainder of the 777-200 aircraft with front-aligned Super Diamond seats.
Boeing 787-8 & 9: It's not the most ideal business class product but all seats have aisle access and lean back into lie-flat beds. Simply be cautious that these are rear-facing comfortable seats.
American Airlines Business Class — other benefits
As per the route, on AA cheap business class flights, passengers are offered Casper-branded sleeping accessories and comfy amenity kits that include an eye mask, earplugs, socks, a pen, dental items and a lotion. Plus, a duvet, pillow, slippers and a mattress pad.
American Airlines business cabin offers avant-garde entertainment. On most flights, you can enjoy free music, movies, and TV shows on your gadget and use high-speed Wi-Fi. Watch popular Apple Originals and Apple TV channels on your seatback screen. Listen to endless songs and documentaries. Explore Kids Room to enjoy a selection of movies and cartoons for young passengers.
American Airlines Business Class — baggage allowance
The American business class baggage rule allows passengers to carry 2 free checked bags. You can carry up to 32 kg of stuff into each bag at no extra charge.
American Airlines Business Class — the upgrade
There is no magic to getting an upgrade to American business class. However, having AAdvantage Elite Status is the best way to get a free upgrade. Passengers have got upgrades on North and Central American routes depending on their elite status position. Moreover, passengers can also select 'system-wide upgrades' as these will elevate you from economy/premium economy to business cabins. The cost is extremely affordable for an upgrade. Look out for offers throughout the week. For flights within North and Central America, you'll have to pay 15,000 miles plus $75 each and pay 25,000 miles along with $350 for intercontinental flights.
How to Book Cheap Business Class?
American Airlines business class fare depends route-wise, popularity, time of the season, and how close to departure you're booking.
Are you searching for the best business class deals? To get the best deals on American Airlines business class, your knowledgeable and friendly airline agent can assist you. Call FlyOfinder at +1-571-378-7016 for the best and most affordable business class flights, unpublished fares and complete travel assistance. We are offering fantastic deals on AA business class. Subscribe to our deals and notifications. You are sure to bag fabulous offer information when the price of AA business class flights drops to appealing rates. Happy Flying with American Airlines business class!