Student Cheap Flights
Monday, April 04, 2022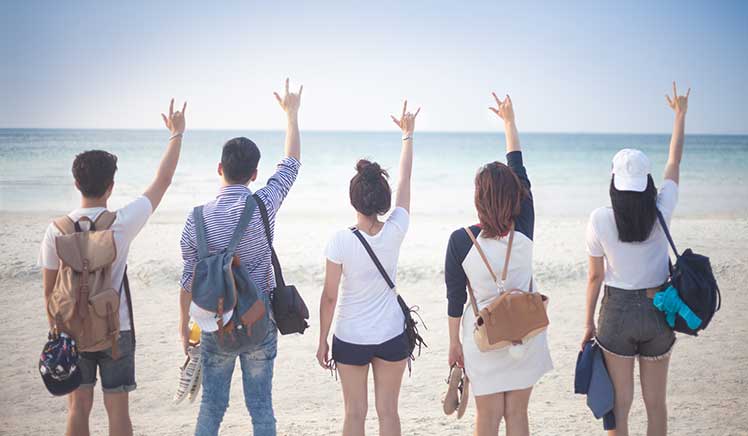 Do you often travel for studies whether in your country or to foreign lands? Many young travelers do so to groom themselves and prepare to face the challenges ahead. They do so by shaping their personal and professional growth by venturing in the realms of the unknown outer world. Their prime objective is how to gain success in the life ahead and live independently.
Travelling can be pretty tough, complex and really hard to afford, especially for college students. The expenses are huge for these cash-strapped folks. But, there's no reason at all for you to worry or fret with student discount flights coming in handy. There are several airlines and online travel agents (OTAs) through which affordable travel has become possible to continue with your education. Nowadays special discounts for students have become common. The airlines have become competitive and aggressively making best efforts to attract young travelers and students in large numbers. There are both domestic as well as international airlines for you to book cheap flights for students.
Before we take a look at the special student offerings by two major airlines – American Airlines and Lufthansa – it's important for you to take a brief look at the last year's performances of different airlines, especially related to students and young travelers.
Best Airlines for Student Awards
A leading U.S.-based travel booking company exclusively dedicated to students and youth announced the winners of its 2019 Best Airlines for Students awards. The awardees were selected through a survey based on various categories, including best service, best value and one overall winner. American Airlines led all the way emerging victorious in several categories. You will be delighted to know that American Airlines won the top award for 'Best Overall Airline Students & Youth'. One of the leading legacy airlines in the United States currently, American Airlines has been operating flights worldwide for over 90 years now with nearly 6,700 daily flights to more than 350 destinations. The students and youth voted American Airlines as the Best Overall Airline for its reliability, service, value and overall experience. And, not only this, American Airlines also went ahead to bag a few more awards as well. These include 'Best Airline Travel in the US', 'Best Value for Students & Youth' and 'Best Service for Students & Youth'.
Delta Airlines won the award for 'Best Overall Airline Students & Youth Runner-up'. Delta Airlines was especially commended for its great service and overall service. A world-class experience is being consistently offered by Delta across its extensive global network, handling over 200 million passengers every year. The airline also won praise for its helpful attitude to young travelers and friendly approach towards the student community. Delta Airlines, which is presently serving over 300 destinations in 50 countries, was also voted 'Best Airline International Travel' by youth and students. Delta Airlines by virtue of being a member of SkyTeam alliance is offering more flexible travel options for students worldwide.
Let's focus on the offerings by American Airlines and Lufthansa pertaining to student and youth travel.
American Airlines
Making American Airlines reservations will stand you in good stead. There are many advantages for you when flying with American Airlines. When purchasing vacation packages with the airline, look forward to getting student travel deals on airfares in addition to extra discounts for on-land components. When applying for student discount flights you need to select your participating university displayed on American Airlines website. You will also need to provide your college identification number to book your vacation with cheaper flights. Another way of making your travel cheapest with American Airlines is when you are travelling in a group of 10 or more passengers on the same flight.
Lufthansa
Lufthansa's GenerationFly is dedicated to today's international student traveler and fulfilling their needs by guaranteeing the lowest student fares on the flights by the airline. Lufthansa reservations are therefore undoubtedly the best for students and young travelers when planning to save on your travel. Flying with Lufthansa has its own advantages as it offers a free date change for students for up to 12 months abroad. Lufthansa is presently offering flights to 207 destinations in 81 countries, including popular student destinations such as Germany, Greece, Spain, France, Italy and the UK. Lowest student fares are offered by the airline when flying to these destinations and more. For booking student fares with Lufthansa you need to be enrolled in an U.S. college, university or (high) school and provide an official student email address.
It is common for students to travel to cities for further studies or take their exams. Being sensitive to the need of the students, FlyOfinder offers special airfares with best discounts. Whether you fly with Delta, American or Lufthansa, under student flight discounts, students can book cheapest flight deals right here. Quickly Call +1-571-378-7016 for booking cost-effective deals on student's air tickets. Our travel representatives are there 24x7 to offer the best services to our vacationers, ensuring complete satisfaction and best travel solutions.
Also, read our blog Best Travel Destinations for Students on a Budget.