Spirit Airlines Carry-on Allowance Rules & Regulations
Thursday, September 03, 2020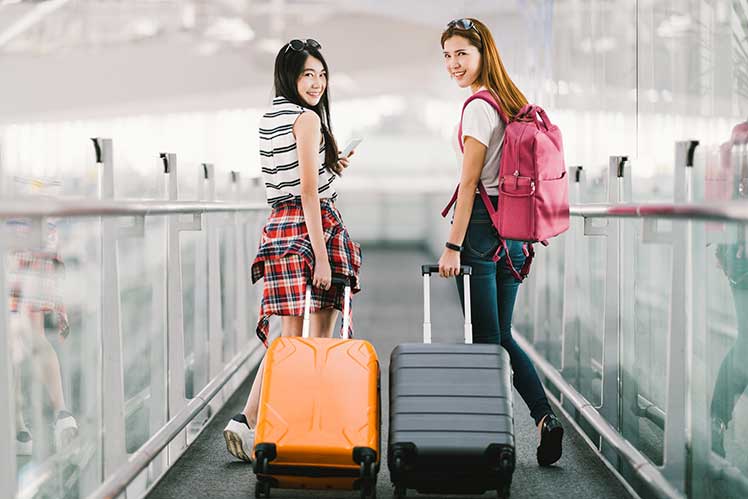 Spirit Airlines is the leading ultra-low-cost carrier in the United States headquartered in Miramar, Florida. The airline is renowned for offering cheap flights to 59 destinations in the USA, South America, Latin America, Mexico and the Caribbean. The airline believes in its motto "Less Money. More Go.", and offers the lowest total price to the destinations it flies, on average. The no-frills airline even goes to the extent offering flight tickets much lower than other airlines, with its Bare Fare providing the customers flexibility to add options and pay accordingly.
If you are planning to fly with Spirit Airlines next time then it would be the best thing for you know about the baggage fees, which will add up to your travel cost. Let's know about the Spirit Airlines carry on policy. Knowing about this beforehand will save you from stress and worries about increasing your travel cost.
Overview of Spirit Airlines Carry-on allowance
The Base Fare offered by Spirit Airlines doesn't allow the customers to travel with any bags or carry-on in its base allowance. Only one personal item is allowed for free with Bare Fare. The customers will be required to pay a fee when travelling with a carry-on bag. The baggage prices also tend to increase as you get closer to departure. You should plan to buy your carry-on allowance at the time of booking itself in order to avoid paying more at the time of departure.
Spirit Airlines Carry on size
Spirit Airlines allows the customers to carry one small personal item along with for free in the size of 18 x 14 x 8 inches or 45 x 35 x 20 cm. The carry on items allowed include a laptop bag, a purse or a small backpack. You will however have to pay a fee for carrying an additional bag. The standard carry on size allowed by Spirit Airlines should be in the dimensions of 22 x 18 x 10 inches or 56 x 46 x 25 cm. The airline however allows breast pumps, baby formula and a diaper bag to be carried along with on the aircraft, and doesn't include it as a carry-on allowance. Those travelling with a stroller or double stroller and car seat will need to check at the ticket counter or gate. Do remember to travel light or as per requirements by the airlines or else you will end up paying more. If your carry on bag exceeds the permitted size limit then you will have to check it into the hold and will have to pay extra for the oversized bag.
Spirit Airlines Carry on allowance for Pets
Spirit Airlines allows certain pets to be carried in the cabin on its domestic flights. The customers need to put their pets in a carrier with dimensions not exceeding 18 x 14 x 9 inches or 45.72 x 35.56 x 22.86 cm. Also, the total weight of the carrier and pet should be of up to 18.14 kg. The airline allows one pet container per customer to be carried with up to two similar animals in the same container, on the condition that each pet stands in an upright position on its own and moves about in the container freely. The airline charges a $110 fee per container.
Spirit Airlines Carry on allowance for Musical Instruments
Spirit Airlines permits the customers to bring along with them musical instruments on board their aircraft as part of standard carry on. The customer will however have to purchase an extra seat when the musical instrument exceeds the standard carry on allowance. The customers bringing musical instrument along with them will also have to keep it secured or against a window seat.
Spirit Airlines Carry on policy about Prohibited Items
Spirit Airlines prohibits carrying of certain items on board the aircraft which are considered to be dangerous. These items include nail guns, fireworks, guns, axes and ammunition.
Spirit Airlines Carry on Fee
Spirit Airlines carry on fee will depend on the destination being flown to, and when and where the baggage allowance is purchased such as at the time of initial booking, before check-in or during check-in, at the airport, or at the gate. The standard carry on fee for most flights one-way is $35 to $40 when purchased during online booking. However, for $9 Fare Club members it will be $26 to $31. You will have to pay standard carry on fee of $45 to $50 before and during online check-in, while for $9 Fare Club members it is $36 to $41. The standard carry on fee at the airport reservation desk is $52 to $70, whereas you will have to pay $65 to $76 at the gate.
Tips on how to pack for free carry on bag on Spirit Airlines
Do you want to fly for free with carry on bag on Spirit Airlines? Here are the following valuable tips for you.
Avoid Spirit Airlines carry on fee by choosing the right bag. A regular backpack can be okay if it is within the permissible size limit. Consider buying an average middle schooler type, which is within the size guidelines

Carry only absolute essentials such as a tightly rolled change of clothes, a pair of flats and may be a laptop
Flying with Spirit Airlines can be cheaper and an absolutely great experience as long as you know the airline's rules and policies beforehand.