The World is Welcoming American Tourists Back
Monday, May 31, 2021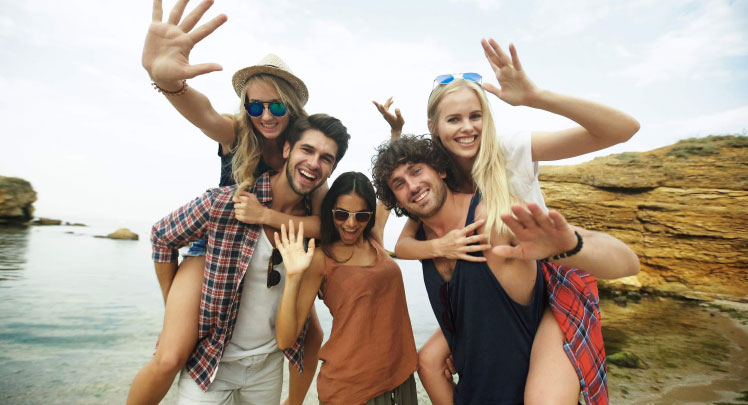 The World is Welcoming American Tourists Back
The world is welcoming American tourists back. During the COVID-19 pandemic, there are many counties which are unlocking their borders for American travelers. Considering the upcoming summer, European Union has also announced that they will unlock the borders for American summer travelers, however, with some restrictions. COVID-19 vaccination program is continuing with a great rate of success in the United States, many of the countries around the world have allowed American travelers to fly within their regions.
American Air travelers are still in a restricted position by fewer countries including France, Belgium and New Zealand. However, most of the countries are welcoming American travelers back to their respective skies. Air travel without quarantine restriction is possible now for all Americans. You just need to show COVID-19 test report with a negative result, and you are welcomed to fly upon their territories.
Quarantine Free Flights to Europe
Quarantine free flight to Europe is possible now for American travelers. It has been cleared in the latest statement by the European Union officials that vaccinated people of the United States are allowed to travel into their territories. However, it is also clarified that it depends on the individual's member of the E.U, what measures of restrictions to be imposed for American travelers. Every individual country is independent to decide whether to lift a few restrictions or tighten the few guidelines for American passport holders. Every county has implemented their own rule on flying to their regions. Few of them do not allow Americans if they are not vaccinated, but few are allowing them to travel however, with mandatory quarantine restrictions. There are many European countries which allow, even those American travelers who are not vaccinated. They also do not impose mandatory quarantine restrictions to the American travelers upon their arrivals. A COVID-19 test report with a negative result, prepared within 3 days of departure is sufficient to get permitted to fly to their territories.
Air Travel Without Vaccination to Europe
American passport holders are allowed for air travel without vaccination to all major continents around the world including Europe.
Flights to Italy: Italy has lifted the ban of mandatory quarantine restrictions for American travelers. Anyone having American passport irrespective of being vaccinated, can travel to any region of Italy. Travelers have to show a negative coronavirus test report to the authority of Italy while entering into its territory.
European countries, like France, Germany, United Kingdom etc., are still not permitting American travelers on the basis of just providing a negative COVID-19 test. They have to be either fully vaccinated or will have to go for mandatory quarantine for certain days.
Travel to Asian Countries-Guideline
Flights to Dubai: All American travelers are allowed to travel to Dubai and other cities in the United Arab Emirates even if they are not vaccinated. They have to show a negative PCR test report which should be less than 96 hours from the departure time. Any U.S. citizen who is 12 years of age or older must show a negative coronavirus test report to the authority of the United Arab Emirates. Even with a negative test report you might have to go for quarantine, depending on the Emirates. Please take advice from the concerned authority of your country.
Flights to Thailand: American passport holders are allowed to travel to Thailand once again however, they have to show negative PCR test report upon their arrival to Thailand. Irrespective of the result of the PCR test report you must go for quarantine for certain period of time.
Permission to Travel in Other Countries
Flights to Bangladesh: After halting international flights for so many days, Bangladesh is now reopening for American travelers. Travelers have to show negative COVID-19 test report if planning to visit this south Asian nation. Apart from providing negative PCR test report, travelers from outside the country need to go for quarantine for at least 14 days.
Flights to Egypt: Egypt is also open for all international visitors including Americans. A PCR report with negative status and should not be older than 96 hours from the departure date is mandatory to show once you land in Egypt. Children aged 5 and less, are not required to provide a PCR test report. Egypt does not accept a PCR report which is in digital format. You have to show original copy of the report instead. To have a valid health insurance is also a mandatory part to get permitted to land in Egypt.
Due to grand success of COVID-19 vaccination program in the United States, most of the countries are reopening for American passport holders. However, terms and conditions of every state vary depending on their internal policies. Due to huge demand for international flights during the upcoming summer, all countries have started welcoming to American travelers. Almost all major airlines have also added new summer routes for American summer travelers. One of the major airlines, American Airlines unveils new routes for summer vacations for its passengers. Apart from American Airlines, there are many airlines which have added new summer routes to their networks.
Although major European countries have not lifted mandatory quarantine restrictions so far, there is a greater chance to pull back the policy of mandatory quarantine very soon by these countries. It is the right time to make your plan for your leisure travels to the world. Call FlyOfidner at +1-878-223-0451 for latest update on quarantine restrictions of different countries and make Hassle-free reservations.