Fort Lauderdale Airport
Tuesday, May 17, 2022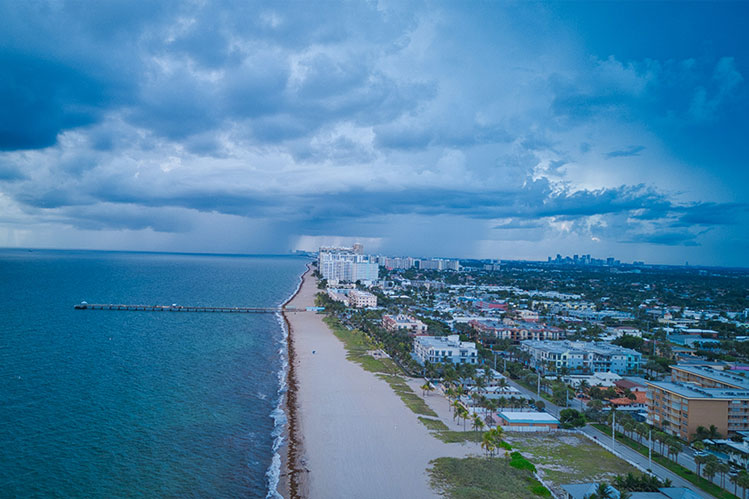 Maybe since your first visit to Fort Lauderdale airport, much has changed. In the 1970s, passengers used the Airport terminal's front parking lot to park their cars. To board a plane, you would have to walk onto the tarmac or climb stairs. The airport has seen a lot of growth over the years. Fort Lauderdale's growth is the main reason. It is now a popular destination with stunning beaches, a historic waterfront, and a vivacious arts and culture scene. You can also visit the canals by gondola, which is why it is known as 'the Venice of America.' FLL is now an international airport serving thousands of passengers from all over the world. It was once a regional airport that served national airlines like JetBlue, Spirit, and Southwest, but it also serves international airlines such as Air Canada and Emirates.
Find the airport location, code, and contact information
The Fort Lauderdale Airport is located between Hollywood and Fort Lauderdale in Florida. It's a 20-minute ride from Fort Lauderdale Beach, 20 min to Hollywood Beach, and 45 minutes from Miami. FLL is the airport code. 1-571-378-7016 is the airport's phone number (available 24 hours per day).
Popular Flights from Fort Lauderdale
Delta
American Airlines
United Airlines
Fort Lauderdale Airport Flights – the layout
The airport is large and has four terminals. It also hosts almost 30 airlines that fly to different destinations worldwide. New York City, Baltimore, and Atlanta are some of the most popular domestic routes. International travelers will find FLL a popular stopover point for those traveling to the Caribbean and Central American countries.
Fort Lauderdale Hollywood International airport has eight concourses divided into four terminals. Terminal 1 has concourses A-B and C. Terminal 2 has concourse D. Terminal 3 has concourses F and E. Terminal 4 has two plazas Gs.
Shuttle buses are used to transport passengers between terminals. You can find lounges and restaurants in all terminals where you can relax or have a meal.
Fort Lauderdale Airport – parking options
Parkos Company manages over 12,000 parking spaces at this airport. You have several options for parking, including daily or hourly. You can access the FLL parking lots at the arrivals level on the ground floor.
Parkos allows you to reserve a spot in a garage while still at home before your travel date. Parkos is a top-notch service that many clients trust. Parking at FLL will ensure your vehicle's security.
Parking is also available on-site. The airport is just 4 miles away. Free shuttle services take you between the Economic lot and the airport. The airport security does not permit drivers to park in the terminals while waiting for passengers. The airport does provide a waiting area for cell phones.
Taxis and Public Transportation
So, how to travel from Fort Lauderdale Airport? It all depends on how much time and where you're going. Tri-Rail is a commuter train that runs between three counties. The station is just a few minutes away, and you can take the free shuttle to get to it. You can catch a train anywhere from West Palm Beach to Miami. View the Tri-Rail map.
BCT Buses are Broward County Transit's public buses. They are reliable and affordable if you have to travel anywhere in Broward County. You can find bus stop 7 at the car rental Fort Lauderdale Airport spot and go southwards towards Broward central terminal or northbound to Aventura Mall. After disembarking Fort Lauderdale Airport Flights, there is a taxi stand at every terminal for your convenience.
Hotels Near Fort Lauderdale - most booked properties
Located between 1-2 kms, these are the most preferred properties during a layover.
Holiday Inn Express & Suites Fort Lauderdale - 1.5 kms from FLL airport
Wyndham Garden Ft Lauderdale Airport & Cruise Port - 0.9 kms
Red carpet Inn Airport/Cruiseport - 1.9 kms
Day Inn by Wyndham Fort - 1.3 kms
Hilton Fort Lauderdale – 2.5 kms
Hotolos Hollywood – 3 kms
Holiday Inn Express Cruise – 2 kms
Crowne Plaza Hotel – 1.5 kms
Fort Lauderdale Hollywood International Airport
Where to Eat: FLL has many options if you feel hungry while you wait for your flight. You can either eat at one of the many restaurants or grab something quick. Pronto Mercato is located at gate C, Aroma Market near gate F, Great American Bagel Gate D, and two Urban Markets near gates B and D.
You can also enjoy a sit-down dining experience at Cross Grains Brewhouse, located at the departure level on your upper side. Delicacies wait at Shula Burger is at gate C. Casavana Cuban Restaurant is at gate H. There are many other choices available at the airport.
Layover at the airport? You can store your luggage in the lockers at all terminals if you are on a short stopover. You can walk a few meters to the beaches. You can also find a place to relax while listening to FLL's lively music. There are many hotels if you need to stay over for the night. There are many options for hotels near the airport.
Wi-Fi and Charging Stations: Fort Lauderdale Airport has modern facilities, and unlimited Wi-Fi is available. There are also internet kiosks. You can find internet kiosks at terminals 3 and 2.
Airport Lounges: Two lounges are available at Fort Lauderdale International Airport. These lounges include the United Club and Delta Sky Club. You must be a member to gain access to these lounges. The Delta Sky Club is located at terminal 2. It offers password-protected Wi-Fi, coffee, snacks, and alcohol. These services are available at United Clubs and conference facilities at terminal 1.
Business Center: Terminal 1 is adjacent to International Arrivals. There is a business center with copy machines, fax, and a printer.
Famous Places Near Fort Lauderdale Airport
Naval Air Station Fort Lauderdale Museum
Secret Woods Nature Center
Museum of Discovery and Science
Dr. Von D. Mizell-Eula Johnson State Park
Hollywood North Beach Park
Charnow Park
Topeekeegee Yugnee Park
Fort Lauderdale Airport Phone Number & Common FAQs
Q - How many terminals are there in Fort Lauderdale Airport?
A - There are 4 terminals at FLL - T1, T2, T3 and T4.
Q - How early should I arrive before my flight?
A - Arrive 1.5 to 2 hours before domestic travel and 3-4 hours for international travel. It will give you ample time to check-in, clear your security checks, baggage, etc.
Q - What airlines fly out of Fort Lauderdale Airport?
A - JetBlue, Spirit Airlines, and Southwest Airlines.
Q - How to find cheap flights from Fort Lauderdale through FlyOfinder?
A - Easiest way to find cheap flights to Fort Lauderdale with FlyOfinder is to mention your dates and destination and list your flight by lowest fares. You can also call one of our airline experts at 1-571-378-7016 and know about unpublished fares, discounted flights, and more.
Q - When does the first flight depart from FLL?
A - The first flight departs at 5:00 am and that is American Airlines and the next at 5:20 am. The last flight is Spirit Airlines departing FLL at 11:59 pm.