Guide to Aeromexico Baggage policy
Tuesday, June 20, 2023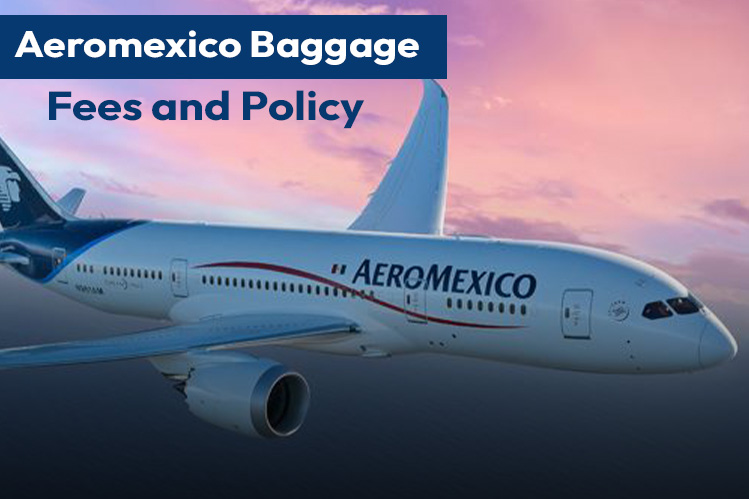 Traveling can be an exhilarating experience, but it often comes with a fair share of logistical challenges. One of these challenges is understanding an airline's baggage policy. If you're planning to fly with Aeromexico Airlines, you've come to the right place. In this talk with FlyOfinder, we will look into all the aspects of Aeromexico's baggage policy, leaving the details to be explored. So, whether you're a frequent traveler or preparing for your first flight with Aeromexico, let's ensure you're well-informed and ready to make the most of your journey.
Carry-on Baggage
What's Allowed
When it comes to carry-on baggage with Aeromexico Airlines, the key is to pack efficiently. Passengers are generally allowed one piece of carry-on luggage and one personal item. The passenger's carry-on bag should fit comfortably in the overhead bin, while the personal item bag should easily get beneath the seat before you.
Size and Weight Limits
Aeromexico enforces strict size and weight restrictions for carry-on baggage. Typically, the maximum dimensions for a carry-on bag are 21.5 x 15.7 x 10 inches, and the Aeromexico carry-on size should be at most 22 pounds (10 kg) in weight.
Exceptions and Fees
Certain exceptions apply to carry-on baggage, such as special considerations for passengers traveling with infants. Additionally, passengers who exceed the size or weight limits may incur extra charges.
Checked Baggage
Free Checked Baggage
Aeromexico's checked baggage policy varies depending on your fare type and destination. Generally, Clase Premier (Aeromexico's Business Class) passengers enjoy more generous baggage allowances than those in Economy Class. However, the maximum dimension for checked baggage is 62 inches, weighing 23kg.
Additional Baggage Fees
Aeromexico charges fees based on weight and dimensions for passengers traveling with excess baggage or those who wish to check additional bags.
How to add baggage on Aeromexico Airlines?
You can obviously add baggage on an Aeromexico airline through the official website or by contacting the customer service of Aeromexico, but getting in touch with personnel or adding baggage through the website can get a bit confusing at times, so during those moments of "can't figuring out anything," you can rely on us to help you.
A quick dial on our official helpline number, +1-571-378-7016, can get you to talk with one of our travel experts, who will provide you with the utmost assistance in adding baggage to your flight. Not just baggage, you can rely upon us for many more factors when it comes to traveling in the air: flight reservation, cancelation, hotel booking, and even car rental straight from the airport are the services we have mastered.
Thus, dial our number and find the solutions to all your travel-related problems.
Excess Baggage (Oversized/Overweight Baggage)
Oversized Baggage
If your luggage exceeds the standard dimensions for checked baggage, it will be oversized. Aeromexico charges additional fees for oversized bags, so it's essential to pack within the specified limits.
Overweight Baggage
Weight limits for checked baggage are strictly enforced. If your bag exceeds the allowable weight, it will be categorized as overweight, and you will be charged extra fees. To avoid these charges, distribute your belongings evenly among multiple bags or consider shipping heavy items separately.
Special Equipment
Traveling with special equipment, such as sporting gear or musical instruments, requires some extra planning. Aeromexico has specific guidelines for handling such items, so informing the airline in advance is crucial.
Restricted Items on Aeromexico Airlines
Before packing your bags, note Aeromexico's restricted items list. Certain items, such as flammable materials and sharp objects, are prohibited in both carry-on and checked baggage. Understanding these restrictions will help you breeze through security and avoid any complications during your journey.
What happens if your baggage is Delayed or Damaged by Aeromexico?
There will be times when the passengers cannot get their baggage on arrival. It sometimes happens due to glitches or any other reason that delays or damages your baggage. The Aeromexico Baggage policy will have to compensate for the delayed or damaged luggage, and further information regarding the same is written below;
Delayed Baggage rules;
When your baggage is running late, the airline is obviously meant to be responsible for it. It is best to inform the airline's customer service of the airline about your delayed baggage, as they have a tracking system through which they can search for your lost baggage.
Damaged Baggage rules
When the baggage has arrived but is damaged, the airline is again meant to be responsible for it. Either they will have to get the baggage repaired or do reimbursement. However, they will never be responsible for the damage to your baggage. The baggage is meant to go under proper investigation by the Aeromexico staff, and the passengers can apply for additional insurance for valuable items from the airline.
Conclusion
In conclusion, Aeromexico Airlines' baggage policy is crucial to your travel preparations. By keeping to the guidelines outlined in this blog, you can ensure a smooth and hassle-free journey with Aeromexico. Remember to double-check the specific baggage allowances for your fare type and destination, and always pack within the prescribed size and weight limits to avoid extra fees.
Have a safe journey ahead!
Also, read our blog Aeromexico Cancelation Policy.