Frontier Flight Change Policy: Enjoy greater flexibility by changing travel plan
Wednesday, May 27, 2020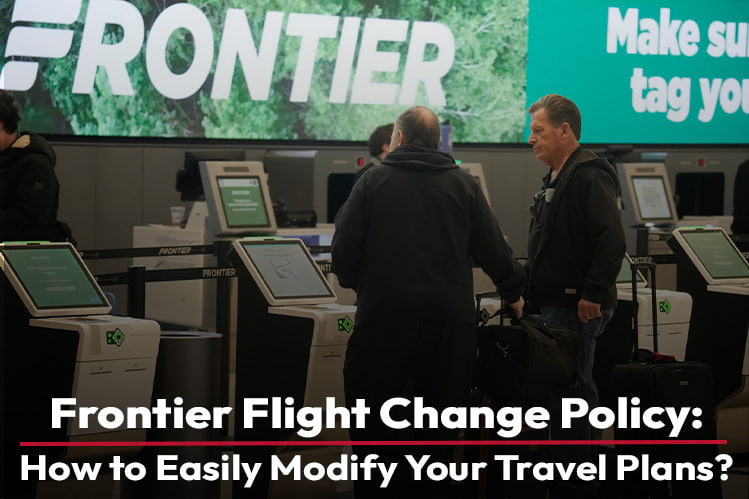 Frontier Airlines, leading low-cost carrier and USA's eighth-largest airline, is indeed a good choice for a highly affordable travel experience. The best thing with Frontier Airlines reservations is the flexibility to change your travel plans whenever such circumstances arise. If you are confronted with some unavoidable situation and need a flight change then it's important for you to have adequate knowledge of Frontier Airlines change policy as well.
If you are planning to change Frontier Airlines flight, then here are the terms & conditions you need to be aware of regarding the Frontier Airlines flight change policy.
How to make flight change on Frontier Airlines?
Frontier Airlines offers two options for flight change to its customers – online and offline. Both these options can be used as per the convenience of the passenger.
Frontier Airlines Online Flight Change
Passengers can make online flight changes by visiting Frontier Airlines Official website and log in to My Trip by entering confirmation code and last name as reflected on the original ticket. Itinerary changes can be done by selecting single or multiple flights that are required to be changed. The new ticket price and the fare difference will be shown. The change will be completed after paying the change fee to the airline.
Frontier Airlines Offline Flight Change
Many passengers still prefer to make flight change or cancellation by choosing the traditional offline option. This can be done by calling Frontier Airlines phone number or at the airline's airport ticket counter or kiosk. You can always change flight as per your convenience by paying the applicable change fee.
Frontier Airlines Same-Day Flight Change
Frontier Airlines Same-Day flight change policy makes it quite convenient and easy for the passengers to make changes and amendments. The same-day flight change can be done only on the availability of seats. A $50 fee will be charged for same-day flight change to Economy ticket holders. However, free same-day flight change is offered to Classic Plus and Summit Level members of Early Returns. The same-day flight change can be done by calling the airline's reservation department or visiting the airport ticket counter or kiosk at the airport.
Frontier Airlines 24-hour Flight Change Policy
Frontier Airlines offers a free cost flight change option when it is done within 24 hours of purchase of original booking. The airline in fact holds the passenger's ticket for 24 hours and charges a change fee only after the 24-hour window has lapsed. The passengers who booked tickets through third-party OTAs like FlyOfinder and others will have to adhere to their 24-hour change policy only.
Frontier Airlines Flight Change Fee
A change fee may be charged by Frontier Airlines for offering different services. The change fee will depend on the ticket/fare type purchased and the number of days left for the flight's scheduled departure. The flight change fee to be charged by Frontier Airlines will be the following:
No fee will be charged for making changes after 90 days
A $79 fee will be charged for changes made between 14 to 89 days
A $119 fee will be charged for changes made in less than 13 days
A $75 fee will be charged for making a name change
No additional fees to be charged for making changes to The WORKS bundle tickets. Applicable fare difference will however have to be paid
A change fee has to be paid for changing award tickets 8 or more days before the scheduled departure date. You will however require to pay a $99 change fee to make changes 7 days or less before departure date
In addition to the flight change fee, the passengers are also required to pay fare difference for the selected flights.
For more information about flight change and other travel-related queries, call FlyOfinder at +1-571-378-7016 to Airlines reservations number at any time. Our reservations agents will provide you with the best possible help.
Also, read our blog Frontier Airlines Seat Selection .