United Airlines Cancellation Policy
Tuesday, June 02, 2020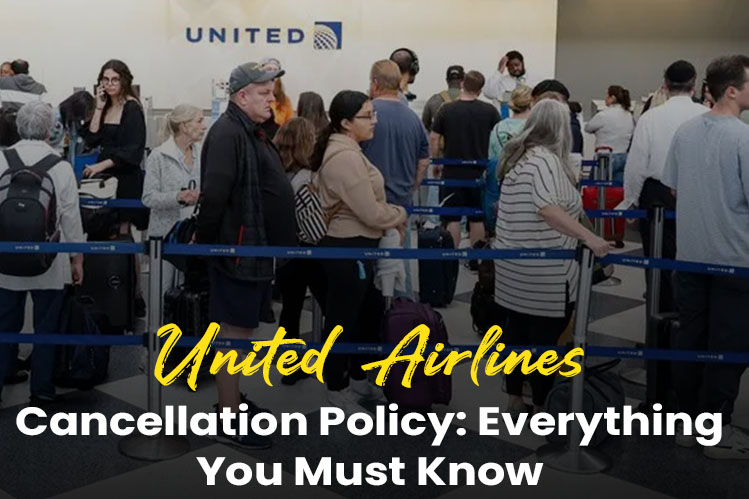 Air travel is fast, convenient, comfortable, and sometimes affordable too. However, at times there might be uncertainty with our travel plans leading to cancellation of flight tickets at the last minute. There shouldn't be any cause for worry even though the cancellation may be tedious and a long process. With United Airlines reservations you are assured immense peace of mind whenever deciding to cancel flights. You may even cancel your United Airlines flights for free and get a full refund when cancelling your reservation within the timeframe.
To make your cancellation process simpler and completely hassle free, it's important that you need to know United Airlines Cancellation Policy in detail.
Key Highlights of United Airlines Cancellation Policy
Some of the key highlights regarding the cancellation policy as enunciated by United Airlines are notable whenever cancelling a reservation. These are the following:
United Airlines Cancellation Policy will vary for international and domestic routes
Cancellation can be made for both refundable and non-refundable ticket
Irrespective of the travel class booked the cancellation policy will be the same
No cancellation fee to be paid when cancelling reservation within the risk-free 24-hour timeframe
Even though the refundable fare is expensive in comparison to non-refundable fare, the advantages of purchasing a refundable fare is greater, flexible and convenient when it comes to cancellation
If you are a no-show for a flight then United Airlines will automatically issue e-Credit in exchange for flights
Last minute flight cancellation will be entitled to a cancellation fee despite having purchased a refundable or non-refundable fare
No refund amount will be given for holding a non-refundable ticket after the permitted time frame has lapsed
Cancellation fee will have to be paid when United Airlines tickets are cancelled on the same day of departure, whether purchasing a refundable or non-refundable fare
No refund will be paid when check-in process is not completed in time
United Airlines flights cancellation options
United Airlines plane tickets may be cancelled both online and offline. The customers can cancel their reservation online by visiting United Airlines Official website after clicking on My Trips. You will need to enter your six-digit booking reference and last name, and finally select the desired trip to cancel. The total refund amount will be shown, and you need to complete your cancellation process.
If you aren't able to do online cancellation then United Airlines also offers the offline option too. Cancellation can be done by visiting United Airlines' self-serve kiosk or at the ticket counter at the airport. You can also talk to booking agents by dialling United Airlines reservations phone number and requesting cancellation. It may however be noted that the customers travelling on Basic Economy fare are not allowed cancellation facility.
United Airlines risk-free 24-hour cancellation
United Airlines provides a full refund to the customers when they cancel their reservation within 24 hours of original purchase of a flight. The airline will not charge any cancellation fee to the customers. The 24-hour risk-free cancellation window also applies on all basic economy fares so long as being cancelled within the prescribed timeframe and the date of travel falling beyond 7 days from the date of original purchase. However, United Airlines cancellation policy won't apply on the airline's 'hold a fare'.
United Cancellation Fee
As already stated, no cancellation fee is charged by United Airlines when cancelling a reservation within 24-hour timeframe of original purchase. A full refund will be provided to the original mode of payment. If the cancellation is being done after lapsing of 24-hour timeframe then a cancellation fee of $200 will be charged on a non-refundable fare for domestic flights when cancelled at any time. For international flights a cancellation fee of up to $400 will be charged depending on fare class. The customers purchasing a refundable fare are exempted from paying any cancellation fee. United Airlines will be charging between $25 and $125 as a cancellation fee for award tickets.
With flexible options and convenience, booking flight tickets and cancellation is quite easier and free from worries. Undoubtedly, United Airlines Cancellation Policy provides you a reason to smile and cheer. For any assistance or travel-related enquiries connect with us on our Airlines Reservations Number. We will take care of all of your flight bookings needs promptly and to the best of your satisfaction.