United Airlines Check-in Policy
Thursday, June 04, 2020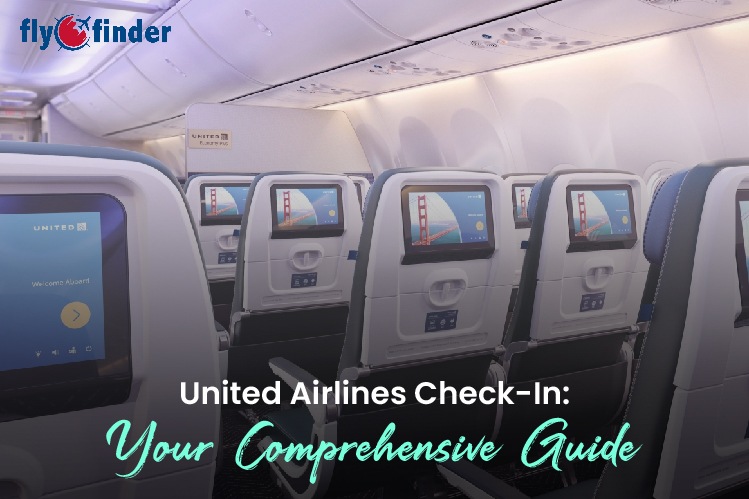 Are you preparing for your upcoming flight? With United Airlines reservations get ready for a stress-free experience by knowing about United Airlines Check-in Policy beforehand. United Airlines not only provides cheap tickets but also keeps you updated with adequate information related to when to arrive at the departure gate and board your flight after utilizing the flexibility of multiple check-in options.
Here is all that you need to know about various check-in options when booking United Airlines flights.
United Airlines Check-in Options
United Airlines offers a number of options for check-in providing the customers seamless and comfortable flying experience. These include Online Check-in, Mobile Check-in, Voice Check-in, Kiosk Check-in, Auto Check-in and Curbside Check-in. Let's know each of these check-in options in detail.
Online Check-in: The online check-in, also called web check-in, offers the customers flexibility to check-in for their flights in the shortest time than other check-in options. For online check-in you need to visit United Airlines Official website. The online check-in can be done up to 24 hours before scheduled departure, and is available for both domestic and international flights. The online check-in also allows you to do flight change, check your baggage and pay fees, and modify loyalty account number.
Mobile Check-in: The customers with United Airlines booking can make use of the mobile check-in option, which is similar to online check-in, on their smartphone. You will however need to download United Airlines Mobile App, which is available for Android, iOS, and other devices. You can easily check-in from your smartphone by visiting the airline's website. The mobile check-in is available up to 24 hours before scheduled departure and takes minimum time to complete. After completing the mobile check-in process you can either choose to show your mobile boarding pass stored on your smartphone at the gate or even take a printout.
Voice Check-in: The customers have the convenience of dialling United Airlines phone number to check-in over the phone. You just need to call the airlines reservations department and say "check-in" during the automated menu. This option is though not allowed for group travel. You can however use voice check-in for selecting the number of bags you want to check and also know about baggage charges at the same time. The boarding documents will be sent to you on email or it can also be picked up at an airport kiosk.
Kiosk Check-in: You can do kiosk check-in by activating United Airlines self-serve kiosk at the airport. It can be done by swiping a credit card such as MileagePlus card, passport or driver's license. The passport or boarding document needs to be scanned and e-Ticket number or confirmation number needs to be finally entered. You can also check bags as well at the designated kiosk. Apart from check-in, a kiosk can also be used to print boarding pass, flight change, seat upgrade, and viewing seat maps. If you however aren't able to do kiosk check-in then you can also seek the help of United Airlines representatives at the airport.
Auto Check-in: The Auto Check-in option of web check-in enables the customers to check-in for the remaining segment of their itinerary. It can also be done at airport kiosks or through smartphones. You can print your boarding pass or obtain it from an airport kiosk.
Curbside Check-in: The curbside check-in is offered by United Airlines at several airports across the United States. You will need to provide your e-Ticket number or photo ID and the flight reservation code along with the flight number destination. The timings for curbside check-in are of around 30 minutes to 4 hours before the scheduled departure.
Minimum Check-in Timings
Before you head to the airport for boarding United Airlines flights it is important that you need to check out minimum check-in times requirements as it may affect your arrival or departure at the airport.
If you are is without checked baggage then you must check-in at least 30 minutes before scheduled departure
When travelling with checked baggage you must check-in at least 45 minutes before scheduled departure
For most international flights you must check-in at least 60 minutes before scheduled departure, whether you are travelling with checked baggage or not
For travelling to/from the Marshall Islands or Micronesia you must check-in at least 90 minutes before scheduled departure, whether you have a checked baggage or not
United Airlines Boarding Times
For domestic flights within the United States you must board the aircraft at least 15 minutes before scheduled departure. However, for international flights you are required to be at the gate at least 30 minutes before scheduled departure.
For more flights-related enquiries you may always call us on our Airlines Reservations Number. We will provide the best possible help promptly.