United Airlines Seat Selection Policy
Wednesday, June 03, 2020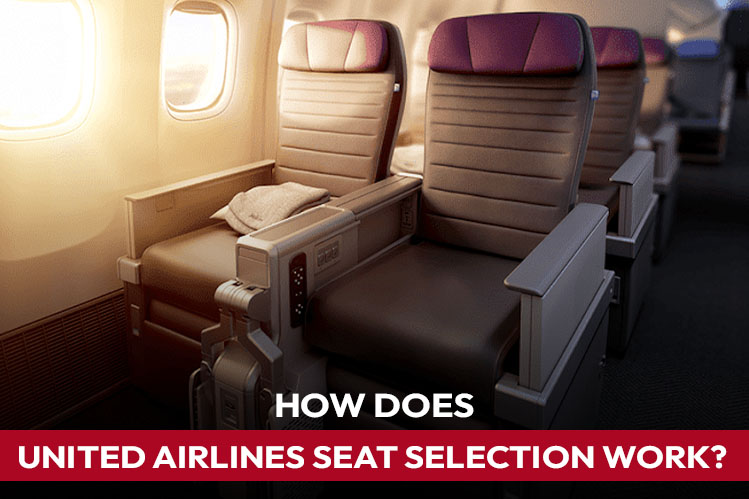 United Airlines allows its customers to select their preferred seats or make changes to their seat assignment for most of the flights. The airline offers multiple options for seat selection. This can be done by the customer himself/herself online after visiting United Airlines Official website, or through United Airlines Mobile App, or through leading OTAs like FlyOfinder and others. If you aren't able to get a seat assignment then you need to check back closer to flight departure date for seat availability.
If you are planning to make United Airlines reservations or just waiting to board your flight, it's important that you should know about United Airlines Seat Selection Policy.
United Airlines Seating Options
When you are booking United Airlines flights, there are many ways in which a seat can be purchased or upgraded, except when not travelling on a Basic Economy ticket. You can choose a seat for travel in United Airlines' Polaris First Class & Polaris Business Class, United First, United Business, Economy Plus and Economy Class when booking flight tickets or getting a seat upgrade.

Polaris First Class & Polaris Business Class: The Polaris First Class and Polaris Business Class are the latest cabin designs introduced by United Airlines. The customers booking international flights can choose to travel in either of the two classes. The premium travel experience is taken to a wholly new level with lots of perks and amenities coming your way. The exquisite services offered include free access to elegant Polaris lounge, angled seating with more in-seat space, fully lie-flat beds, complimentary multi-course gourmet meals, a la carte snacks, premium carefully-selected wines and spirits, designer amenity kit, extensive library of audio and video entertainment, and exclusive shower facility in the cabin.
United First: If you are looking for maximum comfort and service when travelling on North American routes then choose to fly in United First cabin. An array of facilities is just waiting for you. Flying in United First is simply an exhilarating experience with amenities such as extra-spacious seats, 2 free checked baggage, dedicated security lanes for faster check-in, priority baggage handling, priority boarding, priority check-in, priority disembarking, complimentary access to extensive library of audio and video entertainment, complimentary full meal service along with a wide selection of alcoholic and non-alcoholic beverages, and access to Wi-Fi after paying charges.
United Business: The customers making United Airlines booking for travel to Latin America and the Caribbean from the United States are offered a United Business cabin. Take advantage of a host of privileges when travelling in this premium cabin. These include priority boarding, 2 free checked baggage, Premium Access lanes for getting through quicker security, United Club access, extra spacious luxurious seats, and complimentary meals and beverages.
Economy Plus: Look forward to a more spacious seat with extra legroom when travelling in an Economy Plus cabin. You can seek a seat upgrade from Economy Class utilizing your MileagePlus points. You can also purchase a seat upgrade in Economy Plus at the airline's airport kiosk or by calling on United Airlines reservations phone number.
Economy Class: United Airlines offers its customers booking Economy Class tickets to select their seats, which may be confirmed during the time of booking itself or until check-in, free of charge. If you want extra legroom and enhanced services then consider upgrading to Economy Plus.
Basic Economy: United Airlines Basic Economy is its lowest fare. The customers cannot change seat assignments as provided by the airline. Seat assignment is done at the time of check-in. This fare class also doesn't allow for seat upgrades. Those travelling on Basic Economy tickets are however eligible for purchasing preferred seating.
Additional seats are required to be purchased by customers who aren't able to fit in comfortably in a single seat when flying in Economy Class cabin. The second seat to be purchased will be available for the same fare as the original/first seat only when it is purchased at the same time.
If you have any seat booking or upgrade queries, or want to know more about other travel related issues then you may please talk to us directly on our Airlines Reservations Number. We will promptly provide the best solutions while providing a hassle free experience.