Spirit Airlines Seat Selection Policy
Monday, May 11, 2020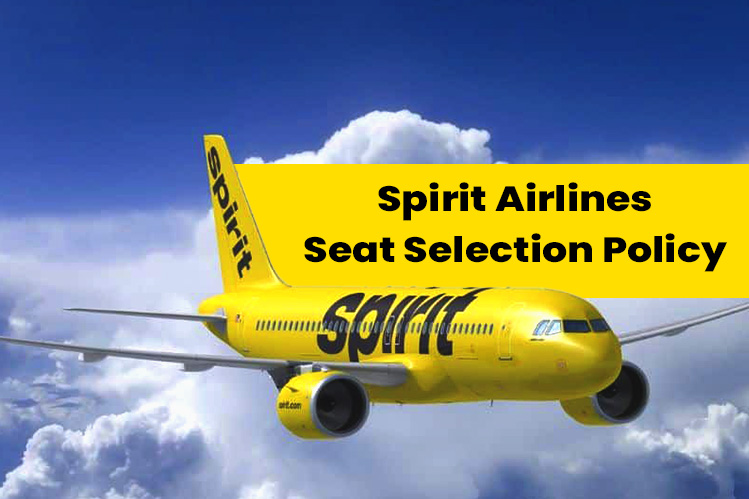 Spirit Airlines, America's leading ultra-low-cost carrier, is also the seventh-largest airline in the country in terms of domestic share. This No-Frills airline offers bare bone fares and charges extra fees for most things. Over the years, the airline has made significant improvements and travel has become more comfortable than before. With Spirit Airlines reservations you can now look forward to a luxurious experience while flying for incredibly less on cheap airfare.
Here is all you need to know about Spirit Airlines Seat Selection Policy & Seat Assignment if you are flying Spirit Airlines & purchased cheap flight tickets
What kind of seats Spirit Airlines offer?
If you have bought Spirit Airlines tickets then look forward to a comfortable journey with the new ergonomically designed seats, which comes with features such as additional "pre-recline", lumbar support and thicker padding. Those flying in the middle seat will be provided an extra inch of width as an additional perk.
Some of Spirit Airlines' narrowest seats come with a slim 17.8 inches of seat width, but with an extra inch in the middle seat the passengers will now be getting much-needed elbow room. However, seats offered in the exit row will be "pre-reclined" even further.
Apart from its Standard Seat, Spirit Airlines offers domestic first-class experience with its Big Front Seat, which obviously comes for a good fee. It's a significant seat upgrade from the economy.
Check your seat upgrade eligibility now.
The Big Front Seat is made of leather, and is 18.5 inches wide with 36 inches of pitch, thus offering an additional 6 inches of legroom that the standard seats. Big Front Seat upgrade price varies starting at around $20 per person on shorter flights and going high at around $70 per person on longer Spirit Airlines flights. The passengers can purchase Big Front Seats during or after a booking, depending on availability on Spirit Airlines Official website.
How to purchase Spirit Airlines Seat Assignment?
Spirit Airlines seat assignment is made randomly at check-in for free. The airline however doesn't guarantee that you will be seated together when travelling with your family or friends. Then, after all, what is the way out so as not to be seated apart. The best thing for you therefore is to purchase a seat assignment and get a seat of your choice. Seat assignments on Spirit Airlines start at only $5, and vary according to location and specific routes. You can also purchase a Big Front Seat, which comes with deluxe leather seats and 32% extra legroom. Moreover, it is wider and doesn't have a middle seat between them.
How seats can be added to your Spirit reservation?
Spirit Airlines offer options to add or modify seats. This can be done by going to the My Trips tab on the airline's website and following the instructions for accessing your reservation.
When accessing reservation more than 24 hours before departure the seats can be added or modified by clicking on the link and completing the form.
If the reservation is being accessed within 24 hours before departure (up to 1.5 hours prior to departure) then seats must be purchased through a Spirit online check-in process.
For more details on seat assignment or any other flights booking related enquiries you may please call us on Spirit Airlines phone number so that we may promptly address your concerns. We want our customers to have the best flying experience always.