United Airlines Unaccompanied Minor Flight Policy
Friday, May 20, 2022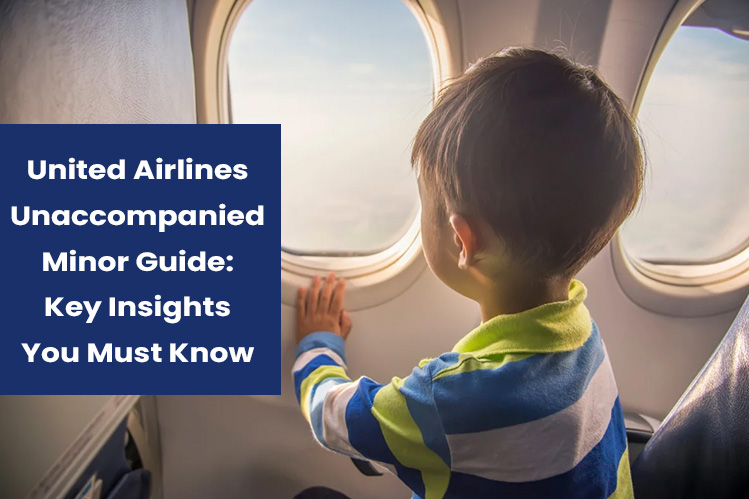 United Airlines understands the compulsion of parents when they decide their children to fly alone without any legal guardian or an adult with them. Whether they are visiting a family member or going to summer camp. It has been a subject of concern before the parents.
United Airlines is well aware of your concerns and anxiety and assures parents not to be anxious at all when they have decided on United Airlines as a carrier to fly with.
The Airline has brought a policy for United Airlines Unaccompanied minor travelers to take care of all safety and security measures the child flying alone. United Airlines unaccompanied minor flight policy is secured and covers all aspects of concerns that may arise during the journey of unaccompanied children.
United Airlines 'Unaccompanied Minor Service' Program
United Airlines offers 'Unaccompanied Minor Service Program' to those travelers who are minors and are traveling alone without parents and adult legal guardian. 'Unaccompanied Minor Service Program' is optional in some scenarios, on the other hand, it is mandatory to opt-in the service of 'Unaccompanied Minor Program'. It depends on the age group of minors traveling unaccompanied.
If you are traveling on a separate booking on the same flight your child is traveling, you DO NOT need to take service of 'Unaccompanied Minor Program'. You just need to update the representatives of the airline, they will update the relevant information on each reservation. But you have to keep in mind that since online and mobile check-in is not permissible for minors, he/she will have to do it with a specified representative of the carrier at the check-in gate.
United Airlines Unaccompanied Booking Process
United Airlines unaccompanied flight booking can be made on the official website of United Airlines by selecting "0" adults and providing appropriate children age range or by calling directly to the airlines. You may also get a complete guideline and confirmed reservation of an unaccompanied minor by calling FlyOfinder at +1-571-378-7016.
As per the official website of United Airlines, you have to pay $25 as a booking service charge for reservations made through the contact center of United Airlines. This will be an addition to the ticket cost and unaccompanied minor fee.
United Airlines Unaccompanied Minor Age Group
Like other airlines do, United Airlines also does not allow a minor to travel alone under the age of five. Children between the ages group from 5 to 17 are allowed to travel alone without an adult or parents with them. They can fly alone with the service of the 'Unaccompanied Minor Service' Program.
Between Age 5 to 14: It is mandatory to opt in the 'Unaccompanied Minor Service' Program of the airline. If you do not get your child registered in this program, you won't be able to send your child to fly with the carrier.
Between Age 15 to 17: United Airlines has kept the service optional for those who are aged between 15 to 17 years. If they opt-in the service of the United, they will get pre-defined privileges and services of the 'Unaccompanied Minor Service' program.
United Airlines Unaccompanied Minor Service Policy
United Airlines offers this service on direct flights of its own carrier or on United express. If there is a connecting flight during the whole journey or if it is a code share flight and other flights operated by the United partners, the carrier will not allow a child to travel alone. It does not offer the service of connecting 'To' or 'From' other airlines flights.
United Airlines Minor Fee and Service Charges
Unaccompanied minors aged between 5 to 14 can travel alone or in a group of a maximum of 6 children on a single reservation.
Up to 2 children, the service charge for one way is $150 and $300 for round trip.
Up to 4 children, you have to pay $300 for one way and $600 for round trip flights.
Up to 6 children, the service charge is $450 and $900 for one-way and round trips respectively
Number of Children TravellingService Fee-One-way service Fee- Round Trip
| Number of Children Travelling | Service Fee-One-way | Service Fee- Round Trip |
| --- | --- | --- |
| 1 | $150 | $300 |
| 2 | $150 | $300 |
| 3 | $300 | $600 |
| 4 | $300 | $600 |
| 5 | $450 | $900 |
| 6 | $450 | $900 |
Under the policy of United Airlines unaccompanied minor service the carrier clarifies that the age of the youngest child will be a determining factor as far as service charge is considered.
For Example: If there are 3 children of age 6, 12 and 17 traveling unaccompanied on a single reservation, the service charge will be applicable for all travelers as per the child who is 6 years old.
United Airlines service charge is to be paid at the time of booking a flight along with the ticket costs. Whether you are making a reservation by calling the contact center or on the website of the airline, you have to pay the service charge at the same time as making the reservation.
Refund of service charge is allowed if your child is flying with someone who is more than 18 years of age and traveling on the same flight. Check United Airlines Refund Policy or call FlyOfinder at +1-571-378-7016 to get the complete information about the refund process.
United Airlines Unaccompanied Flights Formalities and Paperwork
To provide the contact number of the parents or legal guardian of the child in case he/she wants to talk to any of them during the journey is mandatory.
Contact details of a person who is supposed to take hand-over of the child and the person who is supposed to drop off the child are provided to the airline before starting the check-in process. Airlines first call on those numbers to verify them.
Parents are also expected to provide accurate details of persons being dropped off and picked up by. United Airlines expects parents to speak with their children about the experience at the check-in counter and during the boarding process that they have to face. Get them aware of the process and ask them to wait for a United uniformed representative to get them off the plane after the plane gets landed at the destination airport.
Recognition of an unaccompanied minor is easy for the onboard and ground staff as the airline provides a wristband to the child. A special envelope containing a passport, if it is an international flight, travel documents, unaccompanied minor form, custom-related documents and baggage claim tickets and receipts are given to the child to hang on with him/her.
United Airlines Unaccompanied Foods and Inflight Entertainment
Due to COVID-19 the process of food servicing is changed. However, a packet of snakes is provided to the child after the boarding. Parents can also arrange a packet of snakes of his/her choice.
Inflight entertainment options are different depending on the plane they are traveling with. Parents can check what kind of entertainment options are available on the plane their child is traveling with. They can call directly to the airline or it can be also checked by visiting the 'inflight amenities' section on the official website of United Airlines.
Also, read our blog What Is United Airlines Pet Policy?.