How to hold a flight on United Airlines?
Thursday, June 22, 2023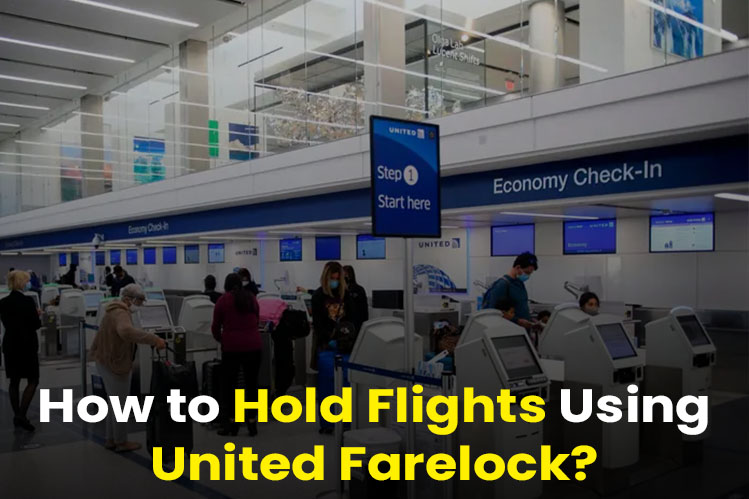 Are you planning a trip with United Airlines and wondering how to secure your flight, hold a reservation, or utilize the United FareLock feature? Look no further. Today, in the comprehensive discussion with FlyOfinder, our topic of discussion is going to be all the intricacies of holding a flight with United Airlines, explore the United FareLock program, and answer all your pressing questions. Whether you're a frequent traveler or embarking on a journey of a lifetime, this blog is here to help.
What is United FareLock?
FareLock United is a game-changer for travelers looking to secure their flight reservations without committing to a purchase immediately. Think of it as a reservation insurance policy. This fantastic feature allows you to lock in the price of your ticket for a set period, giving you time to finalize your plans, coordinate with your travel companions, or ensure the flight suits your schedule.
How Does United FareLock Work?
FareLock is as user-friendly as it gets. After selecting your flights on the United Airlines website or app, you will be presented with the option to "Hold Fare." Clicking this option enables you to secure your booking for either three or seven days, depending on your preference. During this period, the fare remains constant, shielding you from price fluctuations.
To activate FareLock, a fee is charged, which varies based on factors such as the duration of the hold and the total fare. However, this fee is non-refundable. If you decide to complete the purchase within the holding period, the FareLock fee will be applied as a credit toward your ticket.
Does United Airlines Have a 24-hour Hold Policy?
Yes, United Airlines offers a 24-hour hold policy, which allows passengers to reserve a flight for up to 24 hours without any fees or obligations. This policy is in accordance with U.S. Department of Transportation regulations and applies to all United Airlines flights originating from the United States. It's a great option for those who need a little extra time to finalize their travel plans.
How to Hold a Flight Deal on United Airlines?
Holding a flight deal on United Airlines is a breeze. Follow these simple steps:
Visit the United Airlines website or app.
Search for your desired flights.
Select the "Hold Fare" option when prompted.
Choose your preferred holding duration (three or seven days).
Pay the FareLock fee to secure your reservation.
Review your itinerary and confirm.
How to Book a Flight Deal with United Airlines?
Booking a flight deal with United Airlines is just as easy as holding one. At FlyOfinder, we take this opportunity to help you and assist you in booking a flight deal with United Airlines. To get the necessary assistance in booking a flight, you have to dial our official helpline no., which goes to +1-571-378-7016. You will get in touch with one of our assistants, who will ask you for your requirements to book a flight via United; you have to follow their lead and relax. Once the booking is confirmed, you will receive a mail in your inbox with the booking number and other necessary details on the flight itinerary. You are done with the United Airlines flight booking.
How Long Will United Hold a Flight?
United Airlines will hold a flight for you using either the FareLock feature or the 24-hour hold policy, as explained above. With FareLock, you can secure your booking for three or seven days, while the 24-hour hold policy provides a one-day grace period. After these durations, your reservation will expire, and the seat may become available to other travelers.
Conclusion
In conclusion, holding a United Airlines flight is a straightforward process with options like FareLock and the 24-hour hold policy. These features provide flexibility and peace of mind, allowing you to plan your journey at your own pace. Whether you're securing a flight deal or booking a ticket, United Airlines makes the process hassle-free. Otherwise, if you have any problem, FlyOfinder always has your back when it comes to travel.
FAQs
Can I change my flight after using United FareLock?
Yes, you can change your flight after using FareLock, but any applicable fees or fare differences may apply.
Is the United FareLock fee refundable if I don't purchase the ticket?
No, the FareLock fee is non-refundable, even if you choose not to complete the ticket purchase.
Can I use FareLock for international flights with United Airlines?
Yes, FareLock is available for both domestic and international United Airlines flights.
What happens if I miss the 24-hour hold window?
If you miss the 24-hour hold window, your reservation will expire, and you will need to rebook your flight.
Is United FareLock available for all fare types?
FareLock is available for most fare types, but some restrictions may apply. It's best to check the United Airlines website for specific details.
Also, read our blog United Airlines Flight Change Policy.