Delta Airlines Unaccompanied Minor Policy, Fee and Booking
Monday, January 11, 2021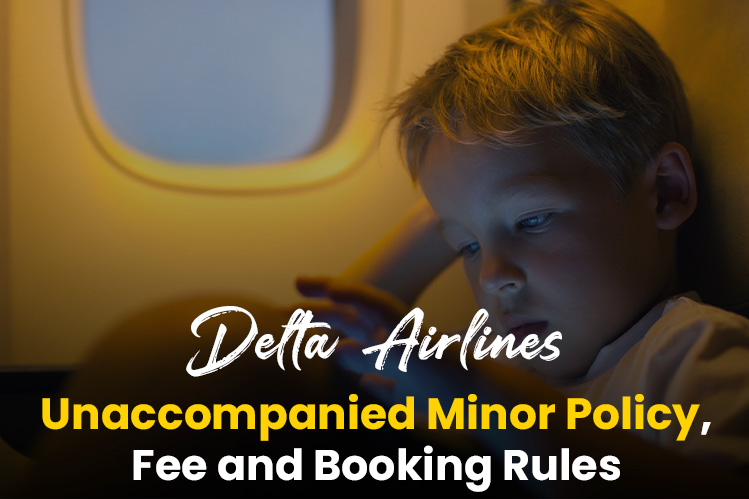 When there are situations when a child has to travel alone on an airline without the company of a known person then it causes worry and anxiety to the parents. Here is all that you need to know about Delta Airlines Unaccompanied Minor Policy. This will be helpful to know beforehand about the entire process when making Delta Airlines reservations for children flying by themselves.
When it comes to the solo trip of a child then Delta Airlines ensures complete safety and comfort of all unaccompanied minors. America's one of the top three airlines and oldest legacy carrier Delta Airlines has its own "Unaccompanied Minor Program" featuring Sky Zone lounge for kids, trackable wristband and a Delta Airlines staff escorting the child throughout the travel day.
What is Delta Airlines unaccompanied minor policy?
According to Delta Airlines, children aged between five (5) and fourteen (14) are treated as unaccompanied minors and need to be escorted by Delta personnel through the airport for an additional fee. If the child is however of four (4) years or younger then he/she must be accompanied by an adult passenger of 18 years or older.
There are many applicable rules and restrictions depending on the child's age as well as the location of travel. The age of the child will be determined based on the age at that time of travel and not necessarily at the time of booking.
Unaccompanied Minor Age rules and regulations
Four (4) years and younger: Delta Airlines will not allow a child of four (4) years and younger to travel alone and must be accompanied on the flight by a passenger who is at least 18 years old.
Five (5) to Seven (7) years: Delta Airlines will allow a child between five (5) and seven (7) years old for travelling on some nonstop flights only.
Eight (8) to Fourteen (14) years: The child between eight (8) and fourteen (14) years old will be allowed by Delta Airlines to travel on some nonstop and some connecting flights.
Fifteen (15) to Seventeen (17) years: Delta Airlines permits children aged between fifteen (15) and seventeen (17) years for travelling as a standard passenger. However, the parent or legal guardian of the child can still pay for his/her travel as an unaccompanied minor for more comfort and satisfaction.
Unaccompanied Minors travel rule for Connecting flights (Delta Sky Zones)
The rules for allowing unaccompanied minors on connecting flights vary with different airlines and have strict restrictions. Delta Airlines allows unaccompanied minors to connect on its joint venture partners Air France and KLM. Delta however doesn't permit travel on the last connecting flight of the day as well as on red eye flights between 9 pm and 5 am. This rule has some exceptions. If the qualifying connecting flight isn't available then some flights will still be allowed. These include markets with only one connection when it is the last flight of the day, or flights to and from Alaska and Hawaii, or nonstop domestic short-haul flights two hours or less.
When connecting through another city, a Delta or business partner employee will be assisting the unaccompanied minor. The Delta Sky Zones facilities will be offered to the child when connecting through certain cities, such as Atlanta, Seattle, Salt Lake City, Minneapolis, Memphis, Los Angeles, New York (JFK), Detroit and Cincinnati. The facilities at Delta Sky Zones include complimentary phones, video games, toys and books.
Please note that if the child will need any type of medicine to be administered to him/her then Delta Airlines won't take any responsibility and will be unable to provide that medication to the child.
What is Delta Airlines unaccompanied minor service fee?
Delta Airlines unaccompanied minor fee is $150 (plus tax) each way. The fee is to be paid in US dollars. However, when departing from Canada or Europe then the fee charged will be in Canadian dollars or in Euro. The fee will be applicable for travel within the United States as well as for international travel on nonstop and connecting flights. The unaccompanied minor service fee of $150 (plus tax) will be in addition to the airfare for travel (cost of the ticket).
Delta Airlines unaccompanied minor booking process
For making Delta Airlines reservations for unaccompanied minor you need to contact Delta Airlines unaccompanied minor reservations department or at +1-571-378-7016 FlyOfinder Delta phone number.
Delta Airlines unaccompanied minor check-in and pick up rules
A Delta agent won't be permitted for completing check-in if the unaccompanied minor arrives alone at the check-in counter. The check-in process of Delta Airlines minor flight will only begin in the presence of a parent or legal guardian. This is mandatory. The parent or legal guardian will have to provide a photo ID (Driving license, passport etc.), address matching the ID and contact phone number of the adult who will be picking up the unaccompanied minor at the destination airport.
Do remember to collect a bracelet for the unaccompanied minor to wear in-flight at the time of check-in. The trackable wristband will have a barcode, which will be scanned at important points for tracking the child. The parent or legal guardian accompanying the child at the airport must remain at the gate till the flight finally takes off.
After reaching the destination airport the unaccompanied minor will be handed over for pick up to the designated person as provided to Delta Airlines with a valid ID. The designated person will be required to be present at the airport for completing the pick up process of the unaccompanied minor two hours before scheduled arrival in order to procure a gate pass. The child will be released only when the acceptance of responsibility form is signed by the designated person picking up the child.
Sending an unaccompanied minor may be a difficult task. But when flying with Delta Airlines, your child is in safer hands and will reach their destination without any worries or problems.
Also, read our blog Qatar Airways Pet Policy.