Alaska Airlines Flight Change Policy
Friday, May 01, 2020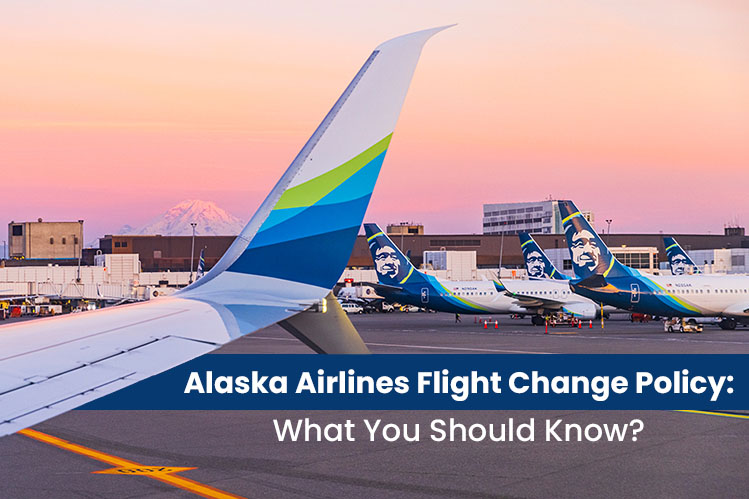 Many times changes in travel plan become inevitable because of sudden plan change or some personal emergency. This may make a traveller worrisome. If you have made Alaska Airlines Reservations, you sure can make amendments or changes in flight reservation easily.
Here's all that you need to know about Alaska Airlines flight change policy in detail.
How can I make flight change on Alaska Airlines?
Alaska Airlines booking offers the customers the option for the best and cheapest airlines flight changes for a fee. When compared to many other airlines the change fee charged by Alaska Airlines on it's flight tickets is relatively cheaper.
Here are the various options for making changes to your Alaska Airlines flight.
Online Flight Change
The customer can do online flight change on Alaska Airlines official website. For this the customer needs to enter his/her e-ticket number or confirmation code and last name. The change or amendment however needs to be done prior to the departure of the original scheduled flight.
Check your eligibility to make Airlines flight changes online.
There are however certain conditions to avail online change services. The customer's reservation needs to fulfil the following requirements:
Reservation should have been made for travel within the USA, Canada and Mexico only
Reservation shouldn't exceed 8 air segments
Reservation shouldn't exceed 6 passengers
Reservation shouldn't be any government fare
Reservation shouldn't be a Saver fare
Reservation shouldn't be related to a group or vacation package booking
Reservation must be of less than 13 months from the original purchase date
Reservation shouldn't contain a partner award issued through the Alaska Airlines ticket kiosk/counter or Alaska Airlines Reservation Department Call Center
Ticket must have been issued through Alaska Airlines official website, an Alaska kiosk or ticket counter, or Alaska Airlines Reservation Department Call Center
Alaska Airlines 24-hour Flight Change
Alaska Airlines offers free flight change within 24 hours of ticket purchase. The airline holds the customer's ticket for 24 hours, and later on charges a change fee after the 24 hour period has lapsed. The customers travelling on First Class and Main tickets are allowed to make flight change only once during the 24 hour period. However, when the customers have purchased Alaska Airlines tickets through OTAs or third-party travel agencies then they need to follow the third-party travel agency policy, rules and regulations only.
Alaska Airlines Same-Day Flight Change
Alaska Airlines offers its customers flight change option prior to 24 hours of the scheduled departure. The customers can also avail the ticket exchange facility with a new flight ticket of the exact same day. The Saver fare ticket is however not allowed on the same-day flight change facility. The customers should note that same-day flight change or exchange ticket policy totally depends on the availability of the seats at that time.
Alaska Airlines Flight Change Fee
The Alaska Airlines flight change fee is determined by the type of fare purchased by the customer. Apart from the applicable fee, the customer will also have to pay the fare difference, if any.
A $125 fee is to be paid for making changes or amendments 60 days prior to departure of scheduled flight. If the new flight is more expensive than the customer will also have to pay a fare difference as well. For same-day flight change Alaska Airlines charges a $50 fee.
If the customer is however travelling within California and on shuttle flights between Portland and Seattle, and Anchorage and Spokane, Fairbanks and Seattle then a $25 fee will be charged for flight change.
If the customer however wants to change to a lower fare then the difference amount will be credited by Alaska Airlines to the customer's future travel account or the amount will be refunded depending on the terms and conditions of the customer's ticket.
For assistance on flight changes you may also call us on our Airlines Reservations Number +1-571-378-7016 and we will be always happy to help and promptly resolve your travel-related issues.
Also, read our blog Alaska Airlines Refunds Policy.