A Complete Guide to Southwest Pet Policy
Wednesday, June 28, 2023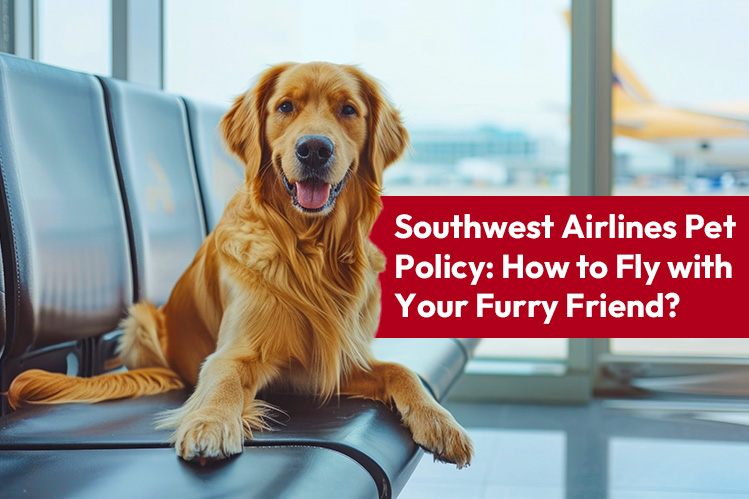 Are You Traveling with Your Pet on Southwest Airlines? If you own a pet, chances are you have considered traveling with it on an airline like Southwest. Today in this guide, we'll review the Southwest Airlines Pet policy in depth so as to provide an enjoyable journey for both you and your four-legged companion. From types of animals permitted through to fees and travel tips - everything's covered!
What Pets Can You Bring on Southwest Airlines?
Southwest Airlines welcomes your furry companions with open arms! Dogs, cats, and emotional support animals are welcome onboard, making Southwest one of the most pet-friendly airlines available today.
Southwest Airlines allows both dogs and cats to travel with you as passengers in the cabin but requires them to abide by some specific guidelines. Your pet must be well-behaved, fit comfortably into an approved carrier underneath your seat in front of you, and remain there throughout the flight - this ensures a safe and pleasant journey for everyone on board.
Southwest Airlines allows emotional support to animals on board flights, provided you provide appropriate documentation, and that the animal behaves responsibly during the flight.
Southwest Airlines Pet Fees
Traveling with your pet on Southwest Airlines comes at a fee, but their presence brings peace of mind and companionship that more than compensates.
Pet Fare: Southwest Airlines charges a pet fare, currently $95 each way, to cover both their presence in the cabin and any costs related to cleaning up after their journey.
Traveling With Your Pet in the Cabin: Adopting your pet into your cabin can be an exciting adventure but requires careful preparation. Here's what you should know:
Your Pet Carrier Is Crucial: Invest in an airtight carrier designed specifically to keep your pet comfortable. Make sure it features well-ventilated sides and leakproof features so it fits beneath your seat in front of you, with room enough for you and the carrier. Also, label with contact info!
Carry-On Item: Remember to include your pet as one of your carry-on items while still leaving enough space for personal items.
Breathing Space: Your pet should have enough breathing room in his or her carrier for standing, turning around, and lying down comfortably.
Behavior: Be sure to keep your pet calm and relaxed during their flight. Stressful situations can affect their mental well-being; be sure they are properly prepared for their trip!
Traveling With Your Pet in the Cargo Hold
Southwest Airlines provides large pets the option of traveling in its cargo hold. Here's everything you should know.
Size Restrictions: To ensure the comfort of your pet during travel, always consult the airline website to ascertain specific kennel size requirements for their safe transport.
Temperature Considerations: Please keep in mind that cargo hold temperatures can change quickly, so plan your travel dates accordingly.
Health and Documents: Be certain your pet is in good health and possesses all necessary paperwork for safe flying.
Booking Your Flight with a Pet
You can easily book a flight with your pet through us; yes, FlyOfinder, we can assist you with the complete pet booking. All you are required to do is to call us @ +1-571-378-7016. The next you know; you are connected with one of our travel assistants who will help you with the flight booking of your cute furry friend. You can rely on us to get your booking as well, and yeah, the hotel reservation car rental, too. The best part of all is you can call us at any time of the day, be it early in the morning or late at night; we are always available for you. So, remember FlyOfinder, only +1-571-378-7016.
Preparing for Your Journey
Proper planning is key to ensuring a seamless travel experience for you and your pet; here are some key points you should keep in mind:
Essential Pet Supplies: Once your pet is identified with proper identification - such as a collar with an ID tag and microchip - ensure it receives adequate medical care and protection.
Health Records: Be sure to bring along a copy of your pet's health records just in case they're required during the trip.
Food and Water for Your Pet: Be sure to bring enough food and water for your pet on a long flight, especially if they will require feeding during their flight.
Feed and Water Your Pet: Give your pet a light meal before their flight to reduce any chance of an upset stomach. Bring along a small water bowl but avoid overhydrating your pet to prevent accidents on board the flight.
Providing Items for Your Pet: Bring along some familiar toys or blankets for comfort on their journey.
Calming Techniques: When trying to reduce anxiety in your pet, try using products such as pheromone spray or treats formulated for this purpose.
Check-In and Boarding
Be sure to arrive early when it's time for check-in; Southwest Airlines staff may require you to use their ticket counter rather than their online check-in system; their staff will help guide the process smoothly.
Once on board, place your pet's carrier under the seat in front of you. Make sure they remain calm and safe during their flight by covering it with a light cloth to reduce distractions - and remember to give lots of love and reassurance along the way!
Landing Safely: Tips for an Un stressful Arrival
Once your journey has concluded safely and comfortably, both you and your pet should be eagerly awaiting landing. Here are a few suggestions that should help ensure an uneventful arrival:
Be prepared to take your pet to a designated pet relief area once their flight has concluded.
Rehydrate Your Pet After Flight: Give your pet water to stay hydrated following the flight.
Conclusion
Southwest Airlines provides a pet-friendly experience, making traveling with your furry friend easier than ever before. By following their guidelines and being properly prepared, you can ensure a safe and pleasant journey for both of you. So don't leave them behind on your next adventure.
Frequently Asked Questions About Southwest Airlines Pet Policy
Can I bring my pet for free onboard Southwest Airlines flights?
No. Southwest charges a pet fare of $95 each way for pet tickets.
How does Southwest Airlines restrict breed and weight restrictions for pets?
Southwest Airlines does not impose breed or weight restrictions; however, your pet must fit comfortably within an approved carrier under your seat.
How can I ensure the safety of my pet during the flight?
Make sure your pet is in a well-ventilated carrier, follow all airline requirements, and keep him or her calm and relaxed throughout the trip.
What should I do if my pet gets anxious during the flight?
Consider using calming products and giving extra attention and comfort.
Also, read our blog How do I change my Southwest Airlines flight deal?.